How to Increase BSNL Broadband Speed – Genuine Tips
BSNL Broadband is the most popular and widely used broadband internet in India. BSNL broadband is generally good but many times their speeds are not up to the mark. Sometimes you don't even get half the speed specified in your broadband plan. Here is how you can check your bsnl broadband connection internet speed.
How to Check your BSNL Broadband Speed?
You can check your bsnl broadband speed by using the official bsnl broadband speed test websites mentioned below:
http://speedtester.bsnl.co.in/
http://218.248.245.5/initialmeter_slow.php
Must Read: How to Test BSNL Broadband Speed
If the speed shown by these websites are not close to speed of bsnl broadband plan speed then you have got some issues with your bsnl broadband internet. There are some things and optimizations that you can do to maximize your BSNL broadband speed and get the actual broadband speed which is provided in your current BSNL broadband plan. So here I will share and provide you some useful tips to increase BSNL speed for your current BSNL broadband plan.
Must Follow Tips to Increase BSNL Broadband Speed
I have seen that some blogs are telling you free up the "Limit Reserve Bandwidth" in Windows to increase the internet speed, but in reality it has nothing to do to increase internet speed. This only comes in effect when windows perform auto update of its files in the background. Also I would also like to advise you to stay away from any internet speed tools because they can only mess up your internet and windows network settings. So here in this post I will provide genuine and working tips to increase your bsnl broadband speed to match the maximum possible speed given in your broadband plan or you can say that you can optimize your BSNL broadband internet connection to give maximum available speed in your plan.
Use Public DNS Servers
The first and the foremost thing that you must do is to change the IP address of your default BSNL DNS servers to good public DNS servers like Google DNS or OpenDNS. This is because BSNL DNS servers are very slow and overloaded most of the times. If you are using slow DNS servers then it will cause websites to load very slowly and some websites might even fail to open. This is a very common problem in BSNL broadband so you must switch Google Public DNS servers.
Changing DNS Servers in Windows 7 / 8 / 10
You can configure your Windows network settings to use Public DNS servers by going to Control Panel->Network and Sharing ->Change adapter settings->Select your LAN Adapter->Right Click it->Properties->Select Internet Protocol Version 4 (TCP/IPv4)->Properties.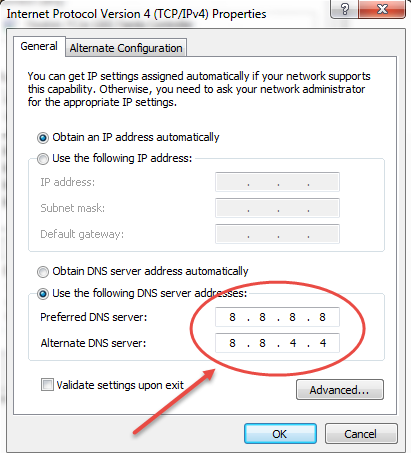 Here select the option Use the following DNS server addresses and enter the following IP addresses in Primary DNS server and Preferred DNS server.
For Google Public DNS
Primary DNS server: 8.8.8.8
Preferred DNS server: 8.8.4.4
For OpenDNS
Primary DNS server: 208.67.222.222
Preferred DNS server: 208.67.220.220
Tip: I personally prefer Google DNS over OpenDNS but you can use anyone.
Check Phone Line
The next main thing to do is to make sure that your BSNL phone line is clear and is free from any noise and disturbances. If your phone line is not clear then you might experience slow internet and unstable ADSL connection. To fix this register a broadband complain on number 198 or 1500 and contact your lineman to get this issue resolved. Also keep your phone line at some distance from power lines, radio or television transmitters, transformers and other electronic devices as they may cause noise and interference on the phone line.
Change & Use Good ADSL Splitter
If you are using a cheap ADSL Splitter or it has gone old then you may get reduction in broadband speed. The performance of ADSL Splitters degrades over time and they should be replaced in 8 – 10 months regularly. The capacitors in the ADSL splitter gets weak over the time which decreases their performance and you can experience reduced internet speed and frequent disconnection of ADSL. There are various cheap ADSL splitters available in the market but if you want a good ADSL splitter then I am mentioning some specific models that you should only buy:

Good ADSL Splitter Models:
Here are some good ADSL splitter models arranged from top to bottom on the basis of their performance and quality.
SP-208
SP-206
SP-204
SP-202
SP-201
Read more about ADSL Splitter and their Problems
Use Good ADSL Modem
A good ADSL Modem can also do wonders for your BSNL broadband connection. There are some ADSL Modems on which BSNL Broadband connection works best. One such modem is Tenda D303 ADSL modem cum wireless router.
Recently I have also changed my ADSL Modem to Tenda D303 and now I am getting much better internet experience, maximum speed and response time. So if you have the old ADSL Modem that BSNL gave you then I would strongly advise you to switch to better modem from a good brand.
Remove Malware & Viruses
If your computer is infected with viruses and malware then your BSNL broadband internet will bound to work very slow, because malwares run in the background consuming your bandwidth and speed without your knowledge. So scan your computer with good Antivirus and Anti-malware programs like ESET NOD32 Antivirus and Malwarebytes Anti-Malware. If your computer is heavily infected then I would advise you to format your PC and clean install Windows.
Check Ping
Check your broadband internet connection ping and make sure it is continuous without any gaps or breakage. If the ping is not continuous and is breaking at some intervals then you will face slow speed and packet loss problem on your bsnl broadband.
To check the ping enter the following command at command prompt
ping www.google.co.in -t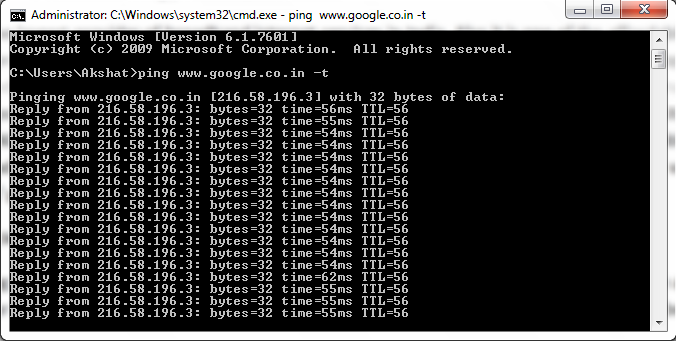 Previously I have written a detailed article on BSNL Ping / Packet Loss Problem and how to fix it. You can go through it on the link given below.
Fix BSNL Ping / Pack Loss Problem
Disable Firewall
If you are using Windows firewall or any third party firewall program then I would advise you to disable it. There is virtually no need to run a firewall program if you are using PPPoE (Point-to-Point Protocol over Ethernet) mode for connecting to internet in your ADSL modem settings. Also all good ADSL Modems are equipped with inbuilt Firewall software. You can disable the Windows Firewall by going to Control Panel->Windows Firewall->Turn Windows Firewall on or off.
Disable Windows Auto Update
Windows Auto Update feature runs in the background time to time which can reduce your broadband internet speed and also consumes your bandwidth & data. So it is better to Disable or Turn Off Windows Auto Update. You can do this by going to Control Panel->Windows Update->Turn off automatic updates. This only disables windows auto update and you can manually install updates anytime you want.
Also you can disable and turn off the auto update for other programs and softwares.
Use Better Browser
Well for better and faster browsing experience you must use fast browsers like Mozilla Firefox and Google Chrome. Also keep the browsers updated with the latest updates. For download use good file download managers like FlashGet, Internet Download Manager (IDM) etc.
Upgrade your Broadband Plan
If you have done everything right but then also you are really not satisfied with your current broadband speed then the last thing you can do is to upgrade your broadband to a higher speed plan. You can check the BSNL official website for various broadband plans having different speeds and tariff details. After selecting your desired plan you can go to your BSNL main office / exchange and give your application to the concerned person for broadband plan upgrade.
Must Read: Pay BSNL Broadband Bill on BSNL Portal