Free Download Managers for Windows
If you are downloading a large file from internet and not getting enough download speed then by using a download manager you make this task much easier and quicker.  Download managers are used to speed up your download by splitting the file in multiple parts and then downloading them separately. They also have the ability to pause (if the remote server allows it) and schedule your download according to your preference.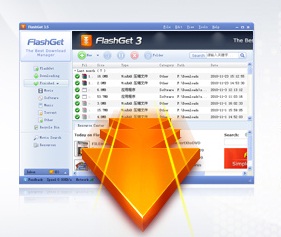 There are some free download managers available that are as good as the paid one.  Some of them also support bittorrent downloading so that you do not have to use a separate bittorrent client for downloading torrent files. Here are some the popular free download managers for your usage. All of them have almost similar features like download splitting, scheduler, proxy settings, torrent downloading (in some) and more.
Best Free Download Managers for your PC

Free Download Manager (open source)
Download Accelerator Plus (DAP)
Flashget and Download Accelerator Plus are the two most popular free download manager that have very good reputation. Orbit downloader is also very good and is gaining popularity among the internet users.