When to Format your Computer & Clean Install Windows OS
Formatting and installing fresh copy of Windows is great solution for many PC problems, but it takes time and all your program data and settings are lost. Also you have to install all your divers and softwares again and configure them properly. So here in this post I will tell you the major reasons to format your PC and tell you about formatting in detail.
What is Formatting?
Formatting is a process which erases all your data on a hard disk partition and creates new file system specified by you. Today's latest Windows operating systems are formatted with the newer NTFS file system. Here we are talking about formatting the root drive / directory i.e. [C:\ in most computers] or the drive in which your Windows OS is installed. To format your root drive you will require a bootable CD/DVD/disk of the Windows OS that you are going to install.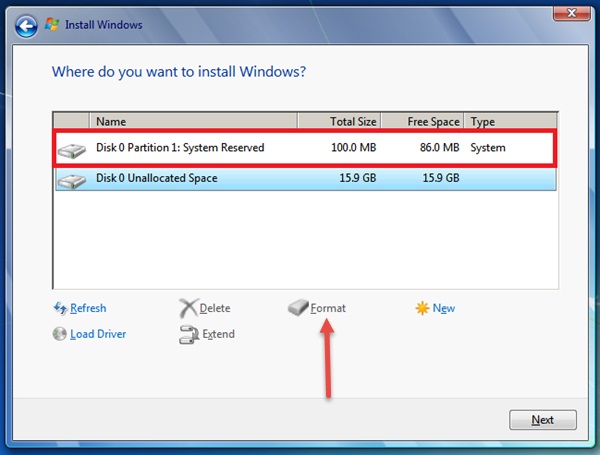 After formatting your root drive or partition, it will be empty and then you can clean install a fresh copy of Windows OS. After installing Windows you may have to install the device drivers and other softwares & programs.
Important Thing to do before you Format
Before formatting your root or C: drive you may wish to take the backup of your important data that was present on it. Here I am talking about the data that includes your personal files, documents, videos, music, software setups. You can move your data to another partition by simply copying it.
When to Format your PC for Clean Windows Installation
Here are some cases where you have to format your root drive/partition and install a fresh copy of windows operating system on it.
Major Virus/Malware Infection
When your computer has got major malware and virus infection then the only solution left to fix it is by formatting and installing a clean copy of Windows. If your antivirus and anti-malware software is not able to detect and clean the infection then the only option left is to format your computer. Formatting will delete all the data including the viruses and malware and you can begin with a fresh windows installation.
Recommended Antivirus: ESET NOD32
Windows System File Corruption
When your Windows system files got corrupted heavily and you are not able to fix and reinstall them using Windows CD/DVD, then you will have to format and install the windows as the last solution.
OS / Computer becomes too Slow
When your computer becomes very slow and sluggish over the time then you may want to format your computer for fresh windows installation. The major reasons for OS to become slow is the installation of various unwanted programs and softwares over the time which then consumes lots of resources in the background. So proper care must be taken and you must install only the necessary program or softwares even after the format.
Corrupted Drivers
If your device drivers got corrupted and even on uninstalling and reinstalling them they are not working properly then you may want to format and being with the clean installation of windows. After that you can install the fresh copy of the drivers.
Frequent Hanging / Freezing of OS
When you computer has become very unresponsive and frequently hangs or freezes in the middle of any process or work then you may to format it and load the Windows OS again. This is due to the bloatware (useless software programs) that you have installed on your computer.