Solution to BSNL Broadband Ping / Packet Loss Problem
BSNL is the largest provider of broadband internet services in India. Also it is one of the most affordable and popular broadband service providers. The two things that makes BSNL one of the largest and popular broadband service provider are: first of all it is Government organization so it has all the infrastructure and manpower and secondly it has wider network range and reach even in villages, small towns and cities. I also have BSNL Broadband connection and it is generally good but when you face any technical problems to your broadband internet then you will have hard time getting it fixed. I also faced such problem which is the ping / packet loss problem which I am going to tell you next.
Ping / Packet Loss Problem
In the Ping Loss or Packet Loss problem your internet will crawl and run very slow. There will be a huge lag in your internet connection and when you open any site then either the site will fail to load or hangs in between. This because the internet data packets are getting lost in between and are not transferring to your computer from the BSNL server as they should be. This can cause a huge delay in your internet connection.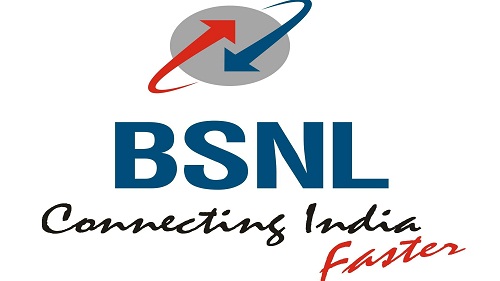 How to Check Ping / Packet Loss Issue?
Here is way to check whether your ping is breaking and there is packet loss issue.
1. Open command prompt by going to Start->Type Run in search box and hit Enter.
2. Now Type the following command at the command prompt.
ping www.google.co.in -t
3. Hit enter and if you see an image similar to mentioned below where Request timed out is occurring in between then it means you are facing with packet loss problem and your ping is breaking.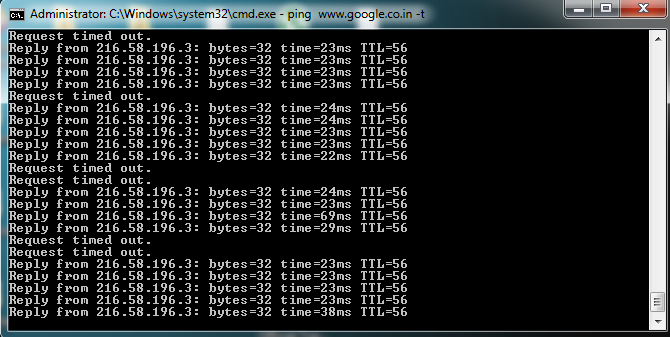 Checklist
Here is the list of things that you should check before filling a complaint to the BSNL for ping / packet loss problem.
Check Telephone Line – First of all check whether your phone line is free of any noise or disturbances.
Check Modem – Check whether your ADSL modem is OK and working fine. You can check your modem at another BSNL broadband connection.
Check ADSL Splitter – Check whether your ADSL Splitter is working fine or not because sometimes this problem may occur because of faulty ADSL Splitter. You can buy a new or use another ADSL splitter to check your broadband internet.
Check Wires & Connections – Check your phone wires, ethernet cables and make sure that they are OK and do not have any signs of damage. Also check connections to modem / router / adsl splitter / line are tight or properly connected.
Check Windows OS for Malware – Make sure your Windows Operating System is free from any kind of Malware, Viruses etc. For this you can use a good very Anti-Virus program ESET NOD32 Antivirus.
Major Cause of Ping / Packet Loss Problem
The major cause of this problem lies with the server machine located at BSNL exchange. The broadband server of the BSNL must be experiencing some problems with configuration or with its hardware which can cause this problem.
Read: How to check BSNL Broadband Speed
Fix / Solution to BSNL Broadband Ping / Packet Loss Problem
Here is how you can resolve this problem:
1. Register broadband complaint on number 198 or 1504.
2. Go to your BSNL exchange and explain this problem to them. Do not ever tell them you getting slow speed but tell them that your internet data packets are getting lost and the ping is not continuous and everytime it is breaking in the middle.
3. Tell them to either fix their machine / server or ask them get your Port changed.
4. If they perform either of the two things mentioned above then your problem should get fixed.
5. If they tell you that they have fixed the problem then test your ping and see that it has no breaks in between. The normal ping should look like this (see image below).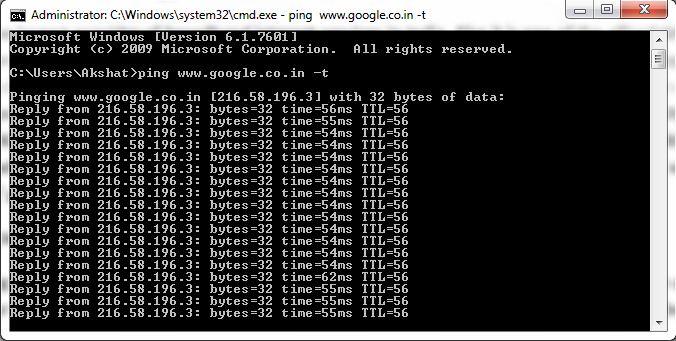 So if you follow the things that I have mentioned above and if you clearly explain your problem to them then you can get this issue fixed in 1-2 days.
Read: How to Pay BSNL Bill on BSNL Online Portal