Best Free Anti Malware Software – Malwarebytes Anti-Malware
Getting hit by a malware is the worst thing that can happen to you. You cannot rely completely on your anti-virus for safeguard of your computer from new and evolving threats that can make your PC completely insecure and slow.
What is a Malware ?
A malware is a malicious software or program running on your computer. It can disrupt the normal working of your computer by interfering with your system files or programs. A malware is capable of gaining passwords, sensitive information or unauthorized access to your computer system. Malware is a general term for a program running any exploit on your computer. A malware includes worms, Trojans, root-kits, rogues, dialers, spywares, adwares etc.
There are plenty of Anti-malware tools available on the internet both as free and paid versions and one common thing about them is that they all are bloat-wares and not at all effective, so can make the condition of your computer more sick. But as I say there is always a hope in this world and this time it is an Anti-Malware tool from Malwarebytes.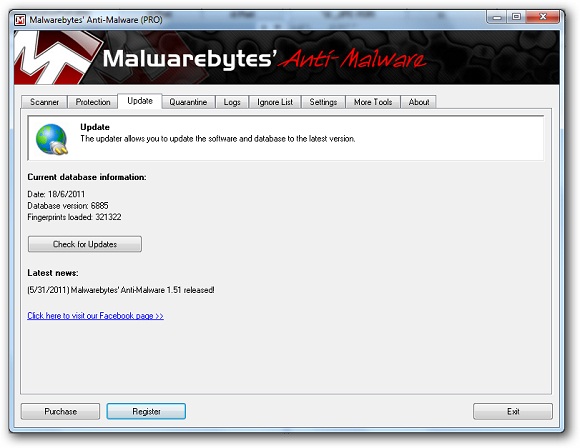 MalwareBytes Anti-Malware (MBAM) is an anti-malware removal tool developed by Malwarebytes Corporation. It was released in January 2008 and is available both as free and paid version. In free version you have to manually start the scan process for scanning files while the paid version can perform schedule scans, real time scanning, IP based blocking to prevent access to malicious websites and a flash memory scan option which only scans the opened services, programs and drivers.
Is Malwarebytes Safe ?
MalwareBytes is completely safe and there are no hidden surprises like Adware in the Program
Features of Malwarebytes
Advanced Malware Detection and RemovalIndustry Proven Clean-up Technologies Eradicate Existing Malware Infections.
Industry Proven Clean-up Technologies Eradicate Existing Malware Infections
Rapid Response Malware Database and Heuristics Updates
Access to our Expert Community and Knowledgeable Support Team (Email/Forums)
Chameleon Technology Gets Malwarebytes Running on Infected Systems
Multi-Language Support (currently 35 and counting!)
Real-Time Active Malware Prevention Engine Blocks Known Threats
Heuristic Protection Prevents New Zero Day Malware Infections
Malicious Website Protection Blocks Access to Known and Zero Day Malicious Web Content
Automatic Priority Updates and Scheduled Scanning
Blazing Fast Flash Scans
Malwarebytes Anti-Malware currently stable version is 1.60 and is available in 33 languages. You can download Malwarebytes from from the link below.