BSNL Speed Test Tools to Check BSNL Broadband Speed
Broadband is a high speed internet that is transmitted over coaxial cable, optical fiber, radio or twisted pair cables. It is a very high bandwidth internet that can be transmitted over longer distances. Broadband Internet can be either wired or wireless. BSNL or Bharat Sanchar Nigam Limited is a Government Telecommunications organization in India and also the largest provider of broadband internet services in India. This is because of its wider network reach in the country through telephone lines on which it provides broadband connection through ADSL technology. BSNL also provides some of the most affordable broadband plans and has millions of subscribers or customers. BSNL provides broadband internet through ADSL, Fiber, 3G and EVDO or Wireless technologies.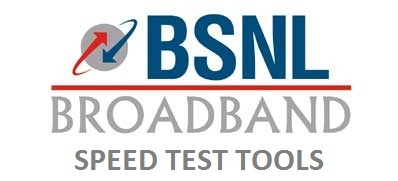 The speed of BSNL broadband is generally good but sometimes you can face speed, ping and connectivity issues. Their support service is not up to the mark because they lack qualified technical support staff in numbers. You can look at the links below on how to resolve BSNL Broadband problems and where to complain if you are facing issues with your broadband internet speed and connectivity.
Why to Check your Broadband Internet Speed?
Speed is the most important parameter in Broadband Internet. Speed is a major criterion on which the ISP (Internet Service Provider) charges you. If you are getting low speed then you will losing out on the money, work and time, and for this you should report to your ISP for slow speed issue and ask them to get it fixed as soon as possible.
You must know that internet speed is always measured in Kbps (Kilo bits per second), Mbps (Mega bits per second) and Gbps (Giga bits per second).
On the other hand Download speed and Upload speed is measured in Kilo bytes per second (KBps or KB/s) and Mega bytes per seconds (MBps or MB/s).
There is a difference of bits and bytes in the internet speed and download speed where one byte is equal to 8 bits.
1 byte = 8 bits
If you have internet speed of 1 Mbps then your download speed would be 128 KB/s.
1 Mbps = 1024 Kbps,
Then Download Speed = 1024 / 8 = 128 KB/s which is 128 Kilobytes per second
So do not get confused between these two speeds measurements and parameters.
You can check the broadband speed by using online speed test tools or using the manual method which I have discussed below in this post.
How BSNL Broadband Speed Test Tools Works?
BSNL Speed Test tools works by downloading a file of specific size from your internet to the nearest server location and then it calculates the average time spent to download that. After that the speed will be calculated in either Kbps or Mbps and displayed on your computer browser screen.
For Uploading the same procedure is followed but here the file is not downloaded but uploaded to the nearest server. Read below on how to check bsnl broadband speed.
BSNL Broadband Speed Test Tools to check Internet Speed
When you enter the search terms "bsnl speed test" or "speed test bsnl" in Google then you will get list of many online speed test tools to check broadband speed, but I must tell you that all of them are not good and accurate. So here I will be listing some of the best bsnl internet speed test tools to check your bsnl broadband speed online very easily.
Important Note: When checking your broadband speed you should not be doing browsing or downloading / uploading otherwise you will not get the correct internet speed of your bsnl broadband connection.
Speedtest.net by Ookla
The best and most accurate & reliable speed test tool for checking broadband internet speed of any ISP, whether it is BSNL, Airtel, Reliance etc. Just launch this tool on your browser by going to link below and then click on "Begin Test" to calculate your broadband speed. After that a speed meter will be displayed and you have to wait for few minutes for the tool to conduct the speed test and after that your download speed and upload speed both will be displayed on your screen. It also provides you other information like your Ping time, IP and ISP name.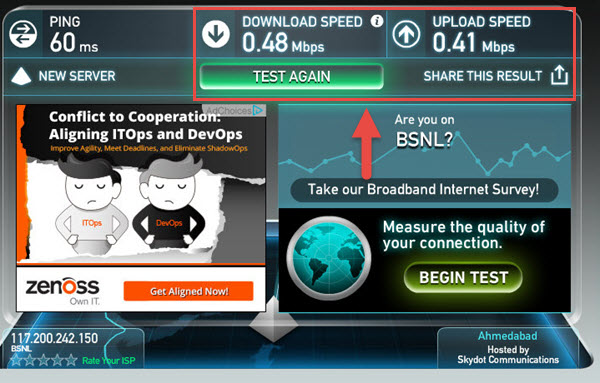 Here in the above picture my broadband speed is around 0.48 Mpbs which equals to 1024 x 0.498 = 491.52 kbps. I have 512 kbps connection and the calculated speed is pretty accurate as it is virtually impossible to get the actual rated speed because there are various losses in between the ISP and your home and office which involves cables loss, cable distance etc.
Speet Test Tool by Ookla: http://www.speedtest.net/
BSNL Official Speed Test Tool
This is the official BSNL speed test tool. Just click on the link mentioned below and then click on "Click to Start Speed Test",  here just wait for a few minutes to get your BSNL broadband speed. The tool is not very accurate and you will get different results with decent amount of variation every time. I am mentioning this tool only because it is an official speed test tool from BSNL and also if the above speed test tool is not working for some reason then you can use this official bsnl internet speed test tool for checking your broadband speed.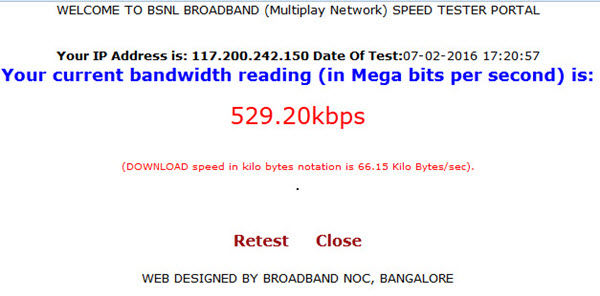 Official BSNL Speed Test Tool: http://speedtester.bsnl.co.in/
OR
Direct link for speed testing: http://speedtester.bsnl.co.in/initialmeter.php
There are other online tools also available for speed test bsnl broadband or any broadband internet but they are not reliable and their results are not as accurate as speedtest.net.
Note: Using the above mentioned Speed Test Tools you can also Test the Speed of BSNL FTTH Broadband Internet connection.
How to manually check BSNL Broadband Speed
You can also check the speed of your bsnl broadband connection manually by following the steps mentioned below.
Steps to Manually Speed Test BSNL Broadband
1. First start downloading a file of 5 to 10 MB in size from a fast website or server to your computer. You can download some freewares or free softwares from filehippo.com or filehorse.com
2. Then Note down the average download speed. It will be either in KB/s or Mbps depending upon how fast your internet connection is.
3. Multiply the downloading speed that you have noted to 8 and then you will get the speed of your internet connection. For example:
If your download speed is 55 KB/s then your internet speed will be 440 kbps (~512 kbps connection)
If download speed is 440 KB/s then,
Broadband Internet Speed = 1920 kbps ~ 2 Mbps
If download speed is 1Mbps then,
Internet Speed = 8 Mpbs and so on.

Here in the above picture average download speed is around 50 KB/sec which means that your broadband speed would be 8 x 50 = 400 kbps. I have 512 kbps BSNL broadband connection but i am getting around 400 kbps speed only.
Note: The manual way to check broadband speed may not be very accurate as in direct downloading speed can fluctuate in different browsers but I have discussed it for informational purpose for the users.
Read: Pay BSNL Bill Online on BSNL Portal