Fix for ADSL Modem / WiFi Router Restarting or Freezing Randomly
Random Freezing or Restarting of your ADSL Modem or WiFi Router is a very annoying problem but it is faced by many users around the world. In this problem your DSL Modem / WiFi Router Freezes or Restarts automatically and randomly and this causes intermittent internet connection. I have also faced this problem with my ADSL Modem + WiFi router with BSNL Broadband internet connection and after doing many things I managed to fix it.
There is no single solution to this problem because it can happen due to various reasons. For this you have to try out all the possible fixes to make sure the problem goes away or not. Here in this post I am going you to provide the causes and fix for ADSL Modem / WiFi Router randomly restarting or freezing problem.
Issues Faced by this Problem
Device Restarting Automatically & Randomly
WiFi Freezes with No Internet connection
Loss of Internet connectivity
Solutions for ADSL Modem / WiFi Router Restarting or Freezing
Here are the various solutions to fix this Modem or WiFi Router problem of automatically restating and freezing.
Check Power Button
Almost all the DSL Modems and WiFi Routers come with a on/off toggle push button on the backside. This button or switch can become faulty if you use it too often and due to this it won't work as expected. There may be a loose contact and this can cause frequent restart of your device automatically. So make sure that the On/Off button is working correctly and if not then you can either short the switch permanently using soldering iron or glue it to the permanent On position.
Reset Modem / Router
If your modem or router freezes or restarts randomly then you can reset it to see if the problem goes away or not. The Reset button on the modem / router is located on the back side and you have to press and hold it for few seconds to reset your device.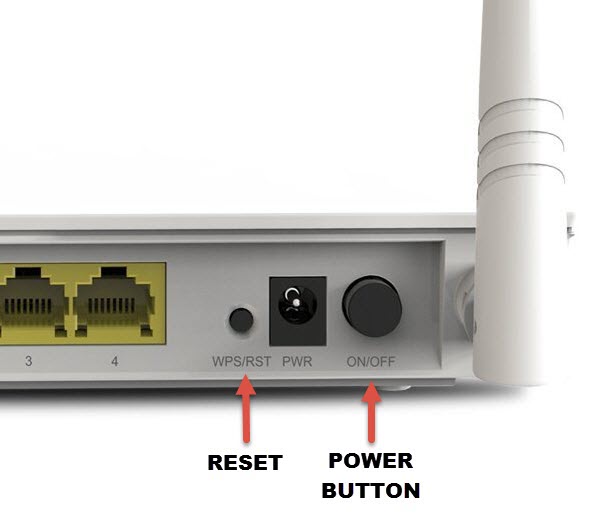 Check Power Adapter
The power adapter of your modem or router can become faulty and this can rise to this restarting problem. To check whether the adapter is working fine you can use the multimeter to check its output voltage. If the output voltage is according to its specifications then the adapter is working fine otherwise you have to buy a new power adapter for your modem / router. Make sure that the power adapter you buy have the same output voltage, current and pin size.
Overheating
Overheating is one of the major factors for this problem. If your leave your modem / router working for 24×7 then it does gets very hot which causes performance degradation, random restarts and may also cause freezing. You can follow the guide mentioned below for various tips to decrease the temperature of your router or modem effectively.
Voltage Fluctuations
Frequent voltage fluctuations can also cause your DSL modem or router  to restart randomly. In this case you can connect your modem / router to a UPS to solve this issue.
Interference
Your WiFi Internet from the router may freeze due to the interference caused by other wireless devices in your area. This may include wireless mouse, wireless keyboard or other wireless devices. To solve this you can restart your wifi router or select the best wireless channel manually in your router wireless settings.
Update Firmware
Updating the firmware can solve many problems. You can download the latest firmware for your device from the manufacturer's website and then update it by going to router's settings interface. Firmware updation can take up to 10 – 15 minutes depending on the modem or router you have.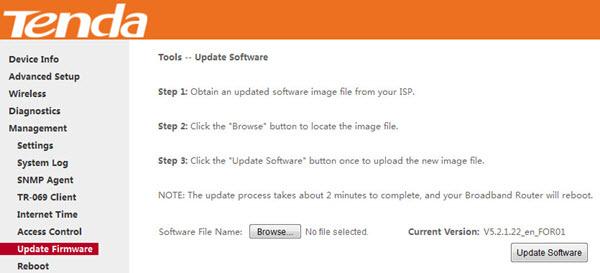 Set Optimal MTU Size
You can also set the optimal MTU size on your router or modem as a remedy to this problem. This may or may not work but it is always a good practice to set the best the best MTU packet size to avoid any issues related to websites not opening up. You can refer to the tutorial mentioned below to know about how you can set the optimal MTU size for your router / modem.
You can change the MTU size by going to your modem / router WAN settings.
Bad Line
A bad telephone line may also cause this problem so ask your lineman to fix the line if it is noisy or facing any other problem.
Change ADSL Splitter
You can also change your old ADSL splitter to see that the problem goes away or not. Always buy a good ADSL splitter and not the cheap ones because they can cause more problems for you. Go through the article below to know about various ADSL splitters models and which one to buy for your ADSL broadband internet.
ISP Side Issue
Contact your ISP or Internet Service Provider to verify that whether they are having any issues from their side or not.
Faulty Hardware / Device
If you have tried all the solutions mentioned above and still facing the restarts / freezing with your modem or router then it means your device has gone faulty. Here the only thing you can do is to buy a new ADSL Modem or WiFi Router to make the problem go away permanently.
Final Words
At the end I would like to say that I have mentioned all the possible causes and solutions for modem / router restart problem, and by following each one of them step by step you can really solve this issue. If you have any queries regarding this then you can ask me by leaving a comment below.
See also: