Fix for PC Restarts or Reboots Randomly and Automatically
If your PC restarts randomly in the middle of your work then it is not normal and you have to look for its causes and sort out the problem. In this problem the frequency of restarts may vary and if it occurs frequently then it is a major issue and you must address its cause and take appropriate measures to fix it. There may be various reasons for restarts and here I am discussing all the major causes for random PC Reboots and tell you the appropriate solutions to fix it.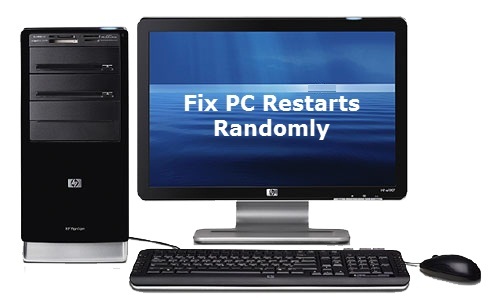 Causes & Fix for Computer Restarts Randomly
Here are the various causes and their solutions for PC reboots randomly in the middle of your work or when it is powered ON.
Corrupted Windows
A corrupted Windows Operating System can also be the reason for random restarts or reboots so verify and repair your Windows OS files using the bootable Windows DVD. You can also use the inbuilt windows system file checker using command sfc /scannow on command prompt to repair, check and fix your important Windows files. If the corrupted files are not getting repaired then you should format and clean install Windows.
Virus / Malware Infection
A PC infected heavily with viruses and malwares is also a cause of random reboots. Here the first thing you should do is to install a good antivirus software and scan your whole computer. I advise you to get ESET NOD32 Antivirus because it is truly one of the best antivirus programs around. You can also use Malwarebyte Anti-malware for removing other kinds of malwares. If the infection is very severe then the best solution is to format your PC and install fresh copy of Windows OS.
SMPS / PSU Issue
SMPS / PSU problems are one of the major causes for random reboots of your PC. This can happen due to following mentioned reasons:
Using Cheap SMPS – If you are using a cheap and unbranded power supply then you can face frequent restarts and reboots. This is because a cheap unbranded SMPS is unable to provide proper power to your PC components and this causes your PC to restart because of lack of power. Here I would advise you to get a good branded budget SMPS for your PC. To start with I would advise you to get a very good branded budget SMPS which is Corsair VS450.
Faulty SMPS – A faulty SMPS can also be a cause for this problem. You can check this by testing your PC with another SMPS of the same capacity and model, and after this if the problem does not occur then you have a faulty SMPS. To resolve this simply get a new PSU for your PC.
SMPS/PSU Overloading – If you are overloading your SMPS then it can also cause frequent and random restarts. Here overloading of SMPS means that your PC is consuming more power than the SMPS can supply. For example you have a SMPS of 300 Watt and your PC is consuming 400 Watt of power then it will cause your PC to restart. So to solve this issue, buy a SMPS with greater capacity. If you are unsure about how much capacity of SMPS you should get then you can ask me by leaving a comment below clearly stating your PC configuration.
Voltage Fluctuations
Voltage Fluctuation in your home or office can also cause random reboots, so get a good UPS for your PC. If you already have a UPS and then also you are getting restarts because of voltage fluctuations then this means the battery of your UPS has died and needs a replacement. Read the post below on how to find a good and reliable UPS for your PC.
How to Find a Good UPS for your PC
Overheating of Components
Overheating of major components of your PC which includes Processor, Motherboard and Graphics Card can also lead to random restarts. So cool down the temperature of these components. Read below on how you can do it.
How to Find a Good CPU Cooler for your Processor
How to Cool Down your Graphics Card
How to Decrease your Motherboard Temperature
Faulty Motherboard
It is very rare but if your motherboard has gone corrupt then you can face random reboots. So make sure that your motherboard is in good condition and if it is not, then get it replaced or buy a new one.
Faulty RAM
A faulty RAM can cause frequent random reboots. Usually your PC will restart with a Blue Screen Memory Dump Error (BSOD) if your RAM is faulty. So here get your RAM replaced or buy a new one.
If you are still facing PC restarting issue then you can ask me your problem by leaving a comment below.
Must Read: Fix for Computer Wont Start
Read More: