Fix for 0xc00007b, Black Screen, BSOD & Other Game Errors
If you are a PC gamer then you may have faced some strange problems with the latest modern games. The installation of your game may have gone smoothly without any issues but when you start or run the game for the first time then either the games crashes with or without a message or you may face Blue Screen of Death (BSOD) or Black Screen errors.
Various PC Games Errors
Here are the major game errors or problems that you may face when you start or launch a game which you have installed.
The application was unable to start correctly 0xc00007b

This is one of the most common problems that can be caused by missing of some important files that are needed to run the game. This can happen due to some other reasons also, so to fix this issue go through the solutions given below in this post and you will be able to resolve this error for any game.
Black Screen Issue

In this error when you run the game and then the screen will go black with no sound and without any further processing.
BSOD Problem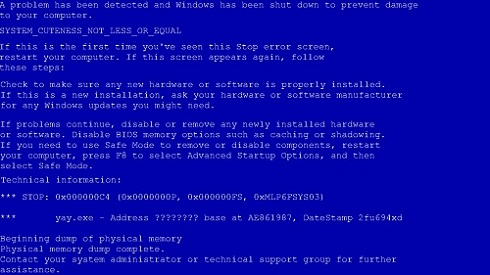 After successfully installing when you launch the game, the game crashes with Blue Screen of Death (BSOD) message. It is a very annoying problem which was generally screen in Max Payne 3 but it was resolved by applying the proper fix.
Other Errors
You may face some other game errors too which can display different error messages but you can apply the below mentioned solutions to resolve or fix them.
Solutions or Fix to Various PC Games Errors
Here are all the possible solutions and fix for various computer game problems discussed above and also others which you are getting in your PC game.
Fix Incorrect Game Installation
The first thing you should check is whether you have installed the game correctly or not. The games files should be complete and in the proper place. If your game is installed correctly and you still facing problems in running it then you can proceed further for the next solutions mentioned below.
Update Graphics Card Driver
It is always recommended to update your graphics card driver to the latest one for the latest games. This because some modern games requires latest graphics drivers to run as they do not support the older versions of graphics card drivers.
Install & Update DirectX
DirectX is an essential component to make your game run. Latest and modern game requires the latest version of DirectX and if you do not have it then your game won't start and error messages like "d3d application failed" will displayed on your screen. DirectX is required for the 3D effects, special graphics effects and all other graphical and multimedia effects in your game. As of now the latest version of DirectX is DirectX 12.
Install Right version of Windows (32bit / 64-bit)
Make sure that the game you are installing supports the version of Windows that you have currently installed in your PC i.e. 32-bit or 64-bit. This is because latest and modern games requires 64-bit version of Windows 7 / 8 or higher, and they will not work on the 32-bit version of these operating systems.
Install Latest Game Patches
Always install the latest patches released by your game manufacturer because these patches contain various bug fixes and performance improvements for the game.
Install Latest OS Service Packs & Patches
Keep your Windows Operating System updated with latest service packs and patches. This is because some games may throw some errors and fail to run if your operating system files are not up to date. One such example is Max Payne 3 which gives BSOD on Windows 7 OS if Windows 7 Service Pack 1 is not installed.
Install Latest .Net Framework
Almost all windows games require Microsoft .Net Framework for their working. Also keep your .Net framework updated for the proper working and functioning of your game.
Download Microsoft .Net Framework
Install Latest Microsoft Visual C++ Redistributable Packages
It is also one of the most important components that you need for your game to run. These are set of small files known as Microsoft Visual C++ Redistributable Packages which are the essential components for any modern day game to run. There are mainly two types of VC++ installer files, vcredist_x86 and vcredist_x64. vcredist_x86 is for 32-bit version of windows and vcredist_x64 is for 64-bit version of windows.
Important Tip: Even If you have 64-bit version of Windows then also you must install the vcredist_x86 too along with vcredist_x64. This because some games require it and if you do not install it then you can face the 0xc00007b error.
Download vcredist_x86 and vcredist_x64
Must Read:
Check Can your PC Run this Game?