Corsair VS450 Review – Best Budget Branded SMPS
Corsair VS450 is an entry level branded power supply unit (PSU). I recommend this SMPS to most of the people who wants a reliable PSU in budget. It is a 450 Watt power supply from the very popular and reliable company Corsair. The VS in Corsair VS450 PSU stands for Value Series which gives the indication that it the budget range power supply from Corsair. I have told many times in this blog about the importance of having a branded power supply and how you can choose a good SMPS for your PC. If you have missed these posts then you can read them by going through the links below.
How to Find a Good SMPS for your PC
How to Find your SMPS / PSU Requirement
But here in this article I will tell you about the main features of Corsair VS450 PSU and why it is one of the best budget PSU in 400 Watt range.
What makes Corsair VS450 PSU a Good Budget SMPS
Here are the top reasons on why should opt for Corsair VS450 if you want a good branded PSU in budget.
Reliability & Performance
Corsair VS450 is made from high quality components and parts so it is very reliable and gives top performance even at full load. It has Active Power Factor Correction (PFC) of 0.99 as to protect your components from uneven power delivery and also it does not consume extra power or electricity for its operation. Build quality of the Corsair VS450 is very good and its exterior body is black power coated which gives it a professional look. Corsair VS450 has got 80 Plus White Certification which is good for an entry level power supply.
Click here to Learn about SMPS 80 Plus Certification in Detail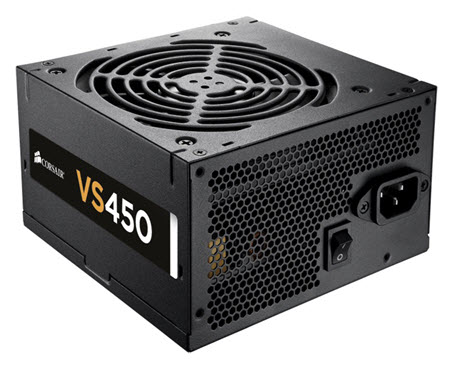 High Compatibility with Motherboards & Cabinets
Corsair VS450 is compatible with almost all the modern day motherboards. It conforms to ATX12V v2.31 standard and is backward compatible with the ATX12V 2.2 and ATX12V 2.01 standards. The power supply is not big and chunky and can fit in any standard size ATX cabinet (mid-tower & full tower ATX cabinets).
All Connectors & Cables
Corsair VS450 has got all the necessary cables and connectors in sufficient amount to build your personal computer with graphics card. Here is the cable description for Corsair VS450 SMPS:
ATX Connector – 1
EPS Connector – 1
4-Pin Peripheral Connector– 4
PCI-E Connector – 1
SATA Connector – 4
Learn more SMPS Connectors and Cables in Detail
Sufficient Current on 12V Rail
Corsair VS450 has single 12V Rail and has got enough current on it to build a decent PC. It has got 34A on its 12V Rail which is enough for most mid-range computers with decent configuration.

Cool and Silent in Operation
The PSU is very quiet and silent in operation as it has got a big 120 mm fan (Sleeve bearing) to cool the SMPS components. Also the SMPS generates very less heat and offers up to 85% efficiency.
Can handle up to Mid-range Graphics Cards
It is quite a powerful SMPS and can handle up to mid-range graphics cards comfortably. But if you are going for a mid-high or high end graphics card then you need to switch to a 550W – 750W power supply.
Safety Features
Corsair VS450 comes with various safety features to protect your valuable PC components. These protection features include over-voltage, under-voltage, over-current, and short circuit protection which can shut down the SMPS in case of any miss happening in form of current or voltage.
Affordable & Good Warranty
Corsair VS450 is very affordable and comes with three year warranty. It is priced at Rs. 2500/- (approx.) and you can get it at discount price from the reliable and trusted online stores mentioned below. So if you are looking for a good branded and budget power supply for your PC then there is no one better than Corsair VS450 especially at this price.
Buy Corsair VS450 at Great Price
Read More: