Tablet vs Smartphone – Which one to choose?
Smarpthones and Tablets both are mobile devices that very popular these days. Both have various similarities between them but they are also different in some ways. They may have almost the same hardware  but their applications are totally different.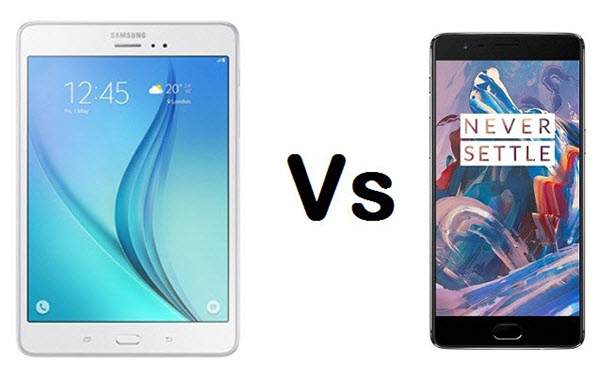 Sometimes people are skeptical that whether to buy a smartphone or tablet for their needs. Well both these mobile devices have their own areas of work and purpose. You cannot mix them together thinking that one can do the work of another. So here in this post I am going to tell you the exact difference between Tablet and Smartphone and also tell you that which mobile device you should buy for your needs or requirements.
What is Tablet, Smartphone and Phablet?
First let us know about the exact meaning of tablet, smartphone and phablet.
Tablet
A tablet or a tablet computer is a portable computer that is used for internet, reading e-books, creating and editing documents and other office work. A tablet may or may not have voice calling facility. A tablet is a touchscreen device and it comes with screen size of 7-inches and more. A tablet is also used for learning purpose for kids in schools and students in colleges. For increasing comfort and productivity you can add USB or Bluetooth keyboard to Tablets. Tablets are available for all the popular mobile operating systems that include Android, iOS, Windows, iOS or Blackberry.
Read: How to Find a Good Tablet with 3G Voice Calling
Smartphone
A smartphone is a touchscreen mobile phone that has extended capabilities and can do much more than just making and receiving calls. A smartphone comes with powerful processor, good amount of memory which enables it perform heavy duty tasks and allows multitasking. You can also listen to music, browse internet, click high resolution pictures, record videos and perform various other complex tasks using smartphone. Smartphones are available for Android, iOS, Windows, Blackberry Operating Systems.
What is a Phablet?
A phablet is a new term that is used for Smartphones that have screen size greater than normal smartphones but smaller than the tablets. The term Phablet is made from words (Phone + Tablet). Generally devices with screen size 5.5 inches or greater but lesser than 7 inches are termed as phablets. Because of its bigger screen size a phablet can serve the purpose of both tablet and smartphone.
Tablet vs Smartphone
Here is the neck to neck comparison of tablets and smartphones based on their hardware and their applications of use.
Size or Form Factor
Tablets are much bigger in size as compared to Smartphones. You can easily carry smartphone in your pocket but a tablet is bigger and it cannot be put into pocket. For tablet you have to carry it either in your hand or a bag. Because of the bigger size Tablets are much heavier than Smartphones.
Processor & Memory
Both Smartphones and Tablets come with similar types of processors. It means you can a find the same processor fitted in both smartphone and tablet. The two most popular companies that manufacture mobile processors for Smartphones and Tablets are Qualcomm and Mediatek. Qualcomm makes Snapdragon processors that delivers high performance and are used in high end to mid-range smartphones and tablets. While Mediatek processors offers great value for money and are generally seen budget and mid-range Smartphones and Tablets.
RAM & Storage
The amount of RAM and storage present in Smartphones and Tablets depends on the manufacturer. Just like processor the same type of memory is used in both Smartphones and Tablets.
The storage capacity also depends on the smartphone or tablet model. Also both smartphones and tablets can support microSD card for expanding the memory.
Display & Screen Size
Tablets have bigger screen and their screen size ranges from 7-inches to up to 13 inches while Smartphones have smaller screen and their screen size falls in the range of 3-inches to 6-inches. Good Smartphones generally have Gorilla Glass or Dragontrail Glass protection on their display screen but there are only handful of tablets that have scratch resistant protection glass on it.
Camera
When it comes to camera then Smartphones really have an edge because of their superior rear camera equipped with LED flash. Tablets do have rear camera but they are not very good and most of them lacks flash. Nowadays almost all modern day smartphones comes with front camera also for taking selfies but there are few tablets out there with front camera.
Voice Calling
Almost all smartphones comes with 3G voice calling facility because without it they won't be called as mobile phones. This is not the case with tablets as not all tablets support voice calls. So before buying a tablet you must carefully see that whether it supports voice calling or not.
Also very large number of Smartphones comes with dual SIM functionality where you can use two SIM cards simultaneously but dual SIM Tablets are very few in number.
Extra Features
Smartphones may come loaded with features like FM radio, Dust and Water Resistant, dual lens camera, dual LED (dual tone) flash, IR Blaster, Fingerprint Sensor, NFC, Quick Charge, Wireless Charging etc, but in Tablets you won't find these features as they are meant for different purpose.
Ports & Connectivity
Smartphone generally comes with micro USB and 3.5mm audio port but Tablets may come with extra ports like full sized USB port, micro USB to HDMI port, HDMI port. Nowadays latest high-end Smartphone are also coming with micro HDMI ports for hooking your phone to TV.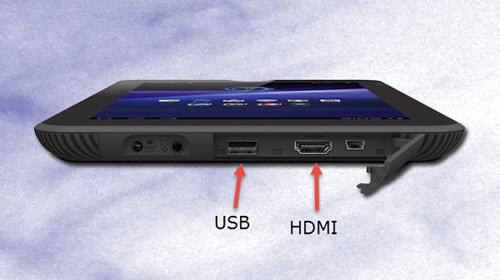 Connectivity options are generally similar for both Smartphones and Tablets and they include WiFi, Bluetooth, GPS etc.
Operating System
Both Smartphones and Tablets are available for all the popular mobile operating systems that include Android, Windows, iOS.
Battery
Tablets generally comes with bigger battery as compared to most smartphones. The battery backup time for tablets and smartphones depends on their usage. If a tablet does not support 3G and Voice calling then its battery will last longer as compared to others.
Price
Both Smartphones and Tablets are available for all price range starting from budget, mid-range to high-end. But in general people do not normally go for tablets above 20000/- rupees because you can find a good tablet for your needs in 15k to 20k Rupees.
Tablet or Smartphone – Which one to buy?
Now the question arises which one you should buy i.e. Tablet or Smartphone? The answer here is that if you need a portable device for business needs i.e. for checking and replying to emails, reading and editing office documents, internet browsing, making presentations, reading eBooks and has a good battery life then you should buy a Tablet.
But if you need a device that can function as a mobile phone and is powerful enough to run all applications, play games, internet browsing, clicking high quality pictures and selfies, comes loaded with extra features and which you carry it in a pocket then go buy yourself a Smartphone with having screen size of 5 to 5.5 inches.
Well I have tried my best to differentiate between Smartphone and Tablet and also told you about their application of use. If you still have any doubt on which mobile device to get i.e Smartphone or Tablet then you can ask me by leaving a comment below.