List of Android Smartphones with IR Blaster
Smartphones are getting smarter and more powerful than before. Now it has become possible for you to control your TV, Home Theater, AC, Projector, Cable Box etc. with them. This is because now some of the top end smartphones are coming with IR Blaster that makes your phone a remote control for almost every remote operated electronic equipment at your home or office. Many people don't even know what an IR Blaster is, so in the next part I will explain in detail about it.
What is IR Blaster?
An Infrared Blaster or IR Blaster is a device or component that acts as a remote and is used to control remote enabled devices such as TVs, DVD player, AC, Set Top Box etc. So if your Smartphone has got IR Blaster then you control virtually any electronic device that can be operated by a remote.
An IR Blaster or IR Transmitter emulates the functionality of remote for any device. IR Blaster works by emitting an infrared signal or infrared light to the device and then controlling it various functions. The infrared light is emitted by small LED and it is invisible to naked eye. This infrared signal or light contains a particular infrared code in form of pattern for each device and its functions, so that the receiving device can recognize it and then operate accordingly. For example LG and Samsung TVs infrared codes will be different and also for its various functions like volume, power on/off etc. Therefore if your Smartphone is having an IR Blaster then it can act as Universal Remote. There are also some good applications for IR Blaster that can convert your Smartphone as a Universal Remote.
Must Read:
Good Universal Remote IR Blaster App
Here is a good app known as Galaxy Universal Remote that can be used to control every device that can be operated by a remote. If your Smartphone in-built app does not have options for extra devices then you can use this app for extra functionality and support for more remote operated extra devices. You can also contact them for IR Code for a particular device or its functions.
Best IR Blaster Universal Remote Android Apps
What is an External IR Blaster?
An external blaster is a add-on device that can be attached to your android smartphone and turning it into a Universal remote. There are two types of external IR blasters, one plug into the 3.5mm audio port of your phone and other one in the micro-USB port of your smartphone and it only works if your smartphone supports OTG (On-the-Go).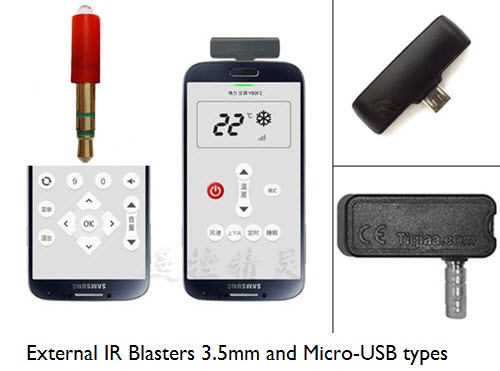 These external IR blasters consist of an IR LED or IR Sensor attached to the 3.5mm audio jack or micro USB port. Below is the picture of an external IR Blaster with 3.5mm audio jack.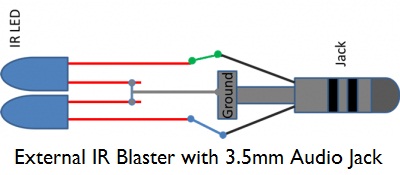 External IR blasters are not that successful and they do not work on every smartphone. They need special IR Blaster software of their own for their working. Also the range of these external IR blasters is not good. I advice you to not to buy these external IR blasters as you might be wasting your money on them.
List of Android Phones having Infrared Blaster or IR Transmitter
Here is the list of Android Smartphones that are equipped with IR Blaster or IR Transmitter functionality. Most of the Smartphones are top end and falls in the expensive category except the LG L90, LG L90 Dual, Xolo 2100, Xiaomi Mi4 which are relatively cheaper and falls in the mid-range Smartphones category.
Asus Zenfone 3
Asus Zenfone 3 Deluxe
Asus Zenfone 3 Ultra
XOLO Q2100
XOLO Q600 Club
Hyve Pryme
LeEco Le Max
LeEco Le Max
LeEco Le 2
LeEco Le 2 Pro
LG L90
LG Volt
LG G Pro 2
LG G2 Mini
LG G2
LG G3
LG G4
LG G5
LG G Flex
LG G Flex 2
LG G Pro Lite
LG Optimus L9 II
Micromax Dual 5
Oukitel U13 Pro
Panasonic P55 Novo
Panasonic Eluga Note
Panasonic Euga Arc 2

Panasonic Eluga Mark 2
Samsung Galaxy Note 3
Samsung Galaxy S4
Samsung Galaxy S4 Mini
Samsung Galaxy Mega
Samsung Galaxy Note 3 Neo
Samsung Galaxy Note 4
Samsung Galaxy S5
Samsung Galaxy S6
Samsung Galaxy S6 Edge
Samsung Galaxy S6 Active
Swipe Elite Note
HTC One M7

HTC One Max
HTC One M8
HTC One M9
HTC One M9+
HTC One Me
Huawei Honor 6
Huawei Honor 7
Huawei Honor V8
Huawei Honor 8
Huawei P9 Plus
Huawei Honor 6 Plus
Gionee Marathon M5
Gionee A1
Qiku 360 N4S
Xiaomi Mi 4
Xiaomi Mi 5

Xiaomi Redmi Note 2
Xiaomi Redmi Note 4
Xiaomi Redmi 4
Xiaomi Redmi 4a
Xiaomi Redmi Pro
Xiaomi Mi Max
Xiaomi Redmi 3S
Xiaomi Redmi 3S Prime
Sony Xperia ZL
Celkon Campus A35K Remote
Intex Aqua Y2 Remote
iBall Andi Sprinter 4G
Karbonn Titanium Mach Five
Oppo Mirror 3
Oppo Mirror 5
Videocon Krypton 22
ZTE Grand X Max+
ZTE Nubia Z9
See also: