List of All Corning Gorilla Glass 4 Phones
Corning Gorilla Glass is a tough, scratch resistant and damage resistant glass used in smartphones, tablets and other electronic and mobile devices. Previously I have written a detailed article on Gorilla Glass where I have mentioned its advantages and how it is manufactured. You can read that useful post by going through the link given below.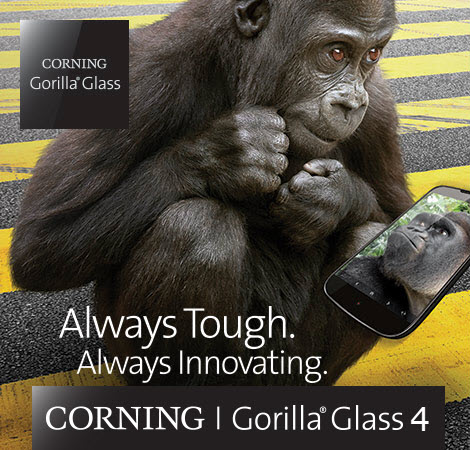 Gorilla Glass 4 is the latest version of Corning Gorilla Glass. Gorilla Glass 4 is much stronger than its previous versions i.e. Gorilla Glass 3, Gorilla Glass 2 and Gorilla Glass 1. Corning Gorilla Glass 4 has greater resistance to pressure and can withstand harsh drops on pointed or rough surfaces much better than the Gorilla Glass 3. Gorilla Glass 4 can withstand such drops up to two times better than competitive glass designs that may include Dragontrail Glass and other scratch resistant glasses. In future we may see Gorilla Glass 5 with even more enhanced strength than its predecessors.
Read: What is Gorilla Glass and How it is made so tough?
Read: Gorillas Glass vs. Dragontrail Glass
Currently Gorilla Glass 4 is included in handful of mid-range and high-end Smartphones, and here I will provide you the complete list of Smartphones equipped with Corning Gorilla Glass 4 protection.
Read: Gorilla Glass vs. Tempered Glass Screen Protectors
Features of Gorilla Glass 4
Here are the main features of Corning Gorilla Glass 4:
Enhanced retained strength after use
High resistance to scratch and sharp contact damage
Improved drop performance
Superior surface quality
Thin & light as Gorilla Glass 3
Available in variable thickness
Improved Damage Resistance
Highly Durable Glass
Resistant to Chemicals
Corning Gorilla Glass 4 Applications
Here are the major applications of Gorilla Glass 4:
Ideal protective cover glass for electronic displays in Smartphones, Laptop and tablet computer screens, Mobile devices
Touchscreen devices
Optical components
High strength glass articles
Gorilla Glass 4 Stress Testing
Here is comparison of Gorilla Glass 4 stress tests results as compared to Gorilla Glass 3. The test is done at 15 psi abrasion pressure. Higher value means greater resistance with deep abrasion. Also we can see that increase in thickness of both these glasses increases their resistant to damage and pressure.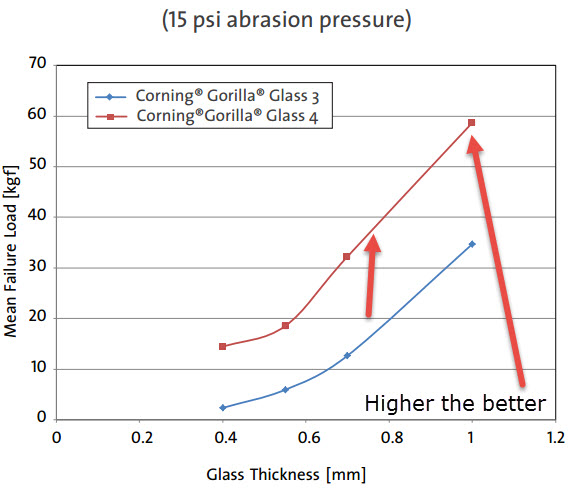 Must Read: Comparison of Gorilla 5 and Gorilla Glass 4
List of all Gorilla Glass 4 Mobile Phones
Here is complete list of Smartphones that are equipped with Gorilla Glass 4 protection.
Asus Zenfone 2 Laser
Asus ZenFone Max
Asus ZenFone Zoom
Asus Zenfone 3
Asus Zenfone 3 Ultra
Asus ZenFone 3 Laser
Asus ZenFone 3 Max
Asus Zenfone Deluxe
BlackBerry Priv
Bluboo Maya Max
Cat S60
Coolpad Max
Gionee S8
Google Pixel
Google Pixel XL
Hisense Infinity KO C20
HP Elite X3
HTC Aero
HTC One E9 Plus
HTC 10
Huawei GX8
Huawei Nexus 6P
Infinix Zero 4
Infinix Zero 4 Plus
Lenovo Phab 2
LG G5
LG V10
Lyf F1
Meizu Pro 6
Microsoft Lumia 950 XL
Moto M
Moto X Play (2016)
Moto Z
Moto Z Force
Nexbit Robin
Nokia C1
Obi Worldphone SF1
OnePlus 3
OnePlus 3T
OnePlus 4

Oppo F1
Oppo R7
Oppo A37
Oppo R9
Samsung Galaxy
Samsung Galaxy A3
Samsung Galaxy A5
Samsung Galaxy A5 (2017)
Samsung Galaxy A7
Samsung Galaxy A8
Samsung Galaxy A9
Samsung Galaxy A9 Pro
Samsung Galaxy Active Neo
Samsung Galaxy Alpha
Samsung Galaxy E7
Samsung Galaxy E700
Samsung Galaxy J7
Samsung Galaxy J7 Prime
Samsung Galaxy Note 4
Samsung Galaxy Note 5
Samsung Galaxy S6
Samsung Galaxy S6 Edge+
Samsung Galaxy S7
Samsung Galaxy S7 Edge+
Sony Xperia Z5
Sony Xperia Z6
Vivo Xplay 5 Elite
Xiaomi Mi5
Xiaomi Mi Max
ZTE Axon 7
I have tried my best to list all the smartphones having Gorilla Glass 4 protection. If you have any query or addition to make then please reply by leaving a comment below.
Check List of Top Upcoming Phones in 2016