List of Smartphones with Dual Camera or Dual Lens Camera
Smartphones have come a long way ahead in the areas of advancement and technology. Back to the day from single core processors to dual & multi-core processors, from single SIM to dual SIM and now from single camera to dual cameras or dual lens camera smartphones.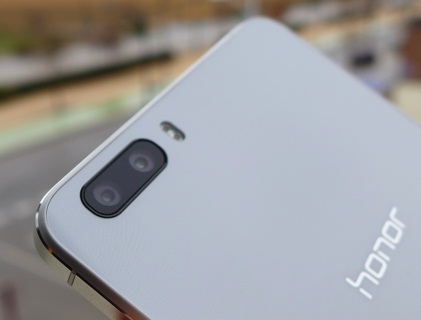 A Smartphone with dual camera has two separate camera lens, each having their own sensors and both these camera are placed side by side on the rear or may be further apart in some phones. Dual camera smartphones are very new in the market and there are only few of them as of now. The idea behind the dual lens camera is to improve the functionality of camera and image quality of the picture taken by a smartphone, So that the quality of pictures look comparable to the ones taken by a DSLR camera.
How Dual Camera Works in Smartphone?
In a dual lens camera setup one camera is used to take the pictures and the other one is to capture the depth of field. You will also get faster Auto-focus (AF) with dual lenses and you can also refocus the picture even after you have captured the shot. With a dual lens camera you can also enable the 3D effects in the pictures making them look more visually appealing and astonishing.
So for Dual Lens Camera System in a Smartphone
First Camera Lens – For taking regular shots / pictures
Second Camera Lens – For adjusting depth of field
Both these Camera lenses may or may not be of same Megapixels but they are definitely of different focal lengths.
To know more about depth of field see the image below: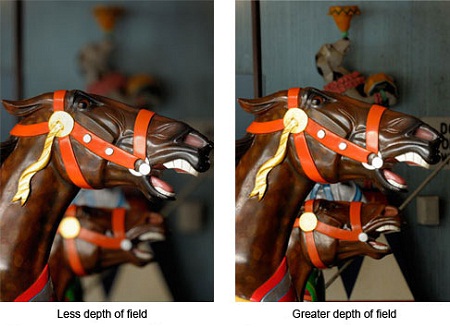 The image on the left side has less depth of field and on the right has greater depth of field. This is because in the right picture you can see the second horse in the background very clearly which looks blurred out in the left picture.
Advantages of Dual Lens Camera in Smartphones
Here are some of the advantages of having dual camera setup in a Smartphone.
Greater Depth of Field in Pictures
With dual lens setup you will get wider aperture if both cameras are working together. It allows more light to pass through the lenses to the sensor resulting in greater depth of field in the pictures. Here as I have explained above also that the one lens is used to capture the image and the other one is used to control or adjust the depth of field.
Faster Focus
Dual lens camera with give you faster or almost instant Auto-focus (~ 0.1 seconds) which is not possible in single lens camera smartphone.
Refocus Ability
Smartphones with dual camera can allow you to refocus the picture even after the shot has been taken. The secondary camera helps to perform refocus functionality. You can also create the bokeh effect by using the secondary camera lens by blurring the out of focus parts or background of a picture. Well the smartphone camera software also plays a large part in creating this effect.
Better Picture Clarity
It has been said that Dual Camera Smartphones takes better quality pictures especially in low light conditions. This is because dual lenses allow more light to pass to the sensor which results in better picture clarity in areas with low light. With dual lens camera you will also get very good HDR images. A dual camera can also boost the pixel size which helps in capturing cleaner images (with lesser or negligible noise) as compared to the ones taken by single lens camera. It has also been seen that dual camera smartphones generally comes with dual LED flash for taking better and clearer pictures in the night.
Must Read: Guide on Finding a Smartphone with Good Camera
Disadvantages of Rear Dual Camera Smartphones
The only disadvantage I have to tell you about the dual lens camera phones or especially the rear dual camera phones is that video recording is not that good in phones having rear dual camera lens system. They might excel at capturing still photos or images but they may lack quality in video recording department.
List of Dual Lens Camera Smartphones
Here is the list of dual camera phones and you can see that all of them are based on android platform. Most of the phones mentioned below are equipped with dual rear camera with only few having dual front camera. The list is sorted alphabetically.
360 Q5
360 Q5 Plus
360 N4A
Alcatel Flash
Asus Z01HDA
Asus ZenFone 3 Zoom
Asus ZenFone Go 2
Bluboo Dual
Coolpad Cool 1
Coolpad Cool Play 6
Doogee Shoot 1
Elephone P9000 Edge
Gionee S9
Gionee S10
Gionee S9T
Gionee M2017
Gionee A1 (Dual Front Camera)
HTC Butterfly 3
HTC Evo 3D
HTC One M8
HTC 11 (upcoming)
Huawei Honor 6 Plus
Huawei Honor 6X
Huawei GR5 2017
Huawei Honor 8
Huawei Honor V8
Huawei Honor V9
Huawei P9
Huawei P9 Plus
Huawei Mate 9
Huawei Mate 9 Pro
Huawei Nova 2
Huawei Nova 2 Plus
iPhone 7 Plus (launched in September 2016)
iPhone 8 (upcoming)
LeEco Cool1 dual
LeEco Le X850
LeEco Le 2S Dual
LeEco Le Max 3
LeEco X10 (dual selfie camera)
Lenovo Vibe S1 (Dual Front Camera or Dual Selfie Camera)
Lenovo Vibe S1 (Dual Front Camera)
Lenovo Phab2 Plus
LG G5
LG G6
LG V10 (Dual Front Camera)
LG V20
LG V30 (Dual Front & Dual Rear Camera)

LG X Cam
Micromax Dual 5
Meizu X
Meizu Pro 7
Moto X (2016)
Moto Z2 Force
Moto G5S
Nokia C1
Nokia 9
Nubia Z17 Mini
Oppo Find 9
Oppo F3 Plus (Dual Selfie Camera)
Oppo 5X
OnePlus 3 Plus (upcoming)

OnePlus 5
Qiku Q Terra
Samsung Galaxy Note 6
Samsung Galaxy Note 8
Samsung Galaxy S8
Samsung Galaxy C10
Sony Xperia M Ultra (upcoming)
TCL 598
Tecno Phantom 6 Plus
Ulephone Gemini
Vivo X9 (dual selfie camera)
Vivo X9 Play (dual selfie camera)
Vivo Xplay 6
Vivo V5 Plus (dual front camera)

Xiamoi Mi Note 2 (upcoming)
Xiaomi Mi5s (upcoming)
Xiaomi Mi 5s Plus (upcoming)

Xiaomi Redmi Note 4 (upcoming)
Xiaomi Redmi Pro
Xiaomi Redmi Pro 2
Xiaomi Mi 6
XOLO Black
ZOPOSpeed X
ZTE Axon Elite
ZTE Blade V8
ZTE Axon Lux
ZTE Axon Pro
ZTE Axon 7 Max
ZTE Grand X Max 2
ZTE Star 3
Now companies like Samsung, LG, Apple and ASUS are also planning to launch Smartphones with Dual Camera setup. If have anything to ask about dual camera phones or want to suggest any dual rear camera phone or dual front camera mobile phone that we have missed then you can tip us leaving a comment below.
Buy Smartphones at Great Prices
Read more: