Foxin FPS 800 SMPS Review – Not a 800 Watt PSU
Foxin FPS 800 SMPS is a computer power supply that is getting much attention because of its lower price and claimed higher wattage. I have already reviewed Foxin 450W and 500W SMPS previously in this blog and told you about their quality, specs and performance but here I am going to review the Foxin FPS 800 SMPS and tell you whether you should buy this SMPS or not.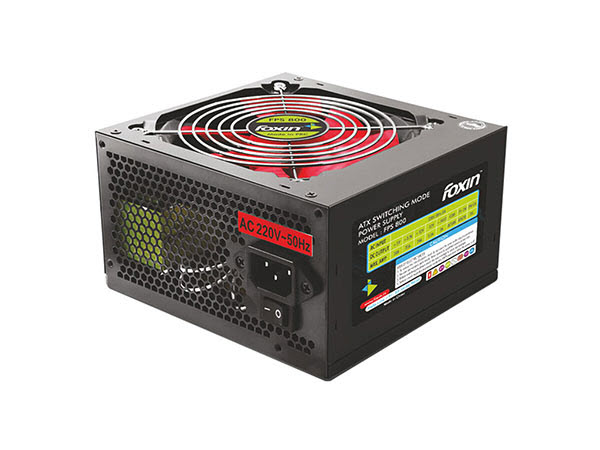 Foxin is an Indian brand that sells computer peripherals and accessories. Their products are cheap because they are all made in China and there is always a question mark on the quality. I have stated many times in this blog that you should be very careful in choosing a SMPS for your PC because it is one of the most important components of your desktop computer. You can read the important articles regarding SMPS below.
Important Resources on SMPS / PSU
Here in this post I am going to tell you all about the Foxin FPS 800 SMPS and also going to find out whether it is really a 800 Watt SMPS or not.
Foxin FPS 800 SMPS Review & Specifications
Here is the complete review of Foxin FPS 800 SMPS and its technical specifications.
Build Quality
The build quality of the SMPS is average and not that great when comparing it to the likes of Corsair and Cooler Master power supplies. The SMPS comes in all black color with a red color fan on top of it. The wires are relatively on the thinner side and you have to take care of them when handling the SMPS.
Fan, Cables & Connectors
Foxin FPS 800PSU comes with a 120mm Fan which runs quite silent even at heavy load. The speed of the fan is about 2200 / 2500 RPM. The power supply comes with required number of cables and connectors including the PCI-e (6+2) pin connector for graphics card.
| | |
| --- | --- |
| Connector Name | Quantity & Pin Type |
| Motherboard connector | 20+4 Pin x 1 |
| ATX / CPU connector | (4+4) x 1 |
| SATA connector | x 4 |
| 4-pin Peripheral / Molex connector | x 4 |
| PCI-e connector | (6+2) x 1 |
Current on 12V Rail
Now we come to the most important part which is the amount of current present on the 12V Rail. Foxin FPS 800 SMPS has dual 12V rails and has total of 45A (22A + 23A) current. The amount of current present on the 12V rail is most important because this 12V rail is responsible for providing current or power to all the major components in your PC that includes processor, motherboard, hard disk, graphics card, fans etc. For an 800 Watt SMPS 45A current on 12V rail is very less and it is in the range of a 550W to 600W SMPS. This is because the entry series 550W and 650W SMPS from Corsair has 42A and 50A current on its 12V rail. So in my opinion Foxin FPS 800 SMPS is more of a 500W to 600W SMPS and it is definitely not an 800W SMPS.
Below are the voltage / current tables for Foxin FPS 800, Corsair VS550 and Corsair VS650 SMPS.
Foxin FPS 800 SMPS

DC Voltage
+5V
+3.3V
+12V1
+12V2
-12V
+5VSB
Current
31A
27A
22A
23A
0.5A
2A


Features & Protection
Foxin FPS 800 SMPS comes with various features that include Active PFC, Multiple Protection System, Over Voltage Protection (OVP), Fuse, Resettable Power Shutdown and 100% Burn-in Under High Ambient Temperature.
Price & Warranty
Foxin FPS 800 SMPS is priced at around Rs. 1200/- and comes with 2 years warranty.
Final Verdict & Conclusion
Foxin FPS 800 SMPS is certainly can't be used as 800W SMPS. It can be used as a 500W – 550W SMPS only. The quality of this SMPS is average but its low price can make it worth buying if you are low on budget. So if you don't have money to buy a branded 500W – 600W SMPS from Cooler Master, Corsair, Antec then you may use this SMPS as an alternative for your PC. This SMPS is only for users on really tight budget. You can buy Foxin FPS 800 SMPS from the link given below.
See also: