Enter 500W & Mercury 450W SMPS Review – Avoid Them
Here I am going to review two local branded PSUs that are quite popular because of their cheap price and wide availability. You can find these power supplies easily on online shopping sites or at any computer hardware store. So now we look at both these SMPS and find out whether you should buy them or not.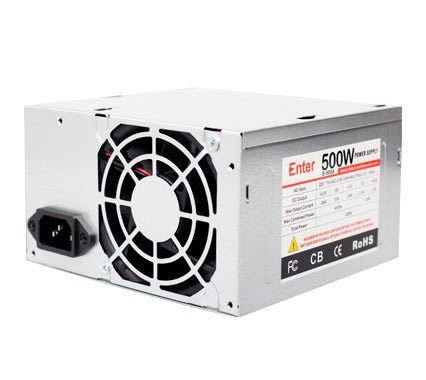 Enter 500W & Mercury 450W SMPS Review
Here is the review of Enter E-500A 500W and Mercury KEZ-M200 450W SMPS.
Build Quality
The build quality or construction of these power supplies is not good and they look very cheap. There is an 80 mm fan on the back which is noisy enough to irritate you. Both these PSUs are made in china. This is all I can say about the construction quality of these power supplies.
Current on 12V Rail
Now let us look at the most important thing in the SMPS which is the amount of current present on 12V Rail. For a decent SMPS it should be atleast 25A (ampere) for a PC without graphics card and should be atleast 32A for PC with a mid range graphics card.
Enter 500W SMPS
Enter E-500A 500W SMPS has 24A current on its 12V Rail which is very low especially for a 500 Watt SMPS. A good 500 Watt SMPS generally has 40A or more current on its 12V Rail. This Enter 500W SMPS has not enough power to run a modern day computer and even without an entry level graphics card installed.
Mercury 450W SMPS
Mercury KEZ-M200 450W SMPS has only 20A current on its 12V Rail which is insanely low and not at all recommended for any use. If you use this SMPS with your PC then you will risk your computer components of getting damaged.
Final Words
At last I would like to say that both these power supplies are very under-powered and not fit for any use, and if you use them then they can cause serious damage to your major computer components that includes hard disk, motherboard, graphics card, processor etc. So my advice is to avoid them at any cost and if you want good budget SMPS then there are other much better options available like VIP 400R and VIP 400R Plus SMPS which are priced in the same range.
See also: