Foxin 450W & 500W SMPS Review – Bad PSUs
I have written many articles regarding SMPS in this blog and I have tried to cover each and every aspect of power supplies. If you have missed those articles then you can find some of them by going through the links given below.
How to Find a Good SMPS for your PC
Best Budget Branded SMPS to Buy Online
Here I will review another local branded SMPS which is Foxin and will tell you why to avoid it completely.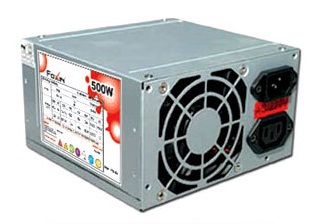 Foxin is an Indian brand or computer peripherals under Balaji Solutions Pvt Limited and this company is headquartered in Kolkata. You can find this information on their official website. Foxin offers small number of computer products which includes SMPS, UPS, Keyboard, Mouse, Speakers, Computer Cabinets etc. Some of the products are being labeled as coming shortly on their websites. Foxin has two models under their SMPS range, one is 450W and other is 500W. Here I talk about their two PSUs and tell you why you should avoid them.
Must Read: Foxin FPS 800 SMPS Review and Specifications
Foxin 450W & 500W SMPS Review
Both Foxin 450 Watt and 500 Watt SMPS looks the same and their construction is also very cheap. If you have reading my blog regularly then you must have known that the most important thing to look for in a SMPS is the amount of current under 12V Rail, which should be at least 25A for running a modern day computer.
Here looking at the 12V Rail of Foxin 450W and 500W SMPS I found that it has only 16A current under 12V Rail for 450 Watt SMPS and only 24A for 550W SMPS. This is too low for powering a modern day PC and not at all recommended for a PC with graphics card. Also these power supplies are china made and look very cheap and inferior in quality. So here I strongly suggest you not to buy these inferior PSUs otherwise it can cause serious damage to your computer components.
Read here how cheap SMPS can harm your computer
If you are looking for a budget SMPS then there are better options like VIP 400R and VIP 400R Plus which are priced almost same as Foxin SMPS but are ten times better in quality as compared to Foxin PSUs.
Read more about VIP 400R and VIP 400R Plus SMPS