Lenovo Vibe X3 – Smashing Android Phone with IR Blaster
Just after the release of Lenovo K4 Note in India, Lenovo has now come with its new blockbuster premium segment android phone which is Lenovo Vibe X3. Lenovo is a Chinese company that makes Personal Computers (PCs), Laptops, Smartphones, Tablets and other computer peripherals. It is a well reputed brand and its products are of good quality and they also deliver very good performance. Lenovo is relatively new player in the android smartphones segment but it has established itself well as some of its android smartphones like Lenovo K3 Note, Lenovo Vibe P1 were very popular and very well received by the users.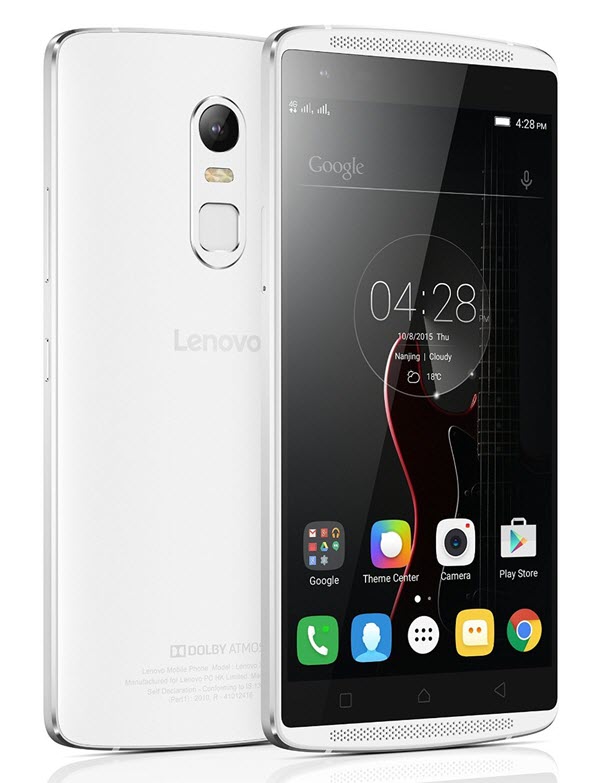 Few days ago Lenovo has come up with its new android smartphone K4 in India, and now it has launched its new premium phone which is Lenovo Vibe X3. Lenovo Vibe X3 is a higher mid-range or flagship android smartphone that is priced at Rs. 20k. It is available exclusively on Amazon.in and the sale will start from 28 January, 2016. Here I am going to provide you the detailed specifications of Lenovo Vibe X3 and also review it for you.
Lenovo Vibe X3 Specifications & Quick Review
Here is a short review of Lenovo Vibe X3 android smartphone and its specifications.
Size and Dimensions
The phone looks similar to Lenovo K4 Note which was launched a tad earlier. The design is a bit new with the screen occupying majority of the area and there is minimal space left on the top, sides and bottom part of the front part of the phone. This means the phone has got very good screen to body ratio at 71%. Lenovo Vibe X3 is quite slim which makes it very stylish and appealing. The dimensions of the phone are 154 x 76.5 x 9.3 mm (6.06 x 3.01 x 0.37 inch), and its weighs at 175 g which is a tad bit heavy but this normal for a phone of this size. The outer frame of Lenovo Vibe X3 is made with aluminum which gives it a very premium look and feel. Lenovo Vibe X3 is available in Matte White color at present.
CPU and GPU
Lenovo Vibe X3 is powered by Qualcomm MSM8992 Snapdragon 808, Premium 64-bit Hexa-core 1.8 GHz processor and Adreno 418 as GPU (up to 600 MHz 3D graphics accelerator). Well the processor is decent and it can handle any heavy game and application you throw at it. The thermal management system keeps phone cool even when playing HD games, watching HD movies or when you are doing any resource intensive task.
RAM
Lenovo Vibe X3 is equipped with 3GB LP DDR3 RAM for faster processing of Data. This much amount of RAM is more than adequate for any game, application or even if you are multitasking by running number of applications at the same time. This means you will be left behind good amount of free memory for the android OS which makes the phone smooth in running or operation even in the worst of conditions.
Memory
Lenovo Vibe X3 has got 32 GB of internal memory which sufficient for any user, but even if you are a movie or songs freak and want more space then you can expand the memory to additional 128 GB by using microSD card.
Display
The display of Lenovo Vibe X3 is brilliant. It has got a 5.5-inch Full HD IPS display (178 degree wide view) having resolution of 1920 x 1080 pixels. Lenovo calls this display as 'PerfectView' as it has got 1500:1 contrast ratio which gives stunning depth and a 100% gamut for accurate color (100% NTSC colour optimization). The pixel density of the display screen is 401 ppi and it supports up to 10 fingers multi-touch. The display screen is protected by Corning Gorilla Glass 3.0 on the front.
Camera
Lenovo Vibe X3 has got an excellent camera at the rear of whopping 21 Megapixels with dual LED CCT / dual tone flash. The primary camera is equipped with Sony IMX230 sensor, and 6-piece F2.0 lens. The camera is capable of recording videos in 4k Ultra HD resolution. There is also an 8 MP secondary camera at front for taking high resolution selfies for selfie lovers.
IR Blaster
One of the most exciting and major feature of this phone is the IR Blaster which enables your phone to act as a Universal Remote and control devices like TV, AC, DVD Player, Set-top boxes or any other device that requires a infrared remote to operate. I think it is the first Lenovo phone to feature an IR Blaster / Infrared Port. You can read more about IR Blaster technology by going through the link given below.
Read: What is IR Blaster and List of Phones have Infrared Sensors
Fingerprint Scanner
Lenovo Vibe X3 has also got fingerprint reader or scanner for adding security to your phone. By using fingerprint scanner you can lock and unlock your entire phone or individual applications merely by putting your finger on the fingerprint sensor.
Lenovo VR Technology
Just like Lenovo K4 note, Lenovo Vibe X3 is also equipped with its own Lenovo VR (Virtual Reality) Technology which lets you immersed in a movie theater like experience by using VR Glasses. So if you are movie fan then you can buy VR glasses and enjoy the TheaterMax widescreen cinematic experience on your Lenovo Vibe X3 mobile phone.
Audio
Lenovo Vibe X3 does not lack behind in audio and is equipped with a dedicated DAC (Digital to Analog converter) chip as ESS SABRE 9018C2M, which gives it an unmatched signal to noise ratio of 120 db (decibels) for media playback. Lenovo Vibe X3 is the first smartphone to use a 3-chip amplifier, which is Texas Instruments OPA1612M. Recording in Lenovo Vibe X3 is also very good and it has its own proprietary 3.5 mm output socket to avoid loss of audio over headphones or earphones.
The sound output in Lenovo Vibe X3 comes from Dolby Atmos speakers system which provides you thrilling, accurate and loud sound with maximum clarity.
Network / Communication
Lenovo Vibe X3 is a dual SIM (Nano-SIM, dual stand-by) phone and supports GSM / HSPA / 4G LTE Networks. Other communication features include Wi-Fi, Bluetooth 4.0, A-GPS, GLONASS, FM-Radio and NFC (Near-field-communication).
Operating System
Lenovo Vibe X3 runs Android 5.1 (Lollipop) as OS.
Battery
Lenovo Vibe X3 is powered Li-Po non-removable battery rated at 3500 mAh. The battery is decent but it would have been great if the battery could be a little bigger (i.e. 4000 mAh or higher) considering the size of this phone. The company claims Standby time of 618 hours (4G) and Talk time of 31 hours (2G) & 26 hours (3G) which I think is quite good. Lenovo Vibe X3 supports Fast battery charging through Quick Charge 2.0 technology which charges your phone battery to 60% in just 30 minutes.
Read: What is Quick Charging or Fast Charging Technology & Which Phone has it
Price in India
Lenovo Vibe X3 is priced in India at Rs. 19999/-, and is available exclusively on Amazon.in. You can buy this phone by going through the link given below.
Final Words
At last I would like to say that Lenovo Vibe X3 is indeed a very good phone, looks nice, has got great specifications and has almost all the features that you can think of. So if you are looking for a stylish phone that is a performer and well versed with all the features, then do not look any further and get yourself Lenovo Vibe X3. You must hurry up as there is limited stock available for this awesome phone.