LG L90 Dual D410 Review and Specifications
When it comes to Smartphones then I must say that no one can match the quality and performance of LG Android Smartphones. My first Smartphone was LG Optimus One P500 and boy that was some phone because of its excellent build quality, call quality and almost all the features included in that phone. But my requirements have grown bigger over the years and my LG P500 was unable to cope with the new applications that require more processing speed and resources, so I decided to buy another LG gem, which is LG L90 Dual D410.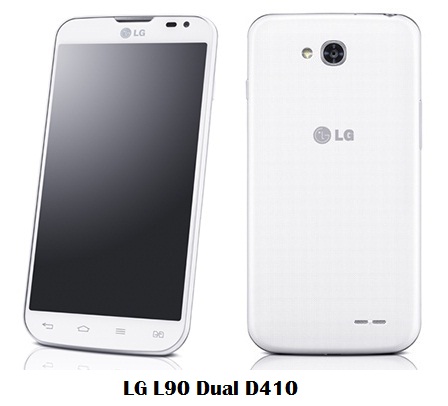 LG L90 Dual D410 is dual SIM Android Smartphone that does not disappoint you in any department i.e. performance, quality and features. Here I am going to write a quick review LG L90 Dual Smartphone and also provide you its major specifications and features.
Review & Specifications of LG L90 Dual D410
Here is a brief review and specifications of the LG L90 Dual D410 Android Smartphone.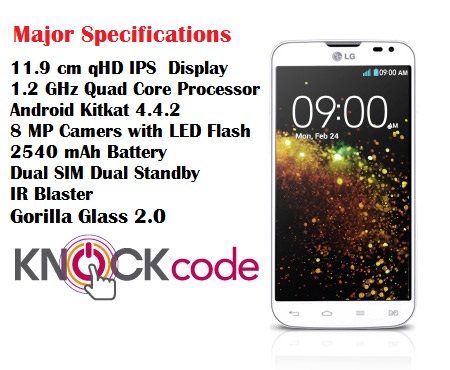 Size and Weight
The phone is very compact, slim and lightweight, which weighs only at 125 grams. Full dimensions of the phone are 131.6 x 66 x 9.7 mm which is very remarkable for a phone that sports a 4.7-inch display. The compact size and less weight make this Smartphone very comfortable to use in your hand and it can easily fit in your pockets too. The phone is available in two colors, Black and White but for me White looks more appealing and classy.
Processor / CPU
LG L90 Dual D410 is equipped with 1.2 GHz Cortex-A7 Quad Core Processor and has Adreno 305 as GPU (Graphics Processing Unit). The combination of both these things is powerful enough to run high end games and applications. The phone runs smooth and does not lag at all whether it is running applications or not.
Memory (RAM)
It has got 1 GB of RAM and out of which 280 MB – 300MB remains free when there is no application running. Most of the RAM is used up by the phone operating system which will be discussed later in this post.
Display
LG L90 Dual has got 4.7-inches qHD IPS screen having resolution of 540 x 960 pixels (~234ppi pixel density). The screen is protected by Corning Gorilla Glass 2.0 so that you do not to worry about minor scratches and damage. The colors are vivid and there is no pixelation of images or text on the screen and you can easily read tiniest of text when you are browsing the internet.
Storage
The internal storage is 8 GB but only 3.7 – 4 GB remains free as most of storage space is occupied by the OS and Pre-installed apps. You can expand the storage memory to upto 32 GB via microSD card.
IR Blaster
The phone comes with Infrared Blaster which is amazing because this feature is usually found in some top high end smartphones only. You can control your TV, DVD Player and Blu-Ray player with the IR blaster. You cannot use any other Infrared Blaster apps with it because LG has locked the IR Blaster of their phones and they can only be controlled by the LG inbuilt software or app only, which is known as Quick Remote.
Dual SIM
The phone has got Dual SIM functionality and supports mini-SIM in dual standby mode.
Camera
It has an 8 MP autofocus primary camera with LED flash. The front camera is only VGA which I think enough for making video calls.
Network Reception
Call clarity and network reception of the phone is very good and you will able to hear the calls even in the nosiest of the places.
Connectivity
The phone supports GPRS, EDGE, 3G, HSPA 21.1/5.76 Mbps, Wi-Fi, Bluetooth.
Operating System
It comes with latest Android OS which KitKat (v4.4.2), which is very well modified by LG and it looks stunning. The user interface of the phone is very good which is known as LG Optimus 3.0 UI. The phone also comes with its own unique unlocking feature called KNOCK Code that is used to unlock your phone screen.
Battery
It has got a mammoth 2540 mAh battery that can last easily for a day with moderate to high usage.
Other Features
Other features include GPS, FM Radio, HTML, Java etc. that are quite common in any Android Smartphone.
Price
LG L90 Dual D410 is priced at Rs. 18000/- but you can get it at huge discount from Amazon using the link given below.
Conclusion
LG L90 Dual D410 is one of the best dual SIM Android Smartphone especially under Rs. 20k range. Also it is way much better than the Moto G in almost all the departments. So if you are looking for a good Dual or even a single SIM Smartphone then LG L90 Dual D410 is the phone for you.