Cooler Master Thunder 500W Review – Good Budget SMPS for Mid-range PCs
Cooler Master is a reputed name in power supplies, PC cabinets, PC fans, PC thermal products and heatsinks. Cooler Master has wide range of PSUs starting from budget range to high-end power supplies. But here in this post I am going to review Cooler Master Thunder 500W which is a good budget range 500W SMPS for PCs with decent configuration with mid-range graphics card.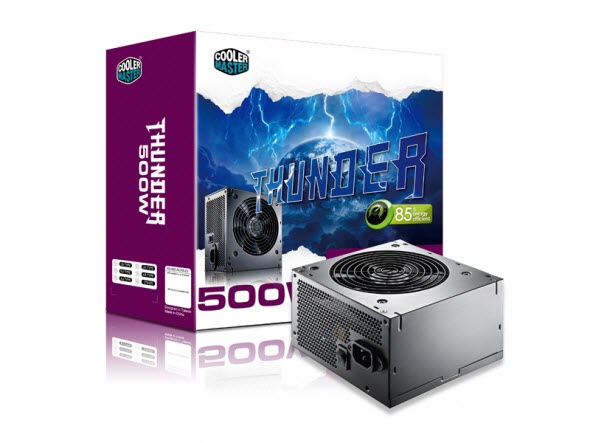 SMPS or Power supply is one of the most important components of your PC. It is also the most ignored component as most of the people do not care to invest in a good branded SMPS. But if you want your PC to work well and to get maximum performance from your component you should always buy a good branded SMPS. This blog contains many important articles on SMPS which you can find below.
Top Resources on SMPS / PSU
Cooler Master Thunder 500W PSU Review
Here is a complete review of Cooler Master Thunder 500W SMPS.
Build Quality & Size
The SMPS comes in black color and it is solidly built. It feels heavy which signifies the high quality materials used in its construction. There is 120mm Fan and a ON/OFF switch located at the back which comes very handy and provides an extra layer of protection. The size of the SMPS is standard and it can fit in any regular ATX cabinet (not the slim ones). The Model number of the SMPS is RS-500-ACAB-M3.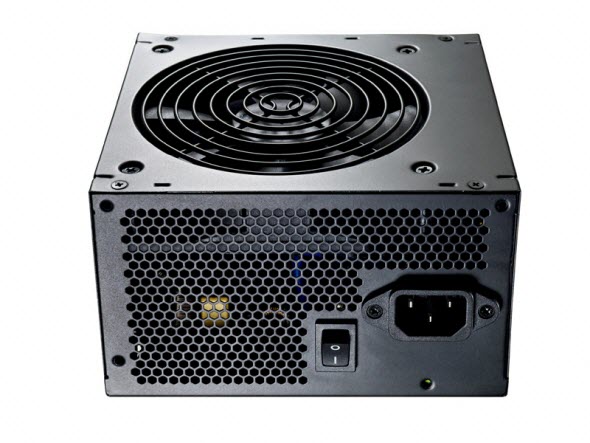 Connectors
Cooler Master Thunder 500W has got all the connectors in sufficient number for your needs. The various connectors and their numbers are shown below in the table.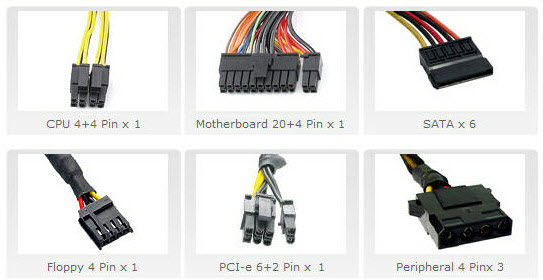 | | |
| --- | --- |
| Connector Name or Type | Quantity or Number |
| 24 Pin ATX Power Connector (20 + 4 pin) | 1 |
| CPU 12 Volt Connector (4 + 4 Pin) | 1 |
| PCI Express (6 + 2 Pin) | 1 |
| SATA Power Connector | 6 |
| Molex Power Connector (4 Pin) | 3 |
| Floppy connector (4 Pin) | 1 |
12V Rail Current Rating
As I have explained so many times before also in various posts in this blog that the current on 12Volt Rail matters the most in a SMPS, and it should be at least 30A for a modern day PC. Cooler Master Thunder 500W has got dual 12 Rails and the combined current on 12V Rail is 45A (24A + 21A) which is sufficient enough for a modern day PC having latest specifications with a mid-range graphics card installed in it. Below is the voltage and current table for this SMPS.

Compatibility
Cooler Master Thunder 500W PSU is compatible will all modern day and previous generation ATX complaint motherboards. You can buy this SMPS without any hitch as it has no issues on running on any motherboard.
Protection Features
Cooler Master Thunder 500W power supply comes with all the safety and protection features to protect your motherboard and computer components from any hazard. The various protection features include Over Voltage Protection (OVP), Over Power Protection (OPP), Over Current Protection (OCP), Short Circuit Protection (SCP). Other protection features include Double-Layer EMI Filter which gives the SMPS dual protection from electromagnetic interference and gives it additional protection from noise and interference.
Performance & Efficiency
The SMPS performs really well without consuming too much power. It can handle the maximum rated load without failing. The efficiency of Cooler Master Thunder 500W is more than 85% at typical load. There are high quality capacitors present that produces hold time greater than 14ms on full loading.The SMPS comes with Active PFC (Power Factor Correction) which further increases the efficiency of the power supply. Also it has the Green power design to meet Energy Star and Blue Angel Requirements.
Fan Noise
The SMPS comes with a big 120mm fan which is quite silent in operation. The PSU comes with Intelligent Fan Speed Control that increases and decreases the speed of Fan depending on the load.
Final Words
Cooler Master Thunder 500W is really a star performer and one of the best budget SMPS in 500Watt range. It comes with 3 year warranty. So if you are looking for a good branded 500W SMPS for your computer then look no further and buy Cooler Master Thunder 500W.
You can also check out the review of Corsair VS450 SMPS which is also very good budget SMPS for PCs with medium requirements. If you have any queries regarding this Cooler Master Thunder 500W SMPS or other SMPS then you can ask me by leaving a comment below.
You can Cooler Master Thunder 500W SMPS at great price from the link given below.
Buy Cooler Master Thunder 500W