Laptop Graphics Card: Information Guide and FAQs
Few years ago Laptops with Graphics Card were very rare but now this scenario is changing and we are seeing decent number of Laptops equipped with dedicated Graphics Card as compared to before. Even now Laptops with dedicated Graphics Card are less popular than the Laptops with integrated graphics solution. This is because Laptop with Graphics card is relatively more expensive than a Laptop with integrated graphics. But having said that there are many performance enthusiasts and gamers that prefer Laptop with a dedicated graphics card.
Laptop graphics card are very small in size and you can say that they are miniature version of their PC based Graphics Cards. But there are quite a few major differences between a Desktop Graphics Card and Laptop Graphic Card which I am going to discuss next. Also I will clear your all the doubts on Laptop Graphics Card and whether you can add a graphics card to your current laptop or not.
Laptop Graphics Card – All you need to Know
A Laptop Graphics Card is a small dedicated Graphics Card that is plugged in your motherboard laptop PCI Express Slot. It comes installed on the laptop when you buy it as it is nearly impossible to buy it separately and install it yourself which you do normally in a Desktop Computer. The cooling on the laptop graphics card is done exactly like the laptop processor where the heatsink is extended to the side by a copper tube where a fan is attached to cool the heatsink.
As with Desktop, Laptop Graphics Cards also comes in different models ranging from low-end, mid-range to high-end Laptop Graphics Cards. Laptops equipped with mid-range and high-end graphics cards are expensive and they are generally used for gaming purpose. Laptops that comes with top of the line expensive graphics cards are known as Gaming Laptops and they are very costly as compared to other laptops, especially laptops with low-end no graphics card.
There are two main Graphics Card manufacturing companies in the world, Nvidia and AMD/ATI. They also make Laptop Graphics Cards for various Laptop manufacturers that include Asus, Dell, HP, Acer, MSI, Toshiba etc. Nvidia uses the letter M after the graphics card chipset model to denote that it is a graphics card meant only for Laptops or small portable devices. The letter 'M' here stands for Mobility.   It must be noted that there is considerable amount of difference between Desktop Graphics card and Laptop Graphics Card even if they are of the same model. For example let us take the example of two Graphics Cards of same model for Desktop and Laptop. Here we have GTX 780 for PC and GTX 780M for Laptop.
Now let us look at their specifications:
| | | |
| --- | --- | --- |
| | GTX 780 | GTX 780M |
| Cuda Cores* | 2304 | 1536 |
| Memory Type | GDDR5 | GDDR5 |
| Memory Interface* | 384 bit | 256 bit |
| Memory Bandwidth | 288.4 GB/s | 160 GB/s |
| DirectX version support | 12 | 12 |
*Most Important things in Graphics Card
From the above table we can see that even if both the Graphics Cards are having the same model i.e. 780 but then also their specifications are quite different considering the major factors involved i.e. Cuda cores and Memory interface. Cuda Cores are the powerhouse of a graphics card GPU. It is the main unit that performs and executes all the complex graphics calculations and plays the major part in the performance of a graphics card. Higher the Cuda cores the powerful will the GPU and hence the Graphics Card.
AMD / ATI use Stream Processors for their GPU and like Nvidia higher their number the powerful will be the graphics card. But as both Nvidia and AMD/ATI uses different GPU Architecture so their processing units have different power and functions. So we cannot equate the same amount of Cuda Cores to Stream Processors.
Cuda Cores ≠ Stream Processors
Also for memory interface the higher the number the greater will be the bandwidth of the memory (keeping the memory frequency same for both cards).
Must Read for Graphics Cards:
Nvidia Laptop Graphics Cards
Here are all the models of Nvidia Laptop Graphics Card.
GeForce GTX
GeForce GTX 980
GeForce GTX 980M
GeForce GTX 970M
GeForce GTX 965M
GeForce GTX 960M
GeForce GTX 950M
GeForce GTX 880M
GeForce GTX 870M
GeForce GTX 860M
GeForce GTX 850M
GeForce GTX 780M
GeForce GTX 770M
GeForce GTX 765M
GeForce GTX 760M
GeForce GTX 680MX
GeForce GTX 680M
GeForce GTX 675MX
GeForce GTX 675M
GeForce GTX 670MX
GeForce GTX 670M
GeForce GTX 660M
GeForce GTS and GT
GeForce GT 755M
GeForce GT 750M
GeForce GT 745M
GeForce GT 740M
GeForce GT 735M
GeForce GT 730M
GeForce GT 720M
GeForce
GeForce 940MX
GeForce 930MX
GeForce 920MX
GeForce 940M
GeForce 930M
AMD/ATI Laptop Graphics Cards
Here are all the models of AMD Laptop Graphics Card.
R9 Series
R9 M395X
R9 M390X
R9 M385X
R9 M375
R9 M380
R9 M375X
R9 M365X
R9 M295X
R9 M290X
R9 M280
R9 M275X
R9 M270X
R9 M265X
R7 Series
R7 M340
R7 M360
R7 M365
R7 M370
R7 M380
R7 M260
R7 M260X
R7 M265
R7 M270
R5 Series
R5 M315
R5 M320
R5 M330
R5 M335
R5 M230
R5 M255
Which Laptop Graphics Card is Best for you?
Well the answer to this question depends on your budget and requirements. If you are a casual gamer then lower end graphics card models are enough for you but if you are a heavy gamer then you should go for higher models of Laptop Graphics Card from Nvidia and AMD/ATI.
Some Recommendations by me:
For casual gaming & watching HD movies – GT 720M, GT 750M, GT 750M etc.
For hardcore gaming – GTX 980M, GTX 880M, GTX 780M etc.
Can I Add Graphics Card to my Laptop?
Well practically the answer to this question is No. If your laptop did not come with graphics card installed then you cannot add a dedicated graphics card to your laptop. Even if your laptop motherboard has PCI Express slot then also it is nearly impossible to add a graphics card there because of many technical factors involved.
Can you Upgrade Laptop Graphics Card?
It might be possible to upgrade your current laptop graphics card but it involves too much trouble, because first you have to find a Laptop Graphics Card which is not available easily as compared to desktop graphics card. And after that you have to open up your laptop motherboard and and it takes a too much technical know-how to install it. For a normal or average use it is impossible to do this.
Can I use External Graphics Card for Laptop?
There are USB Graphics Video Adapter available in the market which can you plugin in your Laptop USB port for adding additional monitors to your laptop but do keep in mind that they are not at all meant for gaming purpose.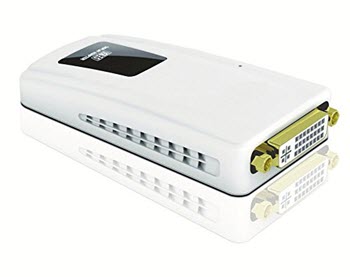 There is also a way to add a desktop graphics card to your laptop externally for gaming purpose. This can be done by using an external PCIe x16 Adapter to connect the desktop graphics card to your laptop PCIe or similar port. One such adapter is PE4C V3.0 and it supports mPCIe, PCI-E and Express Card slot of your laptop.
For connecting your full sized desktop graphics card to your laptop first plugin the graphics card in the PCIe x16 slot of PE4C V3.0 connector. Then power your graphics card with a good SMPS/PSU. Connect the PE4C V3.0 cable to the laptop to either mPCIe, PCI-E and Express Card slot on your laptop and then enjoy full fledged high gaming on your laptop. This kind of setup is known as eGPU or external GPU and it is shown below.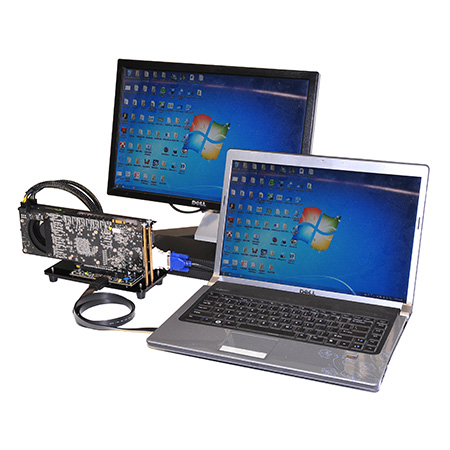 If you have any other queries regarding Laptop Graphics Card then you can ask me by leaving a comment below.