AMD vs. NVIDIA Graphics Card – Which is Better for Gaming?
When it comes to Graphics Cards, then the two names that will strike your mind will be Nvidia and AMD. Both these companies are the largest manufacturer of graphics card in the world. Graphics cards are generally used for gaming and for high intensive graphics or 3D professional applications.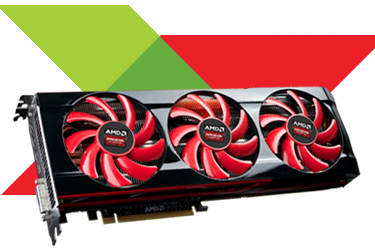 Gamers sometimes face dilemma on which Graphics card to get i.e. from Nvidia or AMD. Here I must tell you that both these companies are top notch and manufacturers some of the best graphics cards in the world, but they can be compared on the following points mentioned below.

Comparison between AMD and Nvidia Graphics Cards
Here are point on which Nvidia and AMD Graphics cards can be compared.
Company Overview
Nvidia and AMD both are very big and well established companies. AMD graphics cards earlier were known by the company name ATI, which AMD acquired in 2006. ATI was founded in 1985 and Nvidia was founded in the year 1993. Today both these companies are the major manufacturers of graphics cards in the world.
Brand / Series
Nvidia Graphics Cards are branded under the name GeForce and AMD based cards as Radeon. These are the most popular and currently running series for Nvidia and AMD graphics cards. Example – GeForce GTX 780, Radeon HD 7750 etc.
Architecture
Cards from both these companies have different architecture and technology. For example Nvidia calls their Pixel Shading Units / Pixel Shaders as Cuda Cores and AMD calls them as Stream Processors. To learn about the different components of the graphics cards in detail, read the article below.
Click here to Learn More about Graphics Card Components in Detail
Price Range
Nvidia has good range of graphics cards in all price range i.e. from lower price to high price as compared to AMD. Budget Graphics card from Nvidia are very popular because of their low cost and decent performance for their price. AMD range of cards is limited as compared to Nvidia but you can find some very good mid to high range of cards in AMD.
Performance
Performance of the card depends upon its model, architecture and also price range. A mid-range card from both Nvidia and AMD will perform almost similar with one card performing better in one and the other in other game.
Find out How to Get Maximum Performance from your Graphics Card
Driver and PhysX Support
If it comes to drivers then Nvidia is clearly a winner in this category. Nvidia has very good driver support for their graphics cards and they update their drivers frequently whenever a new big game comes out. Also Nvidia Graphics card supports PhysX or Physics and the PhysX drivers are included in the Nvidia driver package only. Physics or PhysX is used to display some breathtaking effects like breaking of objects, firing bullets and gunshells etc. AMD Graphics Cards do not support PhysX. AMD lacks a bit in the drivers department and sometimes they do face driver issues with some or the other latest games. Also it is seen that more and more games are being optimized for Nvidia based Graphics Cards and less for AMD cards. But this does not mean that AMD cards will perform inferior in those games, but the Nvidia based cards do have some performance benefits in these games.
Overclocking
Both Nvidia and AMD Graphics cards can be overclocked to a certain extent but I have seen Nvidia cards to have more overclocking potential as compared to AMD ones.
Here is a Guide on How to Overclock your Graphics Card
Manufacturers
Here are some major graphics cards manufactures for both Nvidia and AMD.
Nvidia Graphics Card Manufacturers – Asus, XFX, Zotac, Palit, Gainward, Gigabyte, Galaxy, PNY, MSI, Forsa, Leadtek, Point of View, Sparkle, Foxconn, EVGA,
AMD Graphics Card Manufacturers – Sapphire, MSI, Asus, XFX, PowerColor, HIS, VTX3D, Gigabyte
Conclusion
At the end I say that both are very good companies that manufacturers top quality graphics cards, and cards from both these companies will perform equally good in all the games. But if you are looking for good value for money graphics cards with good overclocking potential then I would say that you should look for Nvidia based cards. If you are still unsure about which graphics card to get then you can ask me by leaving a comment below.