Complete Guide on Finding a Laptop for Gaming
A gaming laptop is a powerful portable computer that is mainly used to play latest and high end demanding games. It has more advanced specifications and is more powerful than a normal or everyday laptop. This is because of the hefty hardware requirements by the latest and modern day games. Personally I do not recommend a laptop for gaming purpose but for some people or gamers who travels a lot and or want portable gaming machine may go a laptop that is powerful enough to run the latest demanding games at decent graphics settings and high resolution.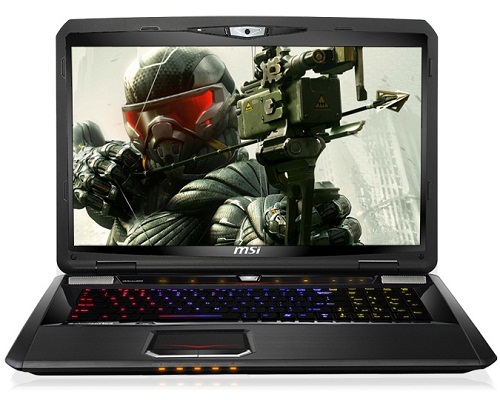 What Important Things to Keep in Mind for a Gaming Laptop
Here are the most important components that you should keep in mind when getting a gaming laptop.
Graphics Card
The first and the foremost thing that you need to run any game is the Graphics Card. You will not be able to play the latest games even if you have the latest processor and lots of RAM but with no graphics card installed in your computer. So when going for a laptop for gaming the first thing you check in the laptop is whether it has a dedicated graphics card installed in it and what are its specifications. This is because even if your laptop has a graphics card but its GPU is weak and not of mid to high range level then you will not be able to enjoy the big games on decent graphics quality and resolution.
Like desktop PC, Nvidia has a wide of graphics cards available for the laptops too. The laptop version of their cards is suffixed by letter 'M' after the GPU model number e.g. GeForce GT 730M. Here below is the list of all nvidia and AMD/ATI laptop graphics cards. Higher is the model number the powerful the GPU and the Card is. Generally GTX series is more powerful than GT series and GT ones are more powerful than the normal or plain ones.
Must Read: Learn all about Laptop Graphics Card
GeForce GTX > GeForce GT > Plain GeForce
AMD or ATI laptop graphics cards also has the letter 'M' included in their laptop version of graphics cards. The letter 'M' stands for Mobile or Mobility for both Nvidia and AMD/ATI Laptop version of graphics cards.
Nvidia Laptop Graphics Cards
GeForce GTX
GeForce GTX 980M
GeForce GTX 970M
GeForce GTX 965M
GeForce GTX 960M
GeForce GTX 950M
GeForce GTX 880M
GeForce GTX 870M
GeForce GTX 860M
GeForce GTX 850M
GeForce GTX 780M
GeForce GTX 770M
GeForce GTX 765M
GeForce GTX 760M
GeForce GTX 680MX
GeForce GTX 680M
GeForce GTX 675MX
GeForce GTX 675M
GeForce GTX 670MX
GeForce GTX 670M
GeForce GTX 660M
GeForce GT
GeForce GT 755M
GeForce GT 750M
GeForce GT 745M
GeForce GT 740M
GeForce GT 735M
GeForce GT 730M
GeForce GT 720M
GeForce
GeForce 940M
GeForce 930M
GeForce 920M
GeForce 840M
GeForce 830M
GeForce 820M
GeForce 710M
GeForce 705M
GeForce 610M
AMD / ATI Laptop Graphics Cards
R9 M200 Series
R7 M200 Series
R5 M200 Series
HD 8000M Series
HD 7000M Series
Here R9 > R7 > R5 > HD 8000M > HD 7000M
Processor
Your laptop processor should be powerful enough to cope up with latest games. This is because now all the latest games also require a powerful CPU for a smoother gameplay. Here are the recommendations for Intel and AMD processors for a gaming laptop:-
Intel – Minimum Core i3 or Core i5 processor and if you have budget then go for Core i7
AMD – Minimum AMD A-Series APU and for maximum performance go for AMD FX APU
RAM
At least 8 GB of RAM is must for a gaming laptop as latest games requires large amount of memory for their proper functioning and working. If you have an extra RAM slot available on your motherboard then you can upgrade your memory to 16 GB in near future.
Hard Disk
You will need a bigger hard disk of 1TB or more as the newer games needs too much space for their installation. Latest demanding games may require as much as 30 GB – 40 GB each for their installation on your computer. If your budget allows you then you can also opt for laptop with a SSD for increased performance in games.
Cooling
A gaming laptop gets too hot because of the heaving processing done by all the major components i.e. graphics card, processor, hard disk, memory when you are playing games. So I would recommend you to buy a good branded laptop cooler or cooling pad for your gaming laptop. This will keep the temperature of your laptop to safe level otherwise damage can occur to the major components of your gaming laptop.
Also Read: