5 Best Free Online PDF Editor Tools to Edit PDF Online
PDF or Portable Document Format is a very popular file format for storing and transferring documents online over the internet. This is because PDF files have relatively smaller size, can be embedded with rich texts, images, tables, links, graphics etc. and they are very secure as they cannot be modified or edited easily by anyone.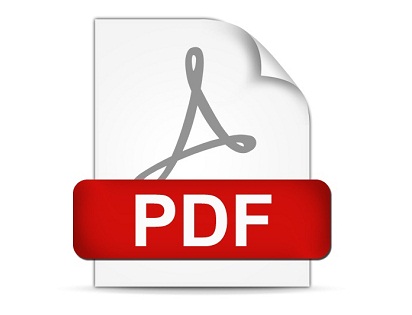 Creating a PDF file can be easy but modifying or editing a PDF file is a relatively a much harder task. You need special PDF tools which are known as called PDF Editors to edit any PDF file. You must also know that almost of these PDF editing tools are paid and you have to pay a good amount of money to use them. So what about the users who do not have the money to buy these expensive PDF tool? Well there is solution to this as there are some good Online PDF Editors available which are free to use and you can edit your PDF files without paying a single penny and without installing a single piece of software on your computer.
Must Read: Best Free Online PDF Compressor Tools
Advantages of using Online PDF Editor Tools
Here are the various advantages of using Online PDF Editing Tools
No Software Installation Required on your Computer
Edit PDF files On the Fly
Easily Fill out PDF Forms Online
Fast and Easy to Use
Free to Use and some Tools offer Unlimited PDF Editing
Add Signature to your PDF files
Add Graphics, Images and Annotation to PDF files
Save Edited PDF files Online for future and backup
Must Read:
Best Online Free PDF Editor Tools to Edit PDF Files
Here are the best online PDF editor tools to edit PDF online.
PDF Buddy
The first Online PDF Editor in our list is PDF Buddy. PDF Buddy is PDF Editor that allows Free PDF editing to a certain usage i.e. you can edit up to 3 PDF files per month for free. For unlimited usage or unlimited PDF editing you have to buy its PRO version which costs around $7.99 per month. There are also credit based plans available that lets you edit PDFs according to the plan price. These plans start from $5.99 for 5 PDFs and go as high as $29.99 for 50 PDFs. There are also corporate monthly plans available which starts from $49.99 for 20 users and goes as high as $149.99 for 100 users.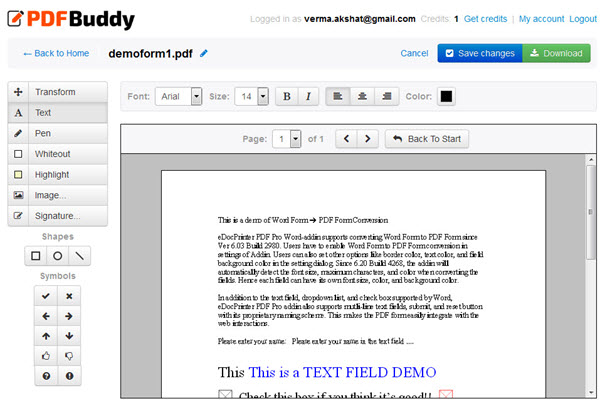 But now let us talk about the free plan of PDF Buddy. As I have said earlier also that PDF Buddy allows you to edit 3 PDFs per month and offers 1GB storage for PDF files. For free usage you have to sign up for the account. Editing PDF in PDF Buddy is very simple and the User Interface (UI) is very simple as the editing tools are laid out very cleanly. The various PDF editing tools include transform, text, pen, whiteout (eraser), highlight, image and signature. There are also some shapes and symbols available as extra editing tools. PDF Buddy also allows you to sign your PDF files online with your signature which you can upload on its server. After editing PDF you can download the edited PDF to your computer. The saved PDF will also remain on the PDF Buddy servers unless you want to delete it.
If you do not edit PDF files too often then the free version is good for you but if you edit PDF files regularly then you have to move to its paid plans.
DocHub
DocHub is also a very good Online PDF Editor tool to edit your PDF files online. It is also a free PDF Editor but like PDF Buddy it is also free to a certain extent. DocHub allows you to edit 5 PDF files per month and if you want to edit unlimited PDF files then you have to move to its Pro plan which costs $6.99 per month if paid monthly or $4.99 per month if paid annually.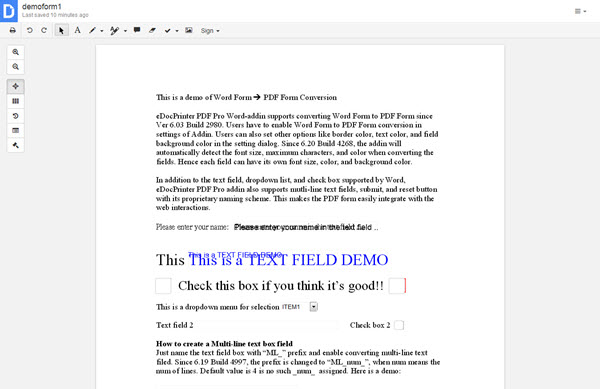 DocHub is also very easy to use and it also allows you upload PDF from DropBox and Google Drive directly. There are some extra tools available here such as Comment Tool and Stamp Tool. There is also a print button available to print your edited PDF directly to the printer. In all a nice PDF Editor tool that is easy to use and has something more than PDF Buddy.
PDFzorro
PDFzorro is free PDF Online Editor that has no limits. That means here you can edit unlimited number of PDF files for free. But having said that this PDF Editor Tool is not as fast as the others mentioned here and the UI is also not that good. There are also distracting ads that you can see in the background which can irritate some of the users.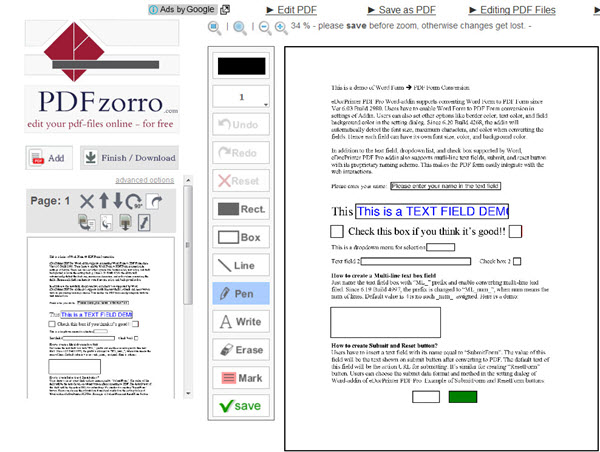 Also there is no Signature tool available here. This is just a basic free PDF editor that does the job nicely if you have basic needs. So if want just basic editing of PDF files with no limits on usage then this free PDF editor tool is you should check out.
PDFescape
PDFescape is a very popular online PDF editing tool that some of you might heard earlier also. It was featured on top websites that includes Mashable, cnet, lifehacker and PCWorld. This PDF Editor tool has great sets of features and options. The User Interface is quite good but it might be a bit tough for novice users. It has extra tools and features like link insert, underline, strikeout etc.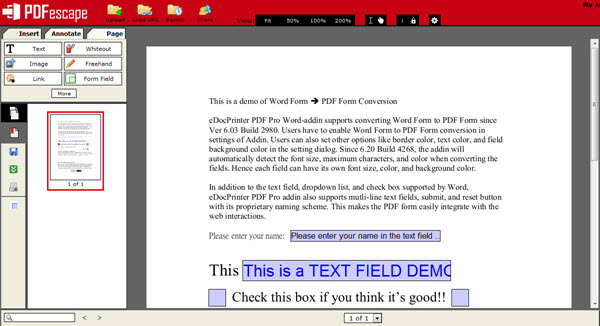 PDFescape is labeled as the Original Online Free PDF Editor & Form Filler. PDFescape is free to use and you can edit unlimited number of PDF files without paying a single penny. But it also comes with paid versions which are Premium and Ultimate. The extra features in Premium version includes Ad Free PDF editing, share PDF documents and you will get more storage space to store PDF files. The price of premium version id $2.99 per month if billed annually. The Ultimate version comes with all the features of Premium version but it also lets you Publish PDF Forms which is great. The Ultimate version cost you $5.99 per month if billed yearly.
Overall it is the Best Online Free PDF Editor as it offers you unlimited usage and has tons of features and options. Highly Recommended by me.
PDF Pro
PDF Pro is one of the best PDF Editors that you can find online. PDF Pro is a feature rich and fast online PDF editor that has limit on free usage. It allows editing of only 3 PDF files monthly in the free version. For unlimited editing of PDF files you have to move to its paid version which costs at $3.99 per month if paid annually.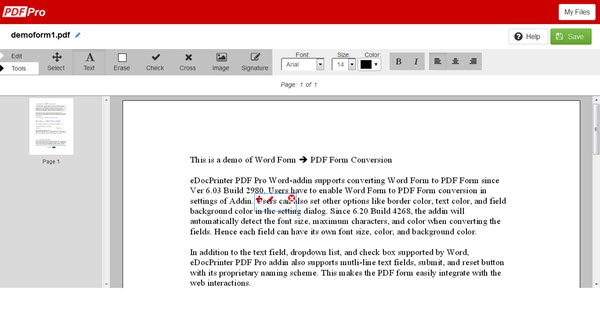 PDF Pro also comes with PDF to Word feature that allows you to convert your PDF file to Word format.

PDF Pro has very simple and easy to use UI. There are basic tools available to edit PDF online. Also there is dynamic help available on how to use a tool and whenever you click on any of the tools then the help will pop out. Overall it is a nice PDF Editor that is fast and easy to use.
Final Words about Online PDF Editor Tools
At last I would like to say that all the Online PDF Editors that are discussed above are good and does their job nicely. Some of them have restrictions on usage which is a bit of problem for users who have more PDF files to edit. So if you have large number of PDF files to edit and don't want to spend any money in their premium plans then the Best Free Online PDF Editor for unlimited usage is PDFescape. If you have any questions regarding these PDF Editing Tools or want to know on How to edit PDF files then you can ask me by leaving a comment below.
Read More on PDF: