Create high quality PDF files for Free using PDFCreator
PDF (Portable Document Format) is the most recognized and widely used document file format used today. PDF files have various advantages that mainly include security, robustness and compatibility on various platforms. There are various PDF file creators available for windows on internet but most of them lack features and the conversion quality. The best free software I have found for creating high quality PDF documents for windows is PDF Creator.
PDFCreator is open source software that creates PDF files any program that prints using windows printers. This program lets you create PDF's, Postscript and Encapsulated Postscript files. You can also create images from your documents and combines them too. PDFCreator is absolutely free and is distributed under the terms of the GPL (GNU General Public License). You can install as many copies of PDFCreator in home, offices or you give them to your friends and colleagues. It is very easy to use also, just give the print command for the document or file you want to convert and select PDFCreator from printers options in print window, then it will allow you to save the file or document in PDF format. The Security features in this program disallow printing and modifications on your documents. You can protect your documents with a password, Encrypt your files with AES and up to 128 Bit, Digitally sign your documents to verify you as author and protect the file against modifications.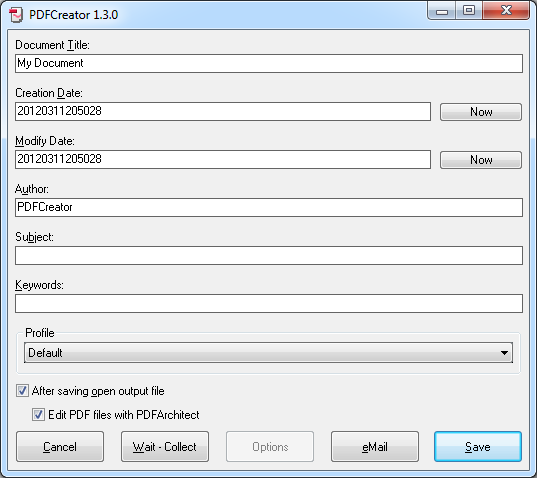 The Current version of PDFCreator is PDFCreator 1.6 and is around 17 MB in size. You can Download PDFCreator from here.
Read: Free Online Tools to Edit PDF Files
Features of PDFCreator

Lets you create documents in the following formats: Portable Document Format (PDF, PDF/A, PDF/X), PNG, JPEG, BMP, PCX, TIFF, Postscript (PS), Encapsulated Postscript (EPS), Text, Adobe Photoshop (PSD), PCL, RAW and SVG (experimental).
It can combine multiple documents into one PDF.
Automatically save PDF documents with current settings without being prompted for information.