How to Fix USB Device Not Recognized Error in Windows 7/8/10
USB Device Not Recognized is the most common problem that is faced by many users in Windows Operating System. In this problem the Computer or Windows OS fails to recognize your USB device whether it is a pen drive, external hard disk, usb 3g dongle, usb wifi adapter or any other USB device.
USB Device Not Recognized is a very annoying error and it reads as"One of the USB devices attached to this computer has malfunctioned, and Windows does not recognize it. For assistance in solving this problem, click this message".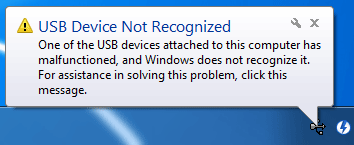 You may click the message for the windows assistant help you to solve usb device not recognized error but I must tell you that 99% of the time it does not work as expected and you have solve this error by yourself. So here I am going to tell you on how you can fix usb device not recognized error in Windows whether it is Windows XP, Windows 7, Windows 8 or Windows 10 and higher.
Solutions to USB Device Not Recognized error
Here are the various solutions and fix for usb device not recognized error or usb not recognized error for Windows 7 /8 /10.
Check for Loose Connection
Computer USB ports can get loose over time with usage and if the connector does not get proper contact with the USB connector pins then Windows mostly shows USB Device Not Recognized error or USB Device Malfunctioned error. So make sure the connection to the USB port is proper and tight. If it is not then remove the USB connector from the USB port and plug in again or reconnect it. Also there should be not be dust or corrosion at the USB pins on both the connector and the port. If it is there then clean it and they try connecting once again. If it does not solve your problem then move to the next step mentioned below.
Read: Best Tools to Clean your Computer
Install / Reinstall Drivers for Device
This solution or fix is only for the devices that are Not Plug and Play (PnP). These devices include some USB 3G Data Card, USB WiFi Adapter, USB Printer etc. These Non PnP USB devices need their own drivers to work in Windows OS. So in this case uninstall and then reinstall the drivers for the device.
If the drivers are not installed in the first place then you will get this error which says"Device driver software was not successfully installed".

For driver installation you can download the drivers from internet or you can use the driver CD / DVD that comes with the device. In some cases you may have to update the drivers for the device.
Reinstall USB Controllers & Drivers
This is one of the most important or the most successful solutions for fixing USB Device Not Recognized error in Windows. Here you have to reinstall the USB controllers and the USB drivers. For this follow the steps mentioned below:
1. Click on Start button in Windows.
2. Type device manager in Search box.
3. Click on Device Manager.
4. Now Expand Universal Serial Bus controllers.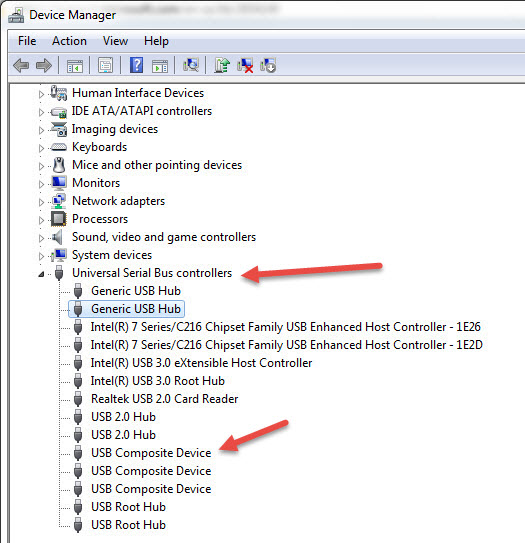 5. Right click a device and click Uninstall. Do this for every device.
6. Now Restart the PC and your USB Drivers and controllers will be reinstalled.
Power Cycle your Computer
This is also an important fix for fixing USB Not Recognized error in Windows. Turn Off your Computer or Laptop and Remove the power cord or adapter (for laptop you have to remove the battery also). Hold the power button for 1 minute and then leave your computer for 5 minutes. After that plug-in the power cord / adapter / battery and then Turn On the computer. Now try connecting your USB device again in the USB port of your computer. If the error is still there then follow the next solution mentioned below.
Install / Update Motherboard Chipset Drivers
Reinstall / Install or Update your mother chipset drivers. The INF drivers or motherboard drivers are very important and it helps in recognizing various ports, chipsets and controllers on the motherboard. You can download the latest motherboard chipset drivers from the internet by going to your motherboard manufacturer's website.
Install Windows Updates if Necessary
Make sure that your Windows is up to date with latest updates. If not then you can run the Windows update and update your Windows OS to the latest updates or patches. In some cases this solution may fix USB Device Not Recognized error. If it does not do any good then move forward with the next step mentioned below.
Improper Power to the USB Device
If your USB device requires external power then make sure the adapter you are using is the right one or is working properly because if the power/voltage provided by the power adapter is not according to its specifications then it can cause unexpected behavior and may cause errors such as USB Device Not Recognized error or USB Not Recognized. So here use the recommended power adapter and make sure it is working properly.
Disable USB Selective Suspend Setting
Sometimes due to USB selective suspend setting you may get this USB Not Recognized error in Windows. USB Selective Suspend is a power management or power saving feature in Windows which suspends or turns off the individual USB port temporarily. This is to save power especially in laptops where battery backup is very important. To Turn Off USB Selective Suspend in Windows follow the steps mentioned below:
1. Click Start button then type power plan in search box.
2. Click on Choose a power plan and then for your desired or selected power plan click Change plan settings.
3. After this Click on Change advanced power settings.
4. Now Go to ->USB settings->USB selective suspend setting.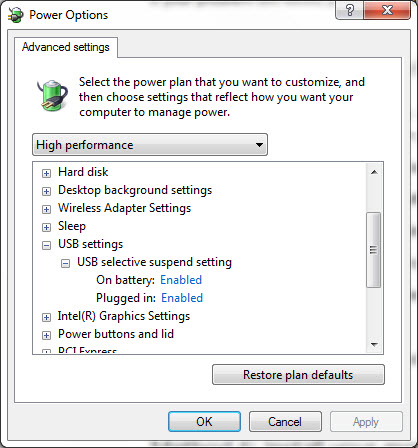 5. Click Plugged in / On battery and in drop down menu select disabled.
6. Click Apply and OK.
After this see if you are still getting the error or not. If yes then move to next step mentioned below.
Faulty USB Device
It may be possible that your USB device has become faulty or is damaged. If your USB device is faulty then Windows can throw USB Device Not Recognized error. Check your USB device on other computers and if the error is same then you may have got the faulty USB device or hardware. Here get the USB device repaired (if possible) or buy a new one.
USB Port Failure
USB Device Not Recognized error can occur because of USB port failure. The USB port on your computer may have gone faulty and this can cause USB Device Not Recognized or USB Not Recognized errors in your Windows. This is very rare but can happen. So check the USB device in different computer or USB ports. If the USB port becomes faulty the for additional USB ports you can use the USB add-on cards in your PC and for Laptop you can use a good USB Hub.
Final Words
Here I have listed down all the possible causes and solutions for the USB Device Not Recognized or USB Not Recognized error in Windows. If you have anything to ask or want to suggest something then you can do so by leaving a comment below.
See Also: