Top Reasons to Switch to 64-bit version of Windows OS
Windows is one of the most popular operating system and is used widely especially by the Home PC users. It is available in both 32-bit and 64-bit versions from Windows XP. Now all the current versions of Windows that includes Windows Vista, Windows 7, Windows 8 supports full 64-bit architecture and works better as compared to their 32-bit versions. Here I will explain about the 64-bit version of Windows and why should you upgrade to 64-bit Windows Operating System especially in newer or modern day computers.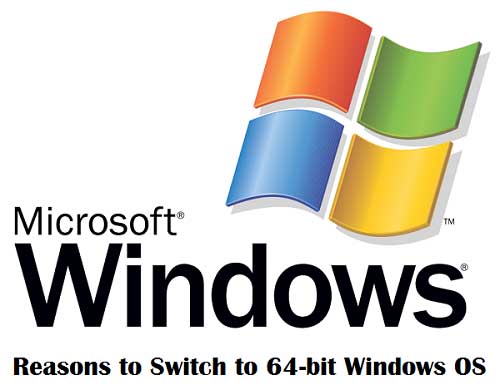 What is 64-bit version of Windows?
A 64-bit version of Windows is one that supports and handles 64-bit instructions from the CPU. To install a 64-bit Operating System on your computer, your CPU must support and capable of running 64-bit instructions set. You can install a 32-bit OS on a 64-bit ready processor but the reverse is not possible.
It should also be noted that you have to install the 64-bit version of drivers for your hardware components to work as 32-bit drivers will not work for 64-bit OS. You can go the manufacturer's website to download the 64-bit version of drivers for your various hardware components and devices. Here below I am listing down the advantages of having a 64-bit windows operating system for your computer.
Advantages or Benefits of 64-bit Windows OS
Here are some good reasons that will tell you on why you should switch to 64-bit version of Windows Operating System for your new or currently working computer given that your CPU supports 64-bit Instructions.
New Advanced CPU Architecture
Newer CPU's that are coming today are all 64-bit ready and gives better performance with 64-bit OS. This is because of the advancement of technology and thus the CPU Architecture. The newer architecture of the modern day processors or cpu are more suited or optimized for 64-bit operating system. So if you want maximum performance from your CPU then you should install 64-bit Windows OS on your computer.
Supports more RAM
You can install maximum of 4 GB RAM on 32-bit version of Windows and of which only 3.5 GB can be used by the operating system. But in 64-Windows you can add and use more than 4 GB of RAM to your computer that ultimately results in better performance and faster processing. The maximum of amount of RAM that can be installed on 64-bit computer depends upon various factors like Motherboard capability, CPU and various Editions of Windows OS i.e. Home, Professional, Ultimate etc.
The theoretical limit for RAM for 64-bit computer is 16 Exabytes. The RAM limit for Windows 7 OS for its various editions or flavors is mentioned below:
Maximum RAM supported by Windows 7 64-bit
Windows 7 Starter -> 8 GB
Windows 7 Home Basic -> 8 GB
Windows 7 Home Premium ->16 GB
Windows 7 Professional -> 192 GB
Windows 7 Enterprise -> 192 GB
Windows 7 Ultimate -> 192 GB
Better Performance
If you have the right hardware for running a 64-bit OS then it will perform much better as compared to a 32-bit OS with the same hardware. A 64-bit computer having 64-bit OS can handle and process more instructions at a time as compared to a 32-bit computer. Therefore a power user always uses a 64-bit operating system because of the heavy duty processing intensive tasks he has to perform.
Gaming
Now almost all the latest big games are coming in 64-bit version only, so if you are a hardcore gamer then you have to install 64-bit Windows OS to play these latest PC games as they are not made for 32-bit OS. The main reason for these games to shift towards 64-bit operating system is because companies or developers now wants to create games with high end graphics and advanced realistic effects, and these things will require more resources which can only be possible using 64-bit OS.
Future Proof
You computer will remain more future proof if you already have 64-bit OS installed on your PC, as now most of the applications and games are optimized and made for 64-bit windows only. You can still run 32-bit softwares or applications on 64-bit version of Windows in 32-bit compatibility mode but you cannot run 64-bit applications or programs on 32-bit Windows OS. So having a 64-bit Windows proves to be more advantageous than a 32-bit OS.