Dragontrail Pro Glass with Stronger Edges for Mobile Devices
AGC or Asahi Glass Co. from Japan has introduced an improved or new version of Dragontrail Glass which is Dragontrail Pro Glass. As most of you know that Dragontrail Glass is a tough and scratch resistant glass that is commonly used in the Smartphones and Tablets. The main competitor of Dragontrail Glass is the Gorilla Glass from Corning which is more popular and widely used in mid-range and high-end smartphones and tablets.

Dragontrail Glass is a cheaper alternative of Gorilla Glass and is found mainly on budget and some mid-range smartphones and tablets. An improved version of Dragontrail glass is the Dragontrail X Glass which is about 30% stronger than the normal Dragontrail Glass. But now we have Dragontrail Pro Glass which is the latest offering from the Dragontrail Glass series from AGC and you will see it in action on various smartphones and tablets very soon.
AGC Dragontrail Glass Types / Series
Here are the various types or versions of Asahi Dragontrail glass:
Dragontrail Glass
Dragontrail X Glass
Dragontrail Pro Glass
Read: Comparison of Gorilla Glass and Dragontrail Glass
What is Dragontrail Pro Glass & How Strong it is?
Dragontrail Pro Glass is the latest version of the Dragontrail Glass and is much stronger than both Dragontrail Glass and Dragontrail X Glass. Edges are the weak point of any Glass and AGC found that when you drop your smartphone then the edges suffer maximum damage. So Asahi has made the edges rounded and packs it with more strength compared to others. So Dragontrail Pro Glass features a rounded edge with improved strength. Dragontrail Pro Glass will be used more on stylish designed smartphones because now the manufacturers can leave the edges open as it packs more strength and protection.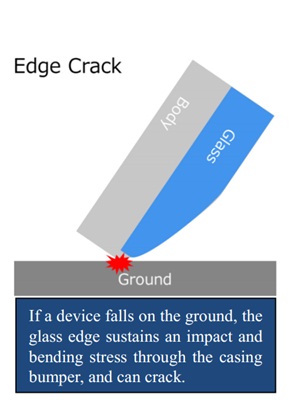 Dragontrail Pro Glass Features
Rounded Edges
Improved Edge Strength
Overall Improved Strength
Dragontrail Pro Glass Applications
Smartphones (Stylish and High-end preferably)
Tablets and other Mobile devices
Dragontrail Pro Glass vs. Dragontrail Glass
Here is the comparison of the strength or more specifically edge strength of normal Dragontrail Glass and Dragontrail Pro Glass.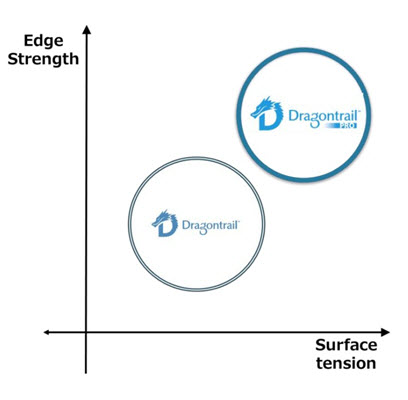 In the above figure you can see that Dragontrail Pro Glass has relatively higher Edge strength than the normal Dragontrail Glass. Also the surface tension of Dragontrail Pro Glass is higher.
To know more about the Dragontrail Pro Glass keep following this page and blog.
See also: