What is Concore Glass & OGS Display Technology?
In this blog I have already written many articles regarding Gorilla Glass and Dragontrail Glass Protection, but here I talk about a newer type of Smartphone display technology which is OGS. OGS display technology is being used on few smartphones like Mi 4i, OPPO Find 5 etc. To learn about OGS Display Technology, its features and benefits read the full post below.
What is OGS Display?
OGS means One Glass Solution is a display technology in which both protective glass and touch device or sensor is integrated in one unit and there is no space or air gap between the display screen (LCD) and the protection glass. It is also called full lamination display as the OGS unit integrates both the touch unit and the protective glass and there are no air gaps in between. OGS display enhances the screen clarity, visibility, and readability by eliminating the light refractions as there is no air gap between the screen and OGS display unit. You will also get richer colors and better contrasts with an OGS display. OGS display screen is much thinner as compared to regular display with normal glass or gorilla glass protection.
What is Concore Glass?
Concore Glass is an OGS Laminated Display from Corning, the manufacturer of Gorilla Glass. Concore Glass is as hard, resistant to scratches & damage as with Gorilla Glass. Concore Glass is also known as Fit Glass because of the laminated display technology used in which Protection Glass and Touch device is integrated into one unit.
Corning Concore Glass Vs.Corning Gorilla Glass
Here is a general comparison between Corning's Concore OGS Glass and Gorilla Glass.
| | | |
| --- | --- | --- |
| Type of Glass -> | Corning Concore Glass / OGS Glass | Corning Gorilla Glass |
| Manufacturer | Corning | Corning |
| Scratch Resistant and Damage Resistance | Yes and protection is comparable to Gorilla Glass | Yes |
| Version | None yet | Gorilla Glass, Gorilla Glass 2.0, Gorilla Glass 3.0, Gorilla Glass 4.0 |
| Integrated Touch Sensors | Yes | No |
| Usage | Smartphones, Tablets | Smartphones, Tablets and Suitable for Large Screen Devices like Notebooks etc. |
| Cost | Higher than Gorilla Glass | Cheaper than Concore Glass |
Advantages and Disadvantages of OGS Display Technology
Advantages of OGS Display include better screen clarity, improved readability, better visibility, richer & vivid colors production and better contrast. OGS display screen is much thinner than regular smartphones screen with glass covering. User and touch experience in OGS Glass is much better because it will give you the feeling like you are touching the screen itself.
OGS display is achieved by eliminating the extra layer of air and touchscreen sensor and integrating both protection glass and touchscreen sensor in one unit.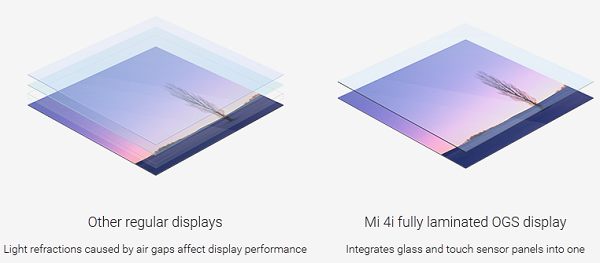 The only Disadvantage of OGS Display is that if you break the display unit then you have to replace the whole screen of your smartphone and not the glass, whereas in normal display if you break the glass then generally you have to replace the top glass cover only and not the whole screen. So with OGS display you have to take proper care of your smartphone screen otherwise it will be very costly affair for you if you break it.
Must Read: What is Corning Vibrant Gorilla Glass?
Smartphones using OGS Display Technology
Here are some Smartphones using OGS Fully Laminated Display Technology.
Xiaomi Mi 4 – Corning OGS Glass (Concore)
OPPO Find 5 – Corning OGS Glass
XOLO Black – Corning Gorilla Glass 3.0
XOLO Cube 5.0 – Dragontrail OGS Display
ZTE Nubia Z9 mini – Corning OGS Glass
Intex Aqua 4+ – Dragontrail OGS Display
Lava Pixel V1 – Dragontrail OGS Display
Intex Cloud 4G Star – Dragontrail OGS Display
See also: