Hotstar App Download – Watch Free Movies, TV & Live Cricket
If you want to watch Movies, TV Serials, Live Cricket Matches and Videos on your mobile for free and legally then there is nothing better than Hotstar App. Hotstar is an online streaming platform that is available for both web and app. Hotstar is owned by Star India which is the one of the largest media and Entertainment Company in India.
Hotstar app is free to download and use. You can watch Bollywood and Hollywood, Movies, Hindi and English TV Shows, Live Sports Streaming and Live Cricket matches that include IPL matches and other cricket videos absolutely free. There are many illegal online streaming websites on the internet that offers movies and videos for free but the quality of the videos on them is very poor and you can also get into legal trouble with them. Other harm is that these illegal websites can install various malicious programs or malware on your computer that can steal your important data and give them away to hackers. But Hotstar is completely legal and authentic online streaming platform that is backed by a big company and it is 100 percent safe to use.
Must Read: Best Free Movie Apps for Smartphones & Tablets
Hotstar Premium Membership for Premium Content
Hotstar also offers premium membership plan where you can get access to all premium content and watch them in HD quality on your Phones, Tablets and Computers. The price of premium membership is Rs. 199/- per month.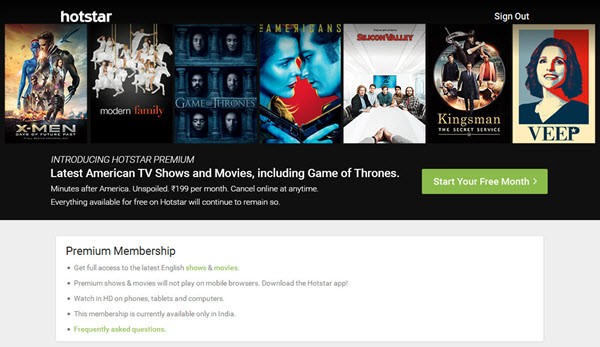 Hotstar Premium content includes:
Get Access to Premium TV Shows that includes Game of Thrones, Modern Family, Silicon Valley, Rome, Hung, the Newsroom, Girls, Veep, New Girl, Homeland, Banshee, Prison Break, True Detective, Empire, True Blood, Ballers, Band of Brothers, Curb your Enthusiasm, The Comeback, The Pacific, Strike Back, The Leftovers, American Crime Story, Vinyl, The Wire, Damien, Hello Ladies, Generation Kill, The Americans, Fresh Off the Boat, The Jinx: The Life and Deaths of Robert Durst, The Last Man on Earth, Sex&Drug&Rock&Rock&Roll, Togetherness, How to Make it in America, Last Week Tonight, John Adams, Mildered Pierce, Olive Kitteridge, Show Me a Hero, The Brink, Angels in America, Last Man Standing, How I met your Mother, The Strain, Scream Queens, Second Chance, Sleepy Hollow, Baskets, Life in Pieces, American Horror Story, After the Thrones, Saving my Tomorrow, Rosewood, The Grinder.
Get Access to all Premium and Latest Movies that includes The Maze Runner, Dawn of the Planet of the Apes, X-Men: Days of Future Past, Live Free or Die Hard, Ice Age Continental Drift and many more.
How to Get Hotstar Premium Membership Plan
1. Create a free account on hotstar by going to this link.
2. After that you will be asked to enter your Credit card details. Enter your credit card details and then click on Start Membership to start your premium membership plan. In future debit card payment facility will also be made available as most of the users don't have credit cards. The payment system on the hotstar is completely secure and you don't have to worry about it.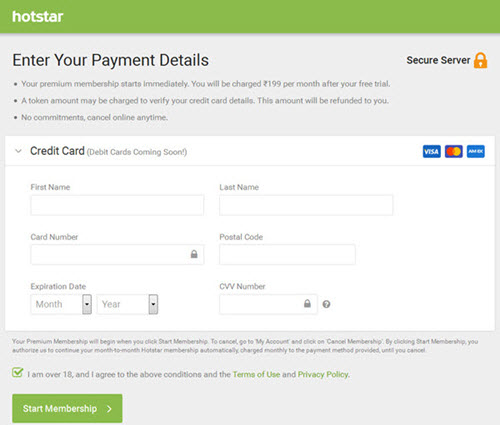 Note: New subscribers or members will get one month free hotstar premium membership and after the expiry of free trial you will be charged Rs. 199/- per month. You can also cancel the premium membership plan anytime you want as there is no commitment involved.
Features of Hotstar Online Streaming Platform
Here are the main features of Hotstar app and website that makes it the number one online streaming mobile app in India.
Powerful Search – Hotstar is equipped with very powerful search that lets you find exactly what you are looking for. The auto-complete suggestions are very fast and it also shows the results with thumbnail images so that you can easily identify them.
Smooth Video Playback – On hotstar your videos will be played smoothly even if you have slow internet connection or getting slow speed at the moment. This is because hotstar automatically adjusts the video quality  according to the speed of your internet connection. This means your video will be played on lower quality if you are getting slow speed and it will automatically upgraded to higher quality if your speed increases.
The various video quality settings in hotstar are:
Auto
Low (180p)
Medium (360p)
High (720p)
Auto mode adjusts the video quality dynamically according to your internet speed but if you want to force the video quality to your requirement then you can do that also by selecting your desired video quality manually.
Supports both Web & App – Hotstar online streaming platform is available on both the platforms i.e. Website and Mobile App. For PC and Laptop you can go to the hotstar website and watch all the online streaming content on your browser, but for mobile devices you can download and install hotstar app to watch all the streaming content. Hotstar app is available for both Android and Apple iOS devices and you can download it for free from the links given below in this post.
Easy User Interface (UI) – The user interface of hotstar both for web and mobile platforms is very simple and easy to use. You won't face any difficulty in finding your favorite content as everything is laid out very neatly with proper images and description.
Legal to Use – Hotstar app and website is 100% legal and free to use. This means you do not have to face any trouble regarding DMCA and Copyright when using hotstar for online streaming of movies, tv shoes and live cricket.
Tons of Free Content Available – You can find huge amount of free content on hotstar whether it is movies, tv shows and sports. Hotstar also has their own original shows that can be watched on hotstar app and website only. These shows include On Air with AIB, M Bole Toh, One Tip One Hand.
TV Channels available on hotstar – Star Plus, Asianet, Vijay, HBO Originals, Star World, Life Ok, Star Jalsha, Hotstar Originals, Maa, Star Pravah, Channel V, Suvarna, Asianet Plus, Fox Life, Star Utsav, National Geographic Channel, Star Sports, Baby TV.
Popular TV shows include Kyunki Saas Bhi Kabhi Bahu Thi, Kasautii Zindagi Ke, Sarabhai vs Sarabhai, Mahabharat, Khichdi, Iss Pyaar Ko Kya Naam Doon.
The content available in hotstar is from variety of genres.
Genres available – Romance, Drama, Family, Reality, Comedy, Mythology, Crime, Action, Talkshow, Teen, Awards, Science, Travel, Wildlife, Documentary.
If you want more content then you can subscribe to its premium membership plan and access new & amazing premium content on your mobile or computer.
Watch Live Cricket – You can watch cricket matches live on hotstar app and hotstar website. Also you will get ball by ball cricket scores and updates.
Supports Multiple Languages – Hotstar supports 8 languages that include Hindi, English, Malayalam, Tamil, Telugu, Kannada, Marathi, Bengali. This means online streaming content is available for all these languages and you can watch movies and shows in languages too.
Hotstar App
Hotstar App is available for both Android and iOS platform. For Android it is available on Google Play and for iOS on Apple Store iTunes. You can download it for free from the links given below.
Download Hotstar for Android (Hotstar Apk)
Download Hotstar for iOS on iTunes
For Android devices you can also download Hotstar app by going to Google Play and enter hotstar in the search bar. The first result displayed will be your Hotstar App and you can click it to download on your Android Smartphone or Tablet.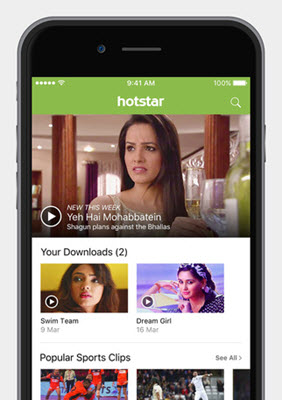 Hotstar App is very well optimized for performance and even if you have 2G Internet connection on your mobile phone then also you can watch videos without any lag. But the quality of video may decrease for smoother playback on slow internet connection but if you have high speed 3G or 4G internet then you can enjoy high quality HD video streaming on your phone or tablet. Hotstar is updated regularly for bug fixes and performance improvements so that you can have the best experience on your mobile phone.
Note: When you stream or download videos on hotstar app then the data charges are applicable as per your internet provider or mobile operator.
Hotstar App requirements for best experience:
Android v.4.0 or higher
iOS 8 or higher
Also Read: Best Free Music Streaming & Music Downloader Apps
How to use Hotstar App
Hotstar app is very easy to use. After downloading just launch the hotstar app and select the content you want to watch from the top menu. Click on the content and it will start playing. You can also pause it and select the video quality. You can also download your favorite videos on your mobile phones or tablets for offline viewing at another time.
Hotstar for Web (For use on Computer)
You can access Hotstar website at www.hotstar.com and watch Movies, TV Serials and Cricket Matches on your Desktop PC or Laptop. You must have Adobe Flash Player installed on your computer. Also you must have the below mentioned versions of Browsers installed on your computer for online streaming on Hotstar. Also it must be noted that shows and movies cannot be played on mobile browsers. To watch all online streaming media on mobile you have to download the Hotstar app.
Hotstar supported Browsers (for PC & Laptop only):
Google Chrome version 30.0 and higher
Firefox version 25.0 and higher
Internet Explorer version 10.0 and higher
Safari v9.1x
Other system requirements for Hotstar include:
Microsoft Windows XP or above / MAC OS 10.2 or above
Latest version of Adobe Flash Player
JavaScript and cookies enabled
To sum up hotstar is a complete entertainment app which makes you glued to your mobile or computer screen. If you have queries regarding hotstar then you can ask me by leaving a comment below.
See also: