How to Find & Choose the Best Android App on Google Play?
Google Play is the house of millions of Android apps and for a particular work or thing hundreds of apps are available. This can cause confusion among people on which app to install as all of them will do the same kind of thing, but they may be different performance, functionality and feature wise. So here I will tell you on how you can choose and select the best app for any kind of thing that you want.


Tips on How to Find the Best Android App
Here are some very useful tips which can help you to find and select the best android app for your android phone or tablet.
Perform a Wider Search
The first thing to do is when you search for an app then use lesser number of words and targeted keywords. For example if you want a battery monitoring app then you can type in "battery monitor" without quotes. Using lesser words and targeted keywords will give you wider and better search results than using long sentences. So keep this in mind when you are searching for any app on Google Play.
View Rating and Reviews
See the rating and read some random users reviews of app before downloading and installing it. A good app generally has rating more than 4 (out of 5) and has more positive review than negative. Also look for how many users have rated the app because it decides how popular the app is.

Look at Additional Information
Also look for other information like number of times the app is downloaded, the date on which the app is updated, number of installs and you can also go through the developer website to get an idea about them. All these things will help you to know about the app popularity and whether it is being regularly updated or not for bug fixes and improvements.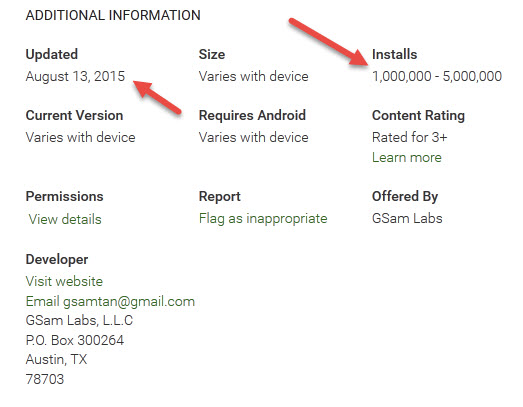 Test the App Performance
There might be couple of similar apps that have good ratings and feedback. So here you may face confusion on which app you should install. To overcome this problem you can install them one by one and test them. You can look for the features they have and how much memory and battery they are consuming. After some research, testing and finding the best one, uninstall the other apps and the keep the one that gives you better features, performance and uses lesser amount of battery.
Read here: How to Monitor your Android Phone Battery Usage
Mus Read: