Top Faulty Motherboard Symptoms & Solutions
Motherboard is one of the most important components of your computer whether it is a laptop or a PC. It is the only component on which other major components are fitted or connected that includes your processor, memory, hard disk, graphics card etc. If your motherboard goes faulty then it may be possible that it can affect all the components connected to it. Detecting a faulty motherboard is a bit hard task so here I am going to list down the various symptoms for a faulty motherboard.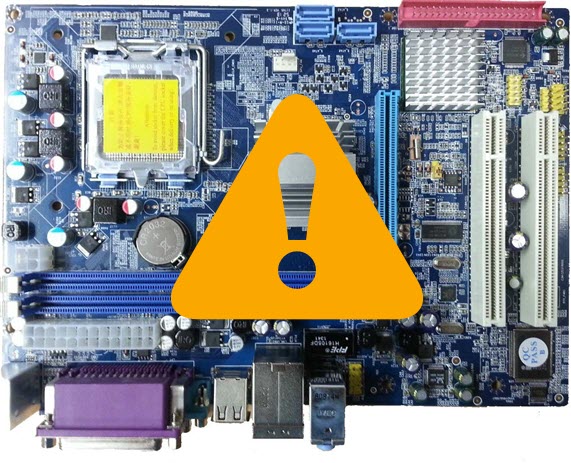 Also Check out:
Top Symptoms for Faulty Motherboard
Here are the top symptoms of a faulty motherboard in your computer.
Boot Failure
You computer may fails to boot if your motherboard is faulty. Booth failure can also occur due to faulty RAM and faulty hard drive but if everything is alright then the culprit might be the motherboard. Boot failure is accompanied with continuous or non-continuous beeps depending on the BIOS you have. So if you encounter boot failure or if your computer won't start then it might be a sign of a faulty motherboard.
Frequent Freezing
If your computer freezes or hangs in the middle of your work without any valid reason then it might be a sign of faulty motherboard. Here you should inspect every component and try to find out whether the fault is with motherboard or not.
Frequent BSOD
If you encounter frequent Blue Screen of Deaths (BSOD) then it might be a cause of a faulty motherboard. BSOD is generally caused due to faulty hardware and drivers. So here make sure all the drivers installed are up to date and all the other hardware including RAM, Hard disk is working good without any issues. If all the other hardware is fine and you are still getting BSOD then it might be the case of faulty motherboard.
Not Detecting Components & Devices
If your motherboard is not detecting new or already connected components and devices even if you have installed all the required drivers then it is a clear cut sign that there is something wrong with the motherboard. You may restart your PC and check your Windows OS to confirm that the fault is with motherboard only.
Applications / Programs Crashing
If the applications, softwares or programs are crashing without any reason then it might be the case of faulty motherboard. Run and Check as many applications to confirm that the problem is with motherboard only. This can happen due to faulty RAM and HDD too.
What to do with Faulty motherboard?
You cannot repair a faulty motherboard at home. Sometimes it is not even possible to get the motherboard repaired even by the technicians and the only choice is that you have to buy a new one. If your motherboard is in warranty then you can get it serviced or replaced by taking it to the authorized service center in your city or area. You may also checkout the important motherboard buying guides by going through the links given below.
Final Words
Here I have listed down all the major problems that can help you to detect a faulty motherboard and then take appropriate action. If you have queries regarding this then you can ask me by leaving a comment below.
See also: