Detailed Guide on Building a Gaming PC
What is a Gaming PC ?
A Gaming PC is a computer which is more powerful than an everyday normal computer. Its main job is to run high end games that require large computing power and high resources. There are mainly three things that form the main parts of a gaming pc. They are
Very Fast Multi-core CPU
A High- end Graphics Card
Large Amount of high speed RAM
A good Motherboard, high performance hard disk, heavy duty Power Supply, HD LCD monitor are equally but the above mentioned things are needed the most. Here I will show you the step by step guide on choosing the components and how to build a gaming pc.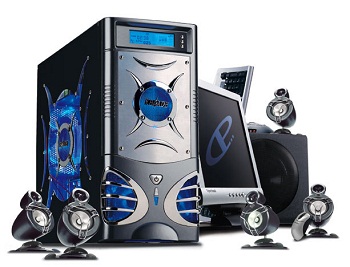 Guide on How to Build a Gaming PC
Here is detailed guide on how and which components to select for building your gaming PC.
CPU / Processor

A fast multi-core processor is the primary requirement for a gaming computer. Intel and AMD are the two major leaders in processor manufacturing. 'Intel or AMD for Gaming ?' This question is asked by many gamers and there are very confused on choosing the right cpu for their gaming pc. The answer today is not very clear as both of them have very cpu's that performs very good in gaming benchmarks. For sometime AMD was known as the best cpu for gaming but this crown has been taken away by Intel as of now. The new core i series of intel is very good has some very good set of processors that are far better than amd cpus. For Intel make sure to buy at least core i5 processor your gaming rig and for AMD start with at least FX Quad Core series. For cpu intensive games you may have to go for more powerfull cpu's like core i7 series for intel and six core FX series for amd, these are the best processors that you can find for gaming pc.
Processors Good for Gaming
Intel Processors for Gaming – Core i5 series, Core i7 series.
AMD Processors for Gaming – FX series (Quad Core and Six Core), FX Vishera (Eight Core)
Motherboard
A good processor will naturally need a good motherboard. Here you need not have to buy the top of the line motherboard that will cost you the same as the processor, but a good mid to high range motherboard that will do your job quite nicely. The motherboard should have all the advanced features and should be from reputable brands like Asus, Gigabyte, MSI and some more. These companies are known to manufacture some of the best gaming motherboard.
RAM or Memory
You will need lots of RAM for your gaming pc as the top pc games consumes high amount of memory. Get at least 8GB of RAM for your gaming system, DDR3 is the fastest desktop RAM out there so your try to get a motherboard that supports it. The leading manufactures in memory are Corsair and Transcend.
Graphics Card
This is the most important component of your gaming system. Without Graphics Card it is virtually impossible to play games with respectable frame rates. Even if you have the best cpu, you cannot play games with full glory without a decent graphics card. A graphics card is the heart of the gaming pc. Nvidia and AMD (previously called ATI) are the two leading manufacturers of graphics card. Both are equally good but Nvidia has more range both in terms of price and models. Also drivers support for nvidia is far better than AMD/ATI. For Nvidia try to get a graphics card equal to or above GTX650 series.
Power Supply (SMPS)
All these power hungry devices will also need sufficient power to run and it can be only possible by using a heavy duty power supply or generally called as SMPS. Corsair, CoolerMaster and Tagan are the companies that makes the best power supplies for gaming and high end pc's. The Recommend Power Supplly for a gaming pc is atleast 600W. I have written an article about some good smps companies and how to choose a power supply for your pc. Here are they:
How to Find Power Supply for your PC
Cabinet / PC Case

A gaming cabinet is the one that holds are your components in it. Try to get a cabinet with large and extra fans. The cabinet should also be spacious for the proper flow of air between the components. Antec, Cooler Master, Corsair are some of the good brands that makes gaming cabinets.
Mouse and Keyboard
You cannot experience the joy or comfort in games by using normal keyboards and mouse. Gaming Mouse and Keyboards are specially designed for rough or hard usage and are very comfortable. They also have many more features and advanced functions that will help you in your games. Logitech and Razor are the two best brands for making gaming mouse and keyboard.
LCD or Monitor
A good 22 inch monitor is a must for gaming. You can also get much bigger screens if you want but 22'-inch HD LED/LCD screen is the best in terms of both price and performance. Samsung and LG are the two brands that produce high quality screens.
There are some other components that do not play that much importance for building a gaming computer but you cannot neglect them. They are hard disk, speaker and optical drive. For hard disk any 1 TB SATA II hdd from Seagate and Western Digital will do the job nicely. Speakers, you can choose according to your budget and choice and any DVD Writer from Liteon, LG or Sony is sufficient.