What is Hybrid SIM Slot in Latest Smartphones?
You must have heard or seen hybrid SIM card slot in that latest smartphones a lot but still most of the users are still confused what a hybrid SIM slot is and how to use it. So here in this post I will tell you what a hybrid SIM slot really is so that you do not remain in any confusion when buying your new Smartphone. Also here I will discuss about the various advantages and disadvantages of a Hybrid SIM Slot.
What is a Hybrid SIM Card Slot?
A Hybrid SIM Slot is one which can function both as a SIM card slot and a microSD card slot. This means you can either put another SIM in a hybrid SIM slot and use your phone as a dual SIM smartphone or you can put a microSD card in it for expanding the memory of your phone. The Hybrid SIM slot can be a separate slot or can be present on a SIM card tray where the other normal SIM card slot is also present. Next I will tell you about the various combinations of Hybrid SIM card slot with the other SIM card slot.
Below you can see the hybrid sim tray having a normal sim slot and a hybrid sim slot. The hybrid sim slot can can accommodate either a microSD card or a nano sim card.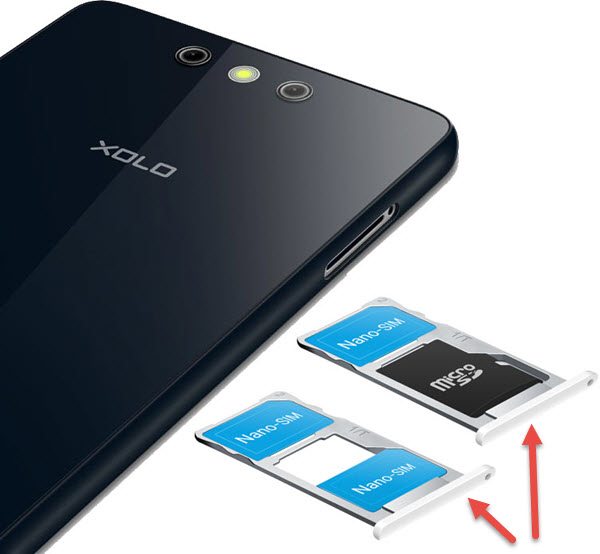 Hybrid SIM Slot Combinations in Dual SIM Phone
Here are the various combinations of a hybrid SIM card slot with other normal SIM slot.

Micro SIM + Nano SIM / microSD card
Nano SIM + Nano SIM / microSD card
Must Read: Learn about different SIM card sizes
Advantages of Hybrid SIM Slot
The main advantage of hybrid SIM card slot is that it saves space on smartphones for the manufacturers, which can help them to make the phone much slimmer and also reduce some of the circuitry involved. There is virtually no advantage of Hybrid SIM card slot to the users as it only limits the features as discussed below.
Disadvantages of Hybrid SIM Slot
The main disadvantage of hybrid SIM slot is that it limits your phone functionality i.e. you can either use your smartphone as a dual SIM phone or you can expand the storage through microSD card. You can cannot use both these features simultaneously which is a major drawback of hybrid SIM slot.
Final Words about Hybrid SIM card Slot
Here I would like to say that I am not a fan of Hybrid SIM card slot as it restricts something on your phone. Also you cannot do anything about it if it is present in the phone that you are going to buy. Here you have to be intelligent and think about your requirements and use the Hybrid SIM slot as per your needs i.e. you have to make a decision that whether you need dual SIM functionality or want extra storage space on your phone.
Note: There is a hack to use two SIMs and a microSD card in the hybrid SIM slot in some phones but I am strongly against it because it damages your one SIM card permanently and you may also damage your smartphone doing this.
List of Popular Smartphones with Hybrid SIM Slot
Here are some of the popular smartphones that comes with hybrid sim slot functionality.
Asus Zenfone 3
Asus Zenfone 3 Ultra
BlackBerry DTEK50
Coolpad Mega 2.5D
Coolpad Note 5
Gionee S6
Gionee S6 Pro
Gionee S6s
Huawei Ascend Mate7
Huawei G8
Huawei G9 Plus
Huawei Honor 5c
Huawei Honor 7
Huawei Honor 8
Huawei Honor 6X
Huawei Honor Note 8
Huawei Honor V8
Huawei Mate 8
Huawei Mate S
Huawei nova
Huawei nova plus
Huawei P8
Huawei P8 lite
Huawei P9
Huawei P9 lite
Huawei P9 Plus
Lenovo K5 Note
Lenovo K6
Lenovo K6 Power
Lenovo Phab Plus
Lenovo Phab2 Pro
Lenovo Vibe S1
Lenovo Vibe X3
LG G5
Meizu m2
Meizu m2 note
Meizu m3 note
Meizu M5
Micromax Canvas 6
OnePlus X
Oppo F1
Oppo F1 Plus
Oppo R9 Plus
Samsung Galaxy A3 (2016)
Samsung Galaxy A5 (2016)
Samsung Galaxy A7 (2016)
Samsung Galaxy A8 (2016)
Samsung Galaxy C7
Samsung Galaxy E5
Samsung Galaxy J1 Nxt
Samsung Galaxy Note 7
Samsung Galaxy S7
Samsung Galaxy S7 edge
Samsung Galaxy S8
Samsung Galaxy Z3
vivo V3Max
vivo X7 Plus
Xiaomi Mi4s
Xiaomi Redmi 3
Xiaomi Redmi 3s Prime
Xiaomi Redmi 3s Pro
Xiaomi Redmi 3x
Xiaomi Redmi 4
Xiaomi Redmi Note 3
Xiaomi Redmi Note 4
Xiaomi Redmi Pro
Yu Yunicorn
ZTE Axon 7
ZTE Axon 7 mini
ZTE nubia Z11
If you have anything to say or ask then you can do so by leaving a comment below.
Buy Smartphones at Great Discounts
See also: