List of All Snapdragon 820 Phones & Tablets
Snapdragon processors are top of the line mobile processors that are known for delivering high performance and are equipped with great features. These processors are made by a company called Qualcomm. Snapdragon processors are mostly used in mid-range to high-end smartphones and they are bit costly than their rivals.
The main competitors of Snapdragon are Exynos and Mediatek processors. Exynos is a mobile processor from Samsung that is generally used in their high-end phones while Mediatek processor are known for their value for money image as they are relatively cheaper but offers good performance at a cheaper price. You can find the detailed comparison of Snapdragon and Mediatek processors by going to the link given below.
Must Read: Snapdragon vs. Mediatek Comparison
If you are looking for a Smartphone with sheer performance and speed then you have to look for a phone with the latest Snapdragon 820 processor. Snapdragon 820 System on Chip (SoC) is the most advanced and fastest mobile processor ever built by Qualcomm as of now. It packs great performance and is equipped with high-end features that won't find in other mobile processors. The successor of Snapdragon 820 processor will be Snapdragon 823 (also called as Snapdragon 821) which will be an improved version of Snapdragon 820. It is also said that Snapdragon 821 will be 10% faster than Snapdragon 820. It is also rumored that LeEco is all set to launch its upcoming smartphone based on Snapdragon 823 processor. Nexus M1 (HTC Marlin) is the other phone to get the Snapdragon 823 or Snapdragon 821 processor.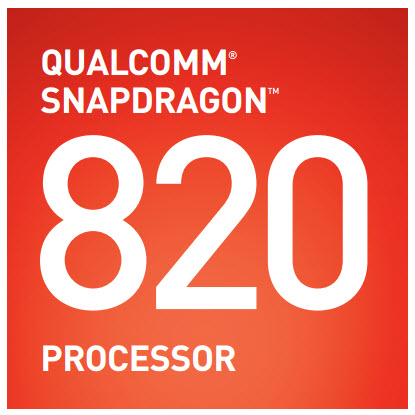 Here in this post I will provide you the details, specifications and features of Snapdragon 820 mobile processor and also provide you the list of smartphones and tablets that comes with Snapdragon 820 chipset.
Snapdragon 820 Processor Specifications and Features
Snapdragon 820 is a System on Chip (SoC) or mobile processor from Qualcomm and is built on 14nm fabrication process. It contains CPU, GPU, Sound processing unit or DSP unit and other integrated units that I am going to discuss next here.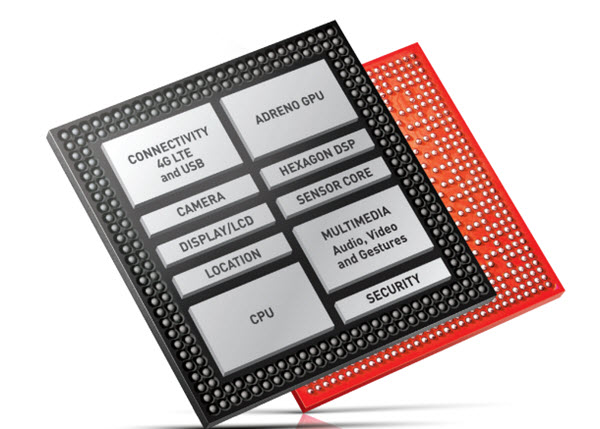 CPU and GPU – Snapdragon 820 has a custom 64-bit Quad-core CPU known as Kyro that can reach speed to up to 2.2 GHz. The GPU here is Adreno 530 and it is 40% more powerful than Adreno 430 (in Snapdragon 810) and supports up to OpenGL ES 3.1+. The CPU and GPU in Snapdragon 820 are more than powerful to handle multiple heavy apps and latest HD games without any trouble or lag.
Memory & Storage – It supports LPDDR4 1866MHz Dual Channel RAM. For storage it supports UFS 2.0 -Gear 3 storage, eMMC 5.1, SD 3.0 (UHS-I) and allows Universal Bandwidth compression.
Display – Snapdragon 820 supports 4k Ultra HD display for super rich and crystal clear display quality. For video also it supports 4K Ultra HD capture and playback.
Sound – Snapdragon 820 is equipped with Hexagon 680 DSP or Digital Sound Processor for an amazing audio experience.
Modem – Snapdragon 820 comes with X12 LTE modem that provides three times (3X) faster peak upload speeds and 33% faster peak download speeds compared to those of X10 LTE. It can reach download speed to up to 600Mbps and upload speed of up to 150Mbps. We can also say X12 LTE as 4G plus.
Connectivity – The mobile processor comes with variety of connectivity options that include Tri-band WiFi, Bluetooth 4.1, NFC, USB 3.0, USB 2.0, USB Type-C etc.
Camera – Snapdragon 820 can support up to 25 Megapixel Camera with zero shutter lag through its 14-bit Qualcomm Spectra Image Signal Processor (ISP).
Battery Life & Charging – Snapdragon 820 consumes around 30% less power than its previous generation. This results in better battery life. Snapdragon 820 supports Quick Charge 3.0 fast battery charging technology that can charge your mobile phone four times faster than the conventional charging and is around 38% more efficient than Quick Charge 2.0.
Must Read: Know more about Qualcomm Quick Charge & List of Phones having it
Security – The security features in Snapdragon 820 include Qualcomm SecureMSM foundation, Qualcomm Snapdragon Smart Protect, Qualcomm Snapdragon Sense ID fingerprint technology, Qualcomm Snapdragon StudioAccess content protection.
Complete List of Snapdragon 820 Phones
Even if you go on the Qualcomm official website then also you don't find the complete list of Snapdragon 820 Smartphones over there. So here I am providing you the complete list of smartphones and tablets that are powered by Snapdragon 820 processor.
Alcatel Idol 4S
Asus Zenfone 3 Deluxe
Axon 7 mini
Blackberry Argon
BlackBerry DTEK60
HP Elite x3
Google Pixel XL
HTC 10
HTC Nexus Sailfish

HTC Nexus Marlin
LeEco Le Max 2
LeEco LEX920
Lenovo Zuk Z2
Lenovo Zuk Z2 Pro
Lenovo Z2 Plus
LG G4 Pro
LG G5
LG V20
Motorola Moto X
Motorola Moto Z
Motorola Moto Z Force
Moto Droid Turbo 3
Nokia Z2 Plus
Nubia Z11
OnePlus 3
OnePlus Pixel
OnePlus 3 Mini
360 Q5
Q5 Plus
Samsung Galaxy S7
Samsung Galaxy S7 Active
Samsung Galaxy S7 Edge
Samsung Galaxy S7 Mini
Samsung Veyron
Samsung W2017
Sony Xperia X Performance
Sony Xperia X Premium
Sony Xperia XZ
Sony Xperia F8331
Sony Xperia XR
Sony Xperia Z6
Sony Xperia G3121
Sony Xperia G3112
TCL 950
Vivo Xplay5 Elite
Xiaomi Mi 5
Xiaomi Mi 5 Plus
Xiaomi Mi Note 2
Xiaomi Capricorn
Zuk Z2 Rio Edition
ZTE Axon 7
If you have any questions regarding Snapdragon 820 processor then you can ask me by leaving a comment below.
See also: