Snapdragon 821 Specifications & Snapdragon 821 Phones List
Qualcomm has launched an improved version of recently launched Snapdragon 820 processor which is Snapdragon 821 (S821). Snapdragon 820 was the latest and fastest mobile processor for smartphones few days back but now this title has been taken away by Snapdragon 821 processor.
Snapdragon 821 is currently the latest and fastest mobile processor around that is built on Snapdragon 820 processor specifications. It comes with all the features present in the Snapdragon 820 with some speed increment and performance improvements. The real benchmarks are still not out but it is said by Qualcomm that the new Snapdragon 821 is around 10% faster than the Snapdragon 820.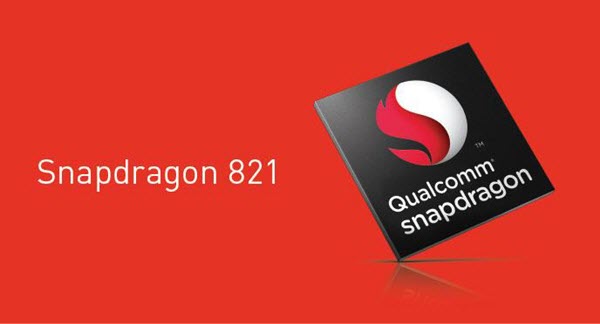 Snapdragon 821 is built on the same Kyro CPU, has the same Adreno 530 GPU but clocked faster and comes with features like X12 LTE Modem that supports download speeds of up to 600MB/s and 3x faster upload speeds, plus improved call quality, reliability with Ultra HD Voice and more.
Snapdragon 821 vs. Snapdragon 820 Comparison
The major improvement in Snapdragon 821 processor over Snapdragon 820 processor is that it comes with faster clock speed. Snapdragon 821 is a 64-bit Quad-core CPU that can reach speeds to up to 2.4GHz which is 200MHz faster than the Snapdragon 820 processor clock speed of 2.2GHz. The GPU Adreno 530 is same in both these processors but Snapdragon 821 GPU has slightly better clock speed. At present you might say that Snapdragon 821 is an Overclocked version of Snapdragon 820 processor.
Qualcomm also claimed that the performance of Snapdragon 821 processor is 10 percent more than the Snapdragon 820 processor. Also Snapdragon 821 will consume lesser battery and comes with improved power management features. Snapdragon will not replace Snapdragon 820 processor but it will be a step up processor in the Snapdragon 800 series processors.
Also Read: Snapdragon vs. Mediatek Processor Comparison
Snapdragon 821 Specifications and Features
Here are the major specifications and features of the latest Snapdragon 821 SoC from Qualcomm.
Snapdragon 821 Processor
CPU
Kyro 64-bit Quad-core 2.4 GHz (14nm process technology)
GPU
Adreno 530
Memory Support (RAM)
LPDDR4 1866MHz dual-channel RAM
Display & Video
1080p, 4k Ultra on Output and 4k Ultra HD capture and playback
Storage
UFS 2.0, eMMC 5.1, SD 3.0 (UHS-I)
Camera
Up to 25 Megapixel, Qualcomm Spectra Image Sensor Processor (14-bit dual-ISP)
Sound
Qualcomm Hexagon 680 DSP
Modem
X12 LTE with 600Mbps download speed
Wi-Fi
Qualcomm VIVE 802.11ac, Tri-band Wi-Fi
USB
USB 3.0 / 2.0
NFC
Yes
Bluetooth
Bluetooth 4.2
Charging
Quick Charge 3.0, Wireless Charging
List of Snapdragon 821 Smartphones
Here is the list of Smarphones using the latest Snapdragon 821 processor. Asus ZenFone 3 Deluxe is the first smartphone to get the Snapdragon 821 processor. It comes with 6GB RAM, 256GB internal storage, 5.7 inch display, 23MP primary camera and 3000mAh battery.
Other smartphones that are likely to come with Snapdragon 821 processor are mentioned below.
Asus ZenFone 3 Deluxe (ZS570KL)
Asus ZenFone AR
Cool S1
CoolPad Cool 1
Xiaomi Mi Note 2 Pro
Xiaomi Redmi 4
Xiaomi Mi Mix
Xiaomi Mi S
Samsung Galaxy Note 7
Nexus M1 (HTC Marlin)
HTC Nexus Sailfish
Microsoft Surface Phone
Nokia Z2 Plus
LeEco Le 2s
LeEco Pro 3
LeEco Le X720
LeEco Le X850
LeEco Le Max3
LeEco Coolpad Cool 1S
Lenovo Zuk Edge
LG G6
Google Pixel
Google Pixel XL
Oppo Find 9
OnePlus 3 Plus
OnePlus 3T

You can see commercially available Snapdragon 821 phones in the second half of 2016. For more updates on Snapdragon 821 processor and its phones keep following this page.
See also: