Intel HD vs Intel Iris Pro vs AMD APU Graphics Comparison
It is true that onboard graphics are not meant for professional or mainstream gaming but they can serve the purpose for most the users who are not into gaming and are on budget. Over the years on-board graphics has improved a lot and now you can even watch high definition (HD) movies and play latest games on low settings.
Integrated Graphics Solutions are of two types
There are two types of integrated graphics solution, first one is the onboard graphics or motherboard based and the second one is CPU integrated graphics where the GPU and CPU are integrated on the same die of the processor.
1. Motherboard based
2. Processor based
Motherboard based onboard graphics uses a graphics chipset or integrated graphics controller on the motherboard that performs the various graphics related tasks and functions. In simple words the GPU chipset is integrated on motherboard.
Processor based integrated graphics are relatively newer kind of technology where the Graphics Processing Unit (GPU) or integrated graphics controller is in-built on the processor itself. CPU based integrated graphics solutions are generally better in performance than the motherboard based graphics. This is because of better technology, advanced architecture of GPU and faster processing of instructions between CPU and the GPU.
Here in this article I am going to cover and compare the CPU based integrated graphics solutions from both Intel and AMD.
Intel HD Graphics
Intel HD Graphics is the first series in Intel's Integrated Graphics Processors (IGP) i.e. it has both CPU and GPU in-built on the same processor. You can find Intel HD graphics on Core i3, Core i5, Corei7 (first generation to fourth generation) and some Dual core & Celeron Models. Intel HD graphics are not meant for gaming but you can do your basic and everyday normal tasks, watch high definition movies and can enjoy playing older games on decent settings with decent frame rates.
Intel Iris Graphics (for Laptops only)
Intel Iris Graphics is a major improvement on Intel HD graphics and it has been said that it is up to two to three times better than the older HD graphics. Intel Iris Graphics is only for laptops or notebooks Intel core processors.
Intel Iris graphics is being featured in new Haswell and Broadwell (fifth generation Core i series processors). Intel Iris graphics provides 2X performance over the Intel's HD 3000 and HD 4000 graphics found in Ivy bridge and older haswell processors. Again Iris Graphics are not meant for dedicated gaming and you can play some modern day titles on low settings with decent screen resolution.
Intel Iris Pro Graphics
Iris Pro Graphics is an edge ahead of Iris Graphics and it comes in fifth generation core i series processors codenamed as Broadwell. They are available for both laptops and desktop processors. Intel Iris Graphics is the first one in the series to have embedded DRAM for faster processing of Instructions. Intel Iris Pro graphics are way better than the HD Graphics as you can enjoy decent level of gaming on it and can play modern games with low-medium settings with decent resolution, but you have to turn off some graphics settings to none i.e. ant-aliasing etc. For PC and Mobile processors they come as Intel Iris Pro Graphics 6200. The gaming performance of Intel Iris Pro Graphics comes close to that of high end AMD APU's that I am going to discuss next.
AMD Accelerated Processing Unit (APU)
AMD have their own range integrated graphics processors known as AMD Accelerated Processing Unit or APU. AMD APU's are powered by Radeon graphics which as we know is a well known and powerful GPU brand. AMD APU processor list includes AMD A10, A8, A6, A4. The GPU found in AMD APU's are Radeon R7, Radeon R5, HD 8470D, HD 8670D, HD 7660D, HD 8570D, HD 7560D, HD 6550D, HD 8470D, HD 7540D, HD 8400, HD 6530D, HD 8370D, HD 7480D, HD 8330, HD 7480D, HD 6410D.
AMD APU's are far better than the Intel HD graphics. They are also very affordable and way cheaper than the processors with Intel Iris Pro graphics. A laptop or desktop computer equipped with AMD APU can be said to have a proper graphics solution and it comes very close to a dedicated graphics card because of the presence of powerful Radeon graphics GPU in them. With a computer equipped with top of the range AMD APU you can enjoy modern games on low-medium settings, and you can get almost all the functionality of a dedicated graphics card.
Recommended High-end AMD APU's for Gaming: A10-7870K, A10-7850K Kaveri or A10 or A8 series
Comparison of Intel HD vs. Intel Iris vs. Intel Iris Pro vs. AMD APU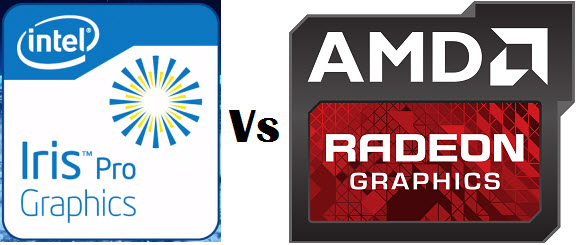 | | | | | |
| --- | --- | --- | --- | --- |
| | Intel HD Graphics | Intel Iris Graphics | Intel Iris Pro Graphics | AMD APU Graphics |
| Graphics Engine | Intel Proprietary | Intel Proprietary | Intel Proprietary | AMD Radeon |
| Processor Family | Core i3, Corei5, Core i7, Celeron, Dual Core (Sandy, Ivy, Haswell) | Core i3, Corei5, Core i7 (newer Haswell and 5th generation models) | Core i5, Corei7 (Some 5th generation Broadwell models only) | AMD A10, A8, A6, A4 |
| Gaming Performance | Bad / Average | Better than Intel HD Graphics | Very Good | Very Good |
| Available for | Desktops & Notebooks | Laptops or Notebooks only | Desktops & Notebooks | Desktops & Notebooks |
| OpenGL Support | 4.3 | 4.3 | 4.3 | 4.3 |
| DirectX Support | DirectX 11.2 | DirectX 11.1 | DirectX 11.1 | DirectX 12 |
Conclusion
At last I would like to say that an integrated graphics solution is still not a match for a full fledged dedicated graphics card. You can play older games with these processors (having integrated graphics) on good frame rates without any issues. For laptop users and budget desktop users who want better integrated graphics and also want to enjoy modern games on low-medium settings can go for AMD APU's as they offer good graphics performance and are way cheaper than latest Intel core processors with Iris Pro graphics.
Buy Intel Core i Series Processors Online