How to Remove Malware from Android Smartphone?
Like Computers your Android Smartphone can also get infected by Malware. Malware posses a great risk to your data, privacy and also slows down your device whether it is a computer or your smartphone. Android Malwares are different because Android OS is built on different platform and in your PC or Laptops you generally have Windows OS installed.
Malware is a general term for viruses, adwares, Trojans or other malicious unwanted programs. They must be removed immediately to save your data and your device from getting compromised. For Windows computers there are various good anti-malware programs available for protecting your computer from malwares but it is not the case with your android smartphone. There are some antiviruses available for android but none of them are good enough and they also slow down your smartphone to a considerable amount of extent. So here in this article I will tell you about some best practices which you can follow to keep your smartphone away from malware and also tell you on how to remove them if you get infected.
How Malware gets in your Android Smartphone?
The most common way a malware gets in your Smartphone is through App installation. Whenever you install any suspicious app then the malware bundled with it also installs on your smartphone and then causes trouble for you.
Tips to Keep Malware away from your Android Smartphone
Here are some best practices that you can follow to remain safe from any kind of android malware.
Reads Reviews before Installing App
Before installing any app you should check its rating and also read reviews about the app. If it has got ratings below 50% and has got mostly negative reviews then I would advise you not to install that app and search for another similar kind of app that has got positive ratings and good reviews.

Do not Install Apps from Unknown Sources
Do not install apps from unknown sources i.e. other from Google Play Store. If there is any need to install the app from unknown sources then you must be very sure about it that it is not containing any malicious code or program in it.
How to Remove Malware from Android Smartphone?
Here are some solutions that you can apply to remove malware from your android smartphone.
Uninstall Malware from App Menu
Go to your System settings->General->Apps menu (path may be different for different Android version) and see that if there is any downloaded app present there that you have not installed. Uninstall and remove such apps. Usually these malicious apps have very strange and funky names and they can be easily identified.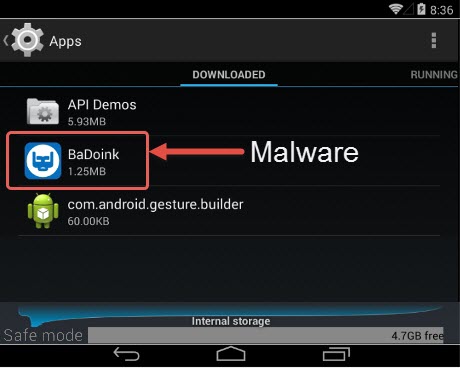 Use Malwarebytes Anti-Malware
You can also use Malwarebytes Anti-Malware to scan your Smartphone and remove malwares from it. Malwarebytes Anti-Malware is well known anti-malware software for Windows OS (for computers) but now it is available for android platform too. After scanning and removing the malware uninstall the Malwarebytes Anti-Malware app because it can slow down your smartphone.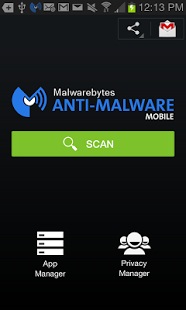 Download Malwarebytes Anti-Malware for Android
Do a Factory Reset
If you are not able to remove the malware from the above two mentioned methods then the only solution to fix this is to do a Factory Reset. Factory Reset will remove and deletes everything installed on your android smartphone and restore your Smartphone's settings to the Factory installed ones.