How to Fix Mobile Network Not Available Error for your Phone
My phone says mobile network not available or network not available is a common error and can happen with any mobile phone on any mobile network. In this no mobile network or cellular network not available problem your mobile signal will be at zero level and this means you won't be able to make and receive calls. Also you won't be able to run internet as the data network is not available. This is a very annoying problem it can happen to anyone with any mobile phone.
What does mobile network not available mean?
Mobile network not available means that your phone is unable to catch the mobile network signal. This problem can be due to your mobile phone or the mobile service provider.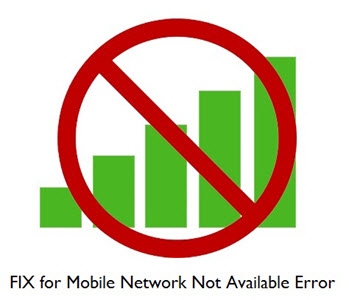 Here in this post I am going to tell you on how you can fix this mobile network not available, cannot connect to cellular data network, mobile data network not working or no network available problem. Here you find solutions for the problems that include network not available, could not activate mobile data network, no mobile network, mobile network unavailable.
This guide is applicable to all the mobile phones whether it is based on Android, iOS, Windows, Symbian etc. Also the solutions are applicable to all the mobile phones or smartphones from different brands whether it is Samsung, Sony Xperia, Huawei, HTC, Nokia, LG etc.
Must Read: How to Fix Slow Internet (2G/3G) Problem on Android Phone?
Solutions or Fix for Mobile Network not Available Problem
Here are various solutions for the mobile network not available error or no network available for your mobile phone or smartphone.
Restart your mobile phone
The first thing that you should do when you are facing no mobile network problem is to restart your phone. You can either turn off and turn on your phone or use the restart option to automatically power off and power on the phone. There are good chances and most of the time network not available error goes away by restarting your mobile phone. If restarting the phone does not solve your no mobile network problem then you can proceed to the next step mentioned below.
Power cycle the mobile phone
If restarting your phone did not fix your no mobile network error then the you should power cycle your mobile phone. Follow the steps mentioned below to power cycle phone:
Disconnect the phone from the charger or power adapter.
Turn Off the phone.
Remove the battery of your mobile phone.
Remove the SIM card.
Wait for 5 minutes or so.
After that insert SIM card, battery and then turn ON the phone.
After doing this there is 70% chances that your phone will catch network and the network not available problem would go away. If the no mobile network is still there after performing the above procedure then you can move to next step mentioned below.
Select correct network settings
It might be possible that you have selected the wrong network mode or settings. It means that you might have either WCDMA mode or GSM mode selected which in turn prevents your phone from catching the available network when the other one is not present there. So here you should do is to select the auto mode where you will get access to both the networks.
To select the auto mode in android phones go to System settings->Tethering & networks->Mobile networks->Network mode and then select GSM/WCDMA (auto mode) option. This setting is different for different mobiles and operating system so you have to figure this out by yourself.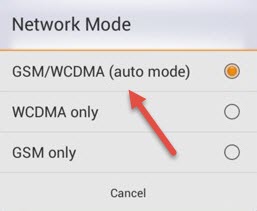 If you already have the auto mode selected or after selecting this, the problem is still there then you can move to the next step mentioned below.
Select Right Network Operator during Roaming
If you are on roaming then it may be possible that the network operator your phone has selected has no network or tower in that area. So here you have to select the right network operator here which has better connectivity. If the selected network unavailable error is shown then move to the next available network. To select this in Android phone go to System settings->Tethering & networks->Mobile networks->Network operators and then Select a network operator.
Turn Off WiFi devices or Remove Interference
If you are at home and office where there are wireless internet devices (WiFi router) or wireless devices (wireless keyboard / mouse etc.) then it might be possible that the interference due to their frequencies can cause this issue. Here what you can do is to turn off the wireless devices in your area and then restart your mobile phone. There are very good chances that your phone will be able to catch mobile network or signal. You can turn on the wireless devices after this. If mobile network not available problem still persists then you can move on to the next step mentioned below.
Move Around a bit
If you are in a place where network signal gets very low or dies then you can face mobile network not available or no mobile network issue. These places include lift, basement, a far off place from the city, highways etc. Here the only thing you can do is get near to place where you think there should be a mobile tower nearby or you can catch signal easily. You can also move to heights or top of building to get network signal on your mobile phone.
Network Provider Issues
It might be possible that your network provider is facing issues and its mobile services are down in your area. Here you can ask or consult other users having the same mobile network in your area to make sure that you are not the only one facing this issue. You can also call your mobile service provider from a different phone or landline phone and register your complaint. Issues from network provider do not last long and it should be sorted out within couple of hours or so.
Factory Reset your Phone
Sometimes a malware or corrupted mobile phone settings can cause this issue with your phone. Factory Reset or Factory Data Reset can solve many problems with your mobile phone and no mobile network problem is not an exception. Here perform Factory Reset or Hard Reset on your mobile phone but make sure to backup all your important data before performing this operation. This is because Factory Reset will erase all the data stored on your phone and it will restore the phone to its original settings.
Read: How to Backup Data on Android Phone before doing Factory Reset?
Update OS / Firmware
If you are facing mobile network not available or no mobile network problem regularly and even in place of good network reception then you must update your OS or firmware because software issues can also cause this annoying problem which can be fixed by updating the phone software in most of the cases.
Faulty Mobile Antenna
Well this is very rare but it can happen that your mobile antenna gets damaged somehow. If all the above solutions are not working for you then it is fair amount of chance that there is a hardware problem with your phone and its antenna is not working properly. Here you have to take your phone to the authorized service center and get it checked and repaired. If the phone is in warranty then you may ask for the replacement.
How to Fix Data Network not Available
Sometimes it may happen that even if you are getting full network signal but not getting connected to the internet (2G/3G/4G) or the data connection bars is not showing on the mobile screen. To fix this you can try the following solutions mentioned below.
Solution 1: Restart your data connection couple of times to see if you are connected not. If not then restart you phone and then try again.
Solution 2: Power cycle your mobile phone. This I have mentioned above also and explained how to do it. Turn off the mobile phone, remove battery and SIM. Wait for 5 minutes and put battery back and insert sim card to access network services. After this switch on your phone.
Solution 3: Make sure the data network service (2G/3G) is activated on your phone because if you are not subscribed to a cellular data service then the internet may not connect in some cases. Also check whether the data apn settings or gprs settings are correct for your mobile service provider or cellular network.
Solution 4: This also happens because your mobile service provider is facing issues. I see this happening most likely during rains and bad weather. Here the only thing you can do is to wait for some time and then turning ON the data connection again.
Final Words
Well I have listed down all the causes and solutions for mobile network not available or no mobile network problem faced by many users. If you have anything to ask or want to suggest something then you can do so by leaving a comment below.
See also: