Is it Always Necessary to Update your Android Phone Firmware
It is always recommended by the Android Smartphone manufacturers and some phone experts to update your phone firmware / software or OS to the latest version whenever released, but I have a completely different opinion about this and would honestly advise that you should be very careful when updating your phone firmware because you may experience some never seen problems in the new update.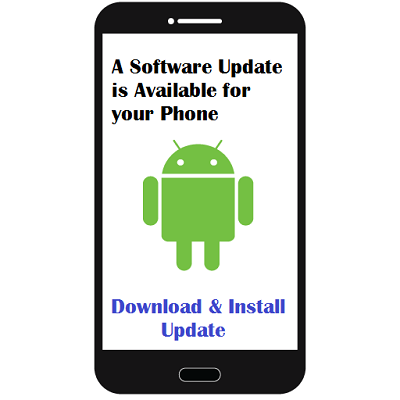 When to Update your Phone OS / Software / Firmware
It must be carefully noted that it is not always advantageous to update your Smartphone OS / Firmware to the latest version as sometimes you may face serious problems that you have never faced before the firmware update. So a proper thinking and enough research should be done when you decide to update your phone firmware because it is easier to update your phone software but it is very difficult to downgrade or roll back to the previous version of firmware. Now here are some reasons on when it is necessary to update your phone's firmware.
Facing Serious Software Issues
If you are facing serious software problems or bugs in your Smartphone, which includes frequent restarting of phone, frequent hanging of OS and applications, poor signal strength, inferior call quality, Wi-Fi disconnections etc. then you should consider updating your phone firmware to the latest version.
Slow Performance
If your phone is performing very slow, even without running any app then it means your phone OS is consuming more RAM and CPU than the normal. This can be due to bad optimization of software code in your currently running android operating system. Here you can upgrade your OS to the latest one released by your phone manufacturer so that this issue can be fixed or tackled.
Battery Issues
If your phone battery is fine but not lasting for even half a day on normal or average usage then it means there is something wrong with your current OS or Firmware version. Updates released by your phone manufacturer might have some improvements in this area and you can get on average 10 – 20% of more battery life.
How to Find Whether the New Update is Good or Not
Here I am going to tell you on how to decide whether the new firmware update is good or not for your Smartphone.
Research on Internet
When a new firmware update is released by your phone manufacturer then you should make an extensive research on the internet by going through various Smartphone forums, blogs and read reviews about the update and see what other users have to say on that update. If the majority of the reviews about the update is positive and there are no major significant issues or problems reported by them, then you can go for that update, but if there are lots of negative feedback, reviews and complaints about that update then you must avoid that software update and wait for the next good one.
Ask your Friends
Consult your friends for their opinion who have the same Smartphone as you and have updated to the latest firmware. Ask them whether they are facing any issues with new update or is it working fine for them. Do not rely on only one friend's opinion and try to get as many opinions from other users also and then make an informed decision on whether you want to update your phone firmware or not.
What New Update is About?
Whenever a new firmware update is released by the phone manufacturer, then the list of improvements or any added features are also specified by the phone manufacturer. If the update does not contain any major improvements then you can skip it. Do not go for updates blindly as you can face newer problems that you were not facing before.
Must Read: How to Fix Network Not Available Issue on your Phone?
When Not to Update your Phone Firmware / Software
Here are some reasons on why you should not upgrade your firmware whenever a new update is released.
When Everything is Working Fine
When everything is working good or normal with your Smartphone and you are not facing any problems or issues then there is no need for you to update to the latest firmware. This because you may face some problems or issues with the new update that you have never faced before.
No Major Improvements in New Update
If there no major improvements or enhancements in the latest firmware then you can skip the update and avoid yourself from getting into any undue trouble.
Conclusion
Well in the last I would say that firmware update is only necessary when there is something wrong with your current phone software, but if you are planning to update to the latest firmware then first of all you should decide whether the update is good or not by following the various points that I have mentioned in this article.