How to Find a Suitable SMPS for Graphics Card
Graphics card is one of the most powerful and power hungry component in a computer. Graphics cards come in different variants i.e. from entry level, budget range, mid-range to high-end. These different types of graphics cards require different capacity of SMPS based on the graphics card power requirements.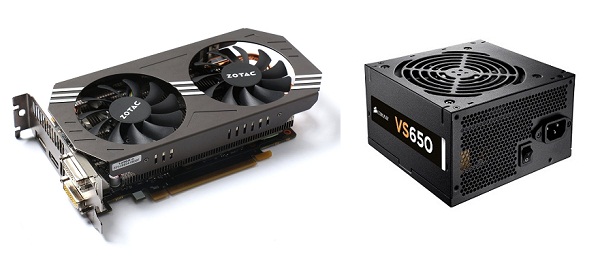 If your current PSU is not enough then you must have to change your SMPS if you are adding a graphics card to your PC or upgrading to a higher graphics card model. So here I will tell you about which SMPS you should get for your newly purchased graphics card, because if you do not then you might end up frying your PC and its components.
Useful Articles on SMPS in this Blog
Here are some useful resources on SMPS that I have written previously in this blog.
Buy Branded Budget SMPS Online
What SMPS / PSU to get for your Graphics Card?
Here is a complete guide for selecting the best possible SMPS for your graphics card. You must keep in mind that here I am talking about branded PSUs only and not the local ones or Chinese made power supplies.
SMPS for Entry Level Graphics Cards
Entry level graphics cards are the starting range of graphic cards and they do not require much power as compared to its bigger brothers. Also these graphics cards are powerful enough to run latest games and are suitable for Media center PC, watching movies, running graphics intensive applications and for casual gaming.
| | | |
| --- | --- | --- |
| Graphics Card | Recommended SMPS | Recommended Current on 12V Rail |
| Entry Level Graphics Cards like GT 210, GT 610, HD 5450 etc. | 350W to 400W | 25A to 30A |
SMPS for Budget Graphics Cards
Then comes the budget range graphics cards that packs more power as compared to the entry level variants. These graphics cards are priced in between 5k to 8k and have enough power to run latest games on low-medium graphics settings on medium resolution. They require more power as compared to the entry level graphics cards.
| | | |
| --- | --- | --- |
| Graphics Card | Recommended SMPS | Recommended Current on 12V Rail |
| Budget Range Graphics Cards includes GT 730, R7-240 etc. | 400W to 500W | 30A to 40A |
SMPS for Mid-range Graphics Cards
Mid-range graphics cards are ones that are known for delivering very good performance at a price that is not too high. These are very powerful graphics that offers excellent performance for the money and are meant for mainstream gamers. These graphics cards can run latest high demanding games at medium to high settings at high resolution. These graphics are power hungry and requires a good enough SMPS for their working.
| | | |
| --- | --- | --- |
| Graphics Card | Recommended SMPS | Recommended Current on 12V Rail |
| Mid-range Graphics Cards such as GT 750 Ti, GTX 950, GTX 960, R7-260X, R7-360, R9-380 etc. | 550W to 650W | 40A to 60A |
SMPS for High-end Graphics Cards
These are the top of the range graphics cards that can max of out any game on high resolutions. These graphics cards are very expensive and are meant for hardcore gamers who have the budget to buy these powerful devices. These cards are very expensive and they also consumes high amount of power, and due to this they require a powerful SMPS which can provide them sufficient power for their operation.
| | | |
| --- | --- | --- |
| Graphics Card | Recommended SMPS | Recommended Current on 12V Rail |
| High-end Graphics Cards such as GTX 970, GTX 980, GTX 980 Ti, GTX Titan X, R9-380, STRIX R9-390X etc. | 700W to 750W | 60A and more |
If you are still unsure or having doubts on which SMPS to get for your Graphics card then you ask me by leaving a comment below by clearly stating your PC configuration and graphics card model.
Also Read: Graphics card related doubts cleared