Gorilla Glass Vs. Tempered Glass Screen Protectors Comparison
Previously in this blog I have written many articles regarding Gorilla Glass, Dragontrail Glass and also about the Tempered Glass Screen Protectors. Also I have made a detailed comparison between Gorilla glass and Dragontrail glass and how they are alike and differ from each other. But now due to the introduction of Tempered Glass Screen Protectors in the market and the confusion growing between gorilla glass and tempered glass screen protectors among many users, here I am making a clear comparison between these two.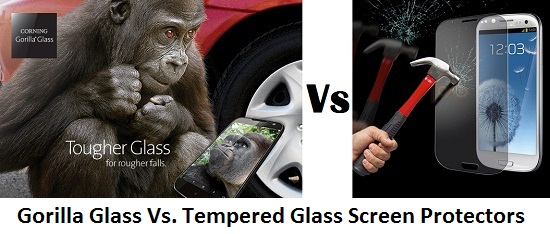 Difference between Gorilla Glass & Tempered Glass Screen Protectors
| | | |
| --- | --- | --- |
| | Gorilla Glass | Tempered Glass Screen Protectors |
| Manufacturer | A product of Corning, a very well known and big glass manufacturing Company from USA | Made by different small companies & Chinese manufacturers that includes Nillkin, ZAGG InvisibleShield, Spigen , Armorz Stealth Extreme R, BodyGuardz Pure®, Zeetron. |
| Hardness | 622 to 701 Vickers Hardness Rating | 9H Hardness Rating is Maximum Hardness Level for Tempered Glass Screen Protector |
| Versions | Gorilla Glass, Gorilla Glass 2.0, Gorilla Glass 3.0, Gorilla Glass 4.0 | No versions. Comes in different quality as per the manufacturer & cost |
| Usage | Smartphones, Tablets, LCD's, Laptops, Netbooks | Mostly on Smartphones & Tablets only |
| How to Apply | Comes pre-applied on selected Smartphones | Have to be purchased separately and applied manually on Smartphones. Can be applied on any Smartphone if its Tempered Glass Screen Protector is available for it. (Silicone Adhesion) |
| Properties | Scratch Resistant, Damage Resistance, Lightness and Thinness | Scratch Proof, Shatter Proof, 99.99% Transparency, Responsive Touch, Comparatively Thicker than Gorilla Glass * |
| Oleophobic Coating (for Resisting Fingerprints) | No | On high-end or good Tempered Glass Screen Protectors * |
| Replaceable & Reusable | No | You can replace your current Tempered Glass Screen Protector with another or better one. Also you can Reuse it on another phone with same screen size. |
| Cost | Cost is included with the Smartphone itself | Rs. 500 – Rs. 1000/- ($10 – $20) depending on the quality of glass screen protector. |
*Note: Not all Tempered Glass Screen Protectors are of same quality, so for good protection and results always buy the expensive ones and avoid the cheaper ones.
 Which is Stronger?
Corning's Gorilla Glass is definitely stronger than any Tempered Glass Screen Protector. It must be noted that Tempered Glass Screen Protector is just a strong protective sheet made up of glass like material that is used to protect your smartphone screen from scratches and drops. Some people also put the Tempered Glass Screen Protector on their Gorilla Glass Smartphone for giving their display screen additional protection and strength. So I think now I have made a pretty clear comparison between Gorilla Glass and Tempered Glass Screen Protector to clear everyone's doubt on this topic.
Must Read: