Best Budget UPS for PC in India from Good Brands
A computer UPS or Uninterruptible Power Supply is a device that supplies emergency power backup to your computer when your mains power goes off. It is not necessary to buy a UPS as your computer can also work without it but if you want to save your work during power failure and to properly shut down your computer then you must have a UPS for your PC. A UPS can also protect your computer components from getting damaged due to sudden power failure, low voltages and power outages & surges. I also recommend people to get UPS for their computers because a few thousand Rupees can save your PC components and your valuable work.
You should be very careful in selecting a UPS because cheap computer UPS have short life and can damage your PC components. A good branded UPS is safe to use in terms of providing power output and save you and your PC from electrical hazards. Here in this post I will provide you the list of best branded UPS for PC which are not too costly and are easily affordable. In this blog only I have written many other useful articles on UPS which can you find below.
Top Resources on Computer UPS in this Blog
Here are the best resources for UPS in this blog that you must read:
Best Budget UPS for your Computer in India
Here are best budget UPS that you can buy for your PC. These UPSs are capacities ranging from 600VA to 1100VA.
Artis is an Indian brand that most of you never heard of. Artis was previously known as Kunhar which manufactures Powersafe UPS and VIP SMPS. Artis is one of the best Indian brands of Computer Peripherals in the market that sells Power Supplies (PSU), UPS, Computer Cabinets, Solar solutions, Mobile and Laptop accessories. Products from Artis are of very high quality. Here from Artis we have Artis Powersafe 600VA UPS that has a maximum capacity of 360W.There is a single LED present for displaying the UPS status. It is a high performance and high quality UPS but can be a little hard to found.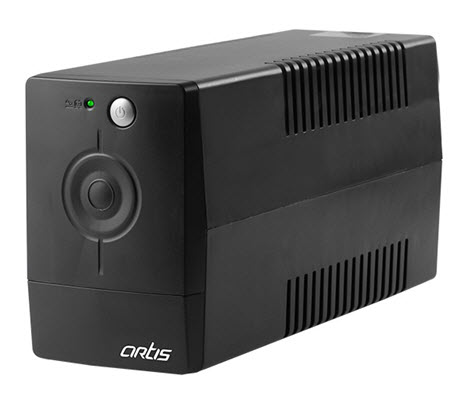 Artis Powersafe 600VA is a line interactive UPS that can be used only for single computer with decent configuration. Artis claims that the Artis Powersafe 600VA UPS can provide backup time of 45 – 60 minutes but this depends on the computer specifications and the load you are putting on it. The UPS has got all the protection features that include overload, discharge and overcharge protection. This UPS comes with a single heavy duty 12V, 7Ah battery and 2 years warranty. This UPS is highly recommended by me and you can buy it from the link given below.
This is a high capacity 1000VA UPS from Artis. It is suitable for providing power to up to 600 Watt. Artis 1000VA Powersafe UPS comes with dual 12V, 7Ah battery and it can handle two PCs easily. According to Artis it has backup time of 100 to 120 minutes (subject to conditions). The UPS has got all the protection and safety features. There are 3 LEDs present for displaying the UPS status.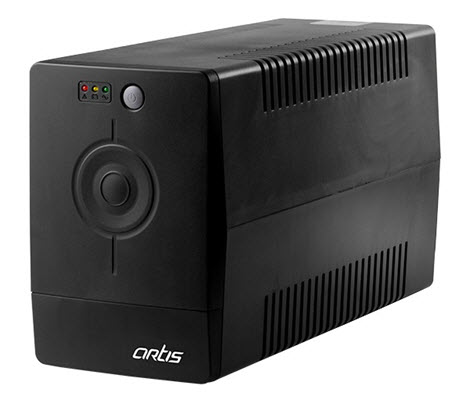 So if you have more devices to connect and need a good high capacity UPS then Artis Powersafe 1000VA UPS is the one that you should buy. You can buy this UPS from the link given below.
Buy Artis Powersafe 1000VA UPS
APC is a very popular and big American company that is known for making high quality UPS, electronic peripherals and data center products. Here from APC we have APC BX600CI-IN Back-UPS which is a 600VA UPS having power output capacity of 360Watts. The backup time is around 15 to 20 minutes which is quite good for a 600VA UPS. LED is there to display the UPS status. The UPS has Automatic Voltage Regulation (AVR) which automatically adjusts the low and high voltage to suitable levels required by your equipments.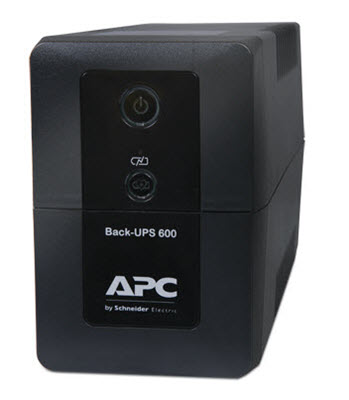 The UPS comes with all safety and protection features. In all it is a good UPS for a single computer with decent specifications.
APC BX1100C-IN Back UPS is high capacity 1100VA or 1.1KVA UPS from APC. This UPS has power output capacity of 600Watts and it comes with two 7Ah batteries. There are 4 power outlets present on the back of the UPS for connecting additional devices to it. The UPS has backup time of around 30 minutes (depends on the load). Major features include AVR (Automatic Voltage Regulation), Safety Protection, LED indicators. You can but this high capacity UPS from the link given below.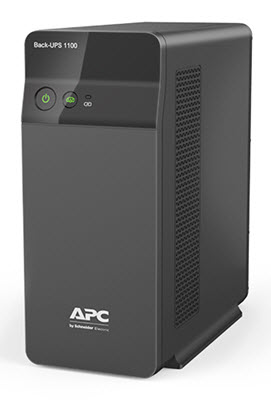 APC BR1000G-IN is a 1000VA / 1KVA UPS from APC that comes with many additional features like LCD display and Auto Shut Down. The LCD displays you the important information regarding UPS status, battery backup time and its levels. In this UPS when your battery charge reaches the critical level then it will automatically shut down your PC to provide them additional protection. This UPS comes with its own software which is called PowerChute 3.0. For extra backup this UPS has provision to add XL battery pack that consists of 4 x 9Ah batteries.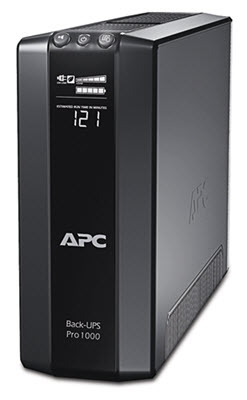 This UPS has got additional ports like USB, RJ-11 phone port and Ethernet or LAN Port (RJ-45). There are 6 power sockets present on the UPS in which 4 are for Battery Backup and 2 are for Power Surge protection only. Other features include AVR, safety and protection features etc. You buy this UPS at a great discount from the link given below.
CyberPower is a big name in UPS industry. CyberPower Systems is an American company that manufactures UPS, power distribution units (PDUs), surge protectors, mobile charging devices, connectivity devices and Fiber-to-the-Premise (FTTx) backup power solutions. Here from CyberPower we have CyberPower BU600E-IN UPS which is a 600VA UPS (360W). It is a good UPS that is enough for small to medium computers. Features include AVR, LED Indicator, Fire Resistance capability etc.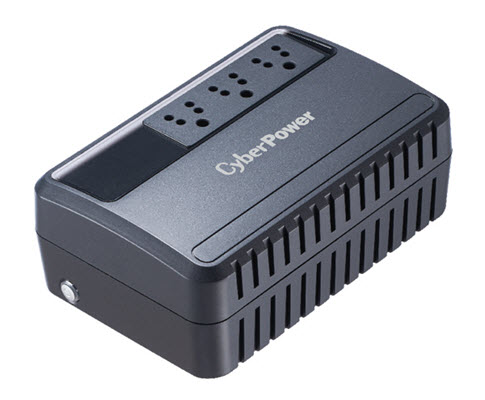 CyberPower BU1000E-IN is a higher capacity UPS from CyberPower that has capacity of 1000VA (600W). This UPS has the same design, features as that of CyberPower BU600E-IN. You can this high capacity CyberPower UPS from the link given below.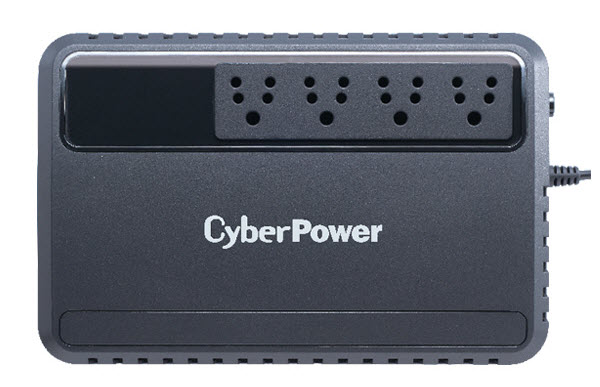 Microtek is a pretty famous Indian company that manufactures UPS, Inverters and Stabilizers. Here we have Microtek MPD800+ which is a 800VA UPS and has power output of around 480W. It is a double battery UPS that can provide backup time of around 25 to 50 minutes (for 1PC) depending on the load. Features include fast battery charging, AVR, safety protection and LED indicators for status. You can buy this UPS online from the link given below.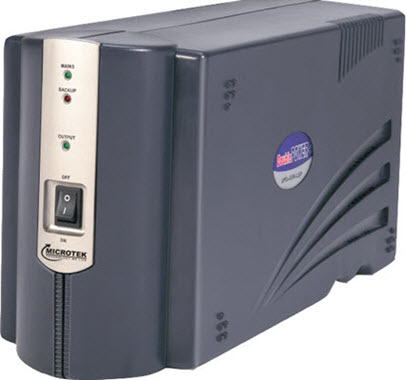 Luminous is an Indian brand of UPS, Inverters and Batteries. Here from Luminous we have Luminous UNO 600 UPS which is a decent 600VA UPS. It is a pretty cheap UPS so users who are on tight budget can buy this UPS for their computer. The backup time of this UPS is around 8 – 10 minutes. Features include AVR, LED indicators. You can buy this UPS online from the link given below.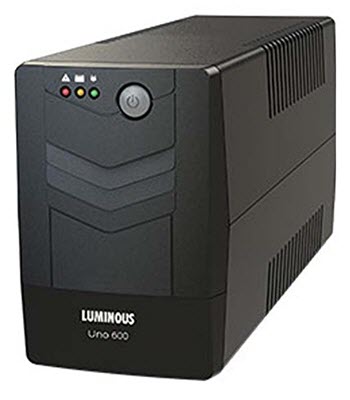 A 1000VA (600W) UPS from Luminous that can provide backup time of around 30 minutes. A decent 1000VA UPS that has strong build quality and good performance. Features are the same that you can find in its 600VA UPS.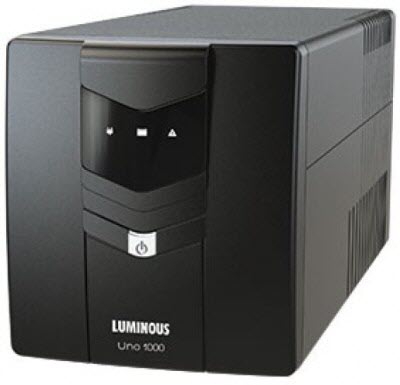 Frankly I never prefer or recommend Intex products but this UPS from Intex has caught my attention because it has received many good reviews from the users and it offers good performance at an affordable price. Intex GAMA UPS 1000VA UPS comes with two 7Ah batteries and has total power output of 600W. It has backup time of 20 to 50 minutes depending upon the load. Features include AVR, LED indicators and safety protection. You can but this Intex GAMA 100VA UPS from the link given below.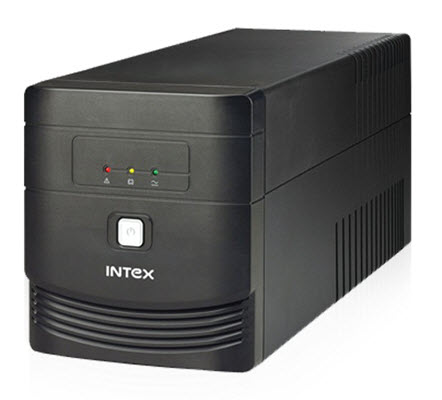 Note: All the above mentioned UPS are Line Interactive UPS and Output Modified Sine Wave.
Tips on Buying a UPS Battery – When getting a UPS battery always buy branded batteries from good brands like Luminous, Exide, Amaron, Base Terminal.
For Any Queries Ask me
If you any questions regarding the UPS or don't know which one to buy then you can ask me by leaving a comment below clearly stating your requirements and computer configuration.
Read More: