What is USB Type-C Port and List of Devices having it
USB or Universal Serial Bus is the most common and popular interface for connecting variety of devices to computer and it is also the fastest way to transfer huge amount of data from one device to another. We all use USB in our daily life and work whether it is in computers, smartphones, tablets, camera etc. There are various types of USB connectors and ports, in computers we see a larger USB port, in smartphones a tiny one and in printers, scanners and camera a different one. Now here comes new type of USB physical connector / port that is just been released known as USB Type-C, but first let us learn about the various older types of USB ports / connectors.
Types of USB Ports & Connectors
Here are various USB types:
USB Type-A: Most popular USB Type that is found in computers, laptops and netbooks. It has the biggest size as compared to other USB types.
USB Type-B: They are generally found in printers, scanners etc. USB Type-B is further divided in three sub-types that being mentioned below:
Mini-B: Generally found in SLR Digital cameras, scanners etc.
Micro-B: They are widely used in smartphones, tablets and other small or mobile devices. Can also be seen in small digital cameras.
Micro-B USB 3.0: Found in high speed USB 3.0 external Hard disks and some other high speed devices.
Standard-B USB 3.0: In printers, scanners etc.
USB Type-C: The newest USB standard which is currently available in few devices but in future it will replace all other USB-Types in every device.
USB Versions / Revisions
| | | | |
| --- | --- | --- | --- |
| Revision | Maximum Speed | Max. Power Output | Power Direction |
| USB 1.1 | 12Mbps | 2.5V, 500mA | Host to peripheral |
| USB 2.0 | 480Mbps | 2.5V, 1.8A | Host to peripheral |
| USB 3.0 | 5Gbps | 5V, 1.8A | Host to peripheral |
| USB 3.1 | 10Gbps | 20V, 5A (100 Watt) | Bi-directional, can provide and receive power using the same port |
USB Type-C Explained in Detailed
USB Type-C is the latest USB standard that is set to replace all the other USB Types in the future. The need for new USB Type arises because of the limitations of the other USB types whether it is in terms of speed, power output or size. USB Type-C port and connector is very small in size, yet it is very powerful of all other USB types. You can put a USB Type-C port in virtually any device whether it is a PC, Laptop Smartphone, Tablet or any other smaller mobile device.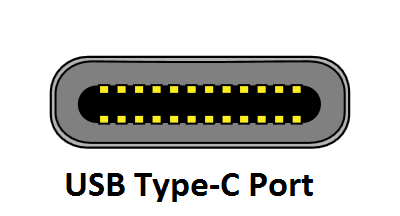 Advantages & Benefits of USB Type-C
Here are main advantages or benefits of USB Type-3.
Smaller in Size
The first advantage of USB Type-C port or plug is that it is very small in size which means it will take less space on your devices. The size of a USB Type-C port is almost the same as that of a micro-B USB port but it is much powerful and advanced than a micro-B USB port.
Reversible Plug Orientation
USB Type-C has reverse plug orientation which means you can plug any USB Type-C connector end to any of the USB Type-C port in your devices. Also you don't have to worry about plugging the USB Type-C connector upside or upside down as there is no given orientation to plug in a USB Type-C connector to a USB Type-C port, whereas in other USB Types there is a proper orientation and you have to put in a USB connector in only one orientation otherwise it will not go in or it may break.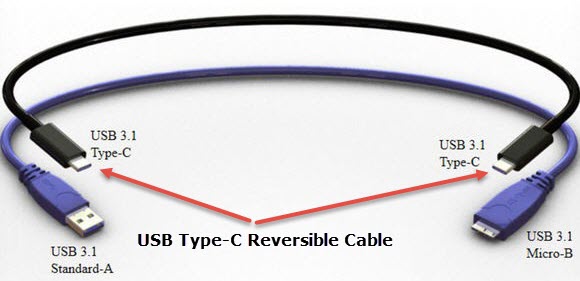 Supports up to USB 3.1
As of now USB Type-C supports up to the latest USB 3.1 specification. This means if you have a high speed USB Type-C port in your computer or smartphone then you can enjoy data transfer speed up to 10Gbps. Well one thing to note here is that not all USB Type-C ports are USB 3.1 ready and it depends on the manufacturer what underlying technology (USB 2.0 / USB 3.0 / USB 3.1) they have implemented for the USB Type-C port in their device. We have seen this in past because Nokia N1 Tablet had USB Type-C port but it was only USB 2.0. But because we are moving to the future and not past we expect that the majority of upcoming devices with USB Type-C port will be USB 3.1 ready only.
Power Delivery (PD)
USB Type-C can deliver much greater amount of power as compared to all other USB Types. The maximum power output for USB Type-C port is 100W (20V X 5A) which can be used to charge bigger devices also, which includes Laptops, Netbooks etc. Also the direction of power in USB Type-C port is two ways or Bidirectional which means it can give and receive power through a single port only. This can bring a revolution in the area of battery charging because now we will be able to charge our laptops through a USB Type-C port only, and we do not require or have to carry those bulky power adapters and chargers. But it must be noted that for charging a bigger device, the Device (Laptops, Netbooks etc.) and USB Type-C Cable both must support Power Delivery (PD) feature.
One Cable for All
For devices with USB Type-C ports you only require one type of cable which has USB Type-C connectors on both the ends. You don't have to use any conversion type cables anymore and only one cable is required for connecting all your devices having USB Type-C ports.
Backward Compatible (using adapters)
If you want to plug in your device having older USB Type in a computer with new USB Type-C port then you can do so by using Type A to Type C or Type A to Type C adapters and cables. Your device will work but it will not get the maximum performance which you can get with a device having the USB Type-C port.
List of Devices with USB Type-C Port
Here is the list of laptops, tablets, hard drives and smartphones that comes with USB Type-C Port.
Nokia N1 Tablet
Apple MacBook 2015
Google's second Chromebook Pixel
HP Pavilion X2 10.1-inch Detachable 2 in 1 Laptop
OnePlus 2 (Android Smartphone)
Xiaomi Mi 4c (Android Smartphone)
Xiaomi Mi5 (Android Smartphone)
Samsung Galaxy 7 (Android Smartphone)
Nexus 6P (Android Smartphone)
OnePlus X (Android Smartphone)
Nexus 5X (Android Smartphone)
ASUS ZenFone 3 (Android Smartphone)
Gionee Elife S Plus (Android Smartphone)
Xiaomi Mi Pad 2 (Android Tablet)
Xiaomi Mi5 (Android Phone)
Microsoft Lumia 950 & 950 XL (Windows Phone)
Xiaomi Redmi Note 3 (Android Smartphone)
Nexus 5X (Android Smartphone)
Meizu Pro 5 (Android Smartphone)
UMI Hammer S (Android Smartphone)
LeEco Le 1S (Android Smartphone)
Gionee Elife S8 (Android Smartphone)
Google Pixel C (Chromebook)
Gigabyte GA-Z170X-Gaming 6 Motherboard
SanDisk SSD's (USB Type-C series only)
LaCie mobile drive (external hard disk)
Google Pixel C Tablet (Android Tablet)
iPad Pro