How to Free Up & Add Extra USB Ports on your PC
Universal Serial Bus or USB is the most common and popular interface for connecting external devices to your PC or computer. These devices include printer, mouse, keyboard, scanner, webcam and many more. Now almost all the external add-on devices come with USB ports because of the speed and simplicity of USB interface. The main reason for its popularity of USB port is that it is fast and you can connect many devices on a single USB bus only. But if you have many devices to connect to your PC but your motherboard has few USB ports then it can become a problem for you. To solve this problem I will show you on how to free up USB ports and how to add extra USB ports to your existing PC.
Guide to Free Up and Add More USB Ports on your PC
Here is a complete guide on how to free up and add or install additional USB ports to your existing PC.
Use PS/2 Mouse & Keyboard
To free up USB ports on your PC you can use PS2 keyboard and mouse. One more benefit of using PS/2 mouse and keyboard is that your mouse and keyboard will be smooth and lag free all the time. If you are using a USB mouse and keyboard then they may hang or exhibits lags in movement and typing if there are some heavy duty jobs occurring on your USB ports that can be heavy duty printing or huge data transfer from an external hard disk.
USB Hub
You can buy external USB Hubs that are easily available in the market. These hubs come in different sizes, shapes and number of USB ports. The problem with these USB hubs is that they are mostly suitable for low powered devices like mouse, keyboard, pendrives etc. If you are going to use printer, external hard disk, scanner in these hubs then these devices will not function. For this you have to buy a high powered USB hub in which there is slot to supply additional power using a power adapter so that high end devices can function properly.
Personally for PC I do not recommend using these hubs as they tend to get faulty very often, have performance issues and they require space to sit outside your computer. They are good solution for a laptop but for a PC I would recommend using an internal USB card which I am discussing next.
Must Read: Best USB Hubs for PC and Laptop in India
Internal USB Card (PCI / PCI-E)
This is the best solution for adding extra USB ports to your PC, which is by using internal add-on USB cards. Internal USB card comes in two variants that are mentioned below.
USB PCI Card
USB PCI Cards requires the very old and popular PCI slots to connect to your PC. These cards are cheaper and they support maximum of USB 2.0 speed only because of the lower bandwidth available on PCI bus. So if you are OK with USB 2.0 ports then these cards prove useful for creating more USB ports in your PC.
USB PCI Express Card
These cards require PCI Express x 1 (PCIe x 1) slot to connect to your PC. These cards comes with USB 3.0 ports and are relatively expensive than their PCI based counterparts. You will get maximum speed with these cards as they are USB 3.0 ready. So for performance hungry users who have high end USB 3.0 devices like USB 3.0 external hard disk etc. should go for PCI-E USB cards.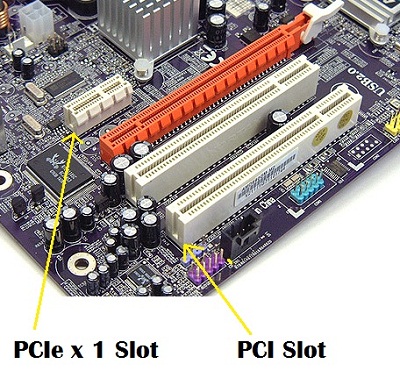 Buy USB PCI and USB PCI-E Cards