Redragon USAS K553 Mechanical Keyboard Review & Specifications
From some time I was looking for a budget compact mechanical keyboard for my laptop but was having a tough time finding it. But after some research I finally found one and decided to buy Redragon USAS K553 Mechanical Keyboard, and was totally satisfied with it. I also have the TVS Gold Mechanical Keyboard but you cannot use it with a laptop because of its really big size. Anyways I use TVS Bharat Gold Mechanical Keyboard with my Desktop PC.
Before Redragon USAS K553 I was having Logitech K330 wireless membrane keyboard for my laptop and it worked well for me for 2 years, but after that it started to give me problems with the failed keys and I have to finally discard it. Now I wanted something better and faster and therefore I opted for Redragon USAS K553 Mechanical Keyboard which is a stunning budget compact mechanical gaming keyboard. This keyboard is well suited for gamers and typists.
Mechanical keyboards are those keyboards that uses physical mechanical switches for keys. They are far better than the membrane based keyboards both in terms of performance and reliability. If you are a hardcore gamer or a person who does lots of typing in a day then a mechanical keyboard is a must have device for you.
Here in this post I am going to review Redragon USAS K553 Mechanical Keyboard and tell you all about its performance and features.
Must Read: Top Budget Gaming Keyboards with LED Backlight
Redragon USAS K553 Keyboard Review & Specifications
Here is the complete review of Redragon K553 mechanical gaming keyboard along with its specifications and features.
Company Overview
Redragon is a computer hardware company from China that manufactures high quality computer peripherals and accessories that include gaming mouse, gaming keyboards (membrane & mechanical), headphones, soundbox and mouse pad. It is mostly famous for its value for money (VFM) gaming mouse and mechanical keyboards. Their products are of good quality and are relatively cheaper than the bigger brands like Cooler Master, Corsair, Logitech and Razor. Overall it is a pretty good company and you can surely trust its products.
Size & Build Quality
Redragon K553 keyboard is very compact in size largely because of the absence of numpad or number pad. It is a Tenkeyless Mechanical Keyboard (TKL) that weighs well under a kilo. The construction of the keyboard is very good and there is an aluminum backplate under the mechanical switches to provide the keyboard extra rigidity. It is a floating design keyboard which means there are no boundaries around the keyboard and you can clearly see the whole keys on the metal plate from the sides. Floating keyboards are easier to clean and manage compared to the traditionally designed keyboards.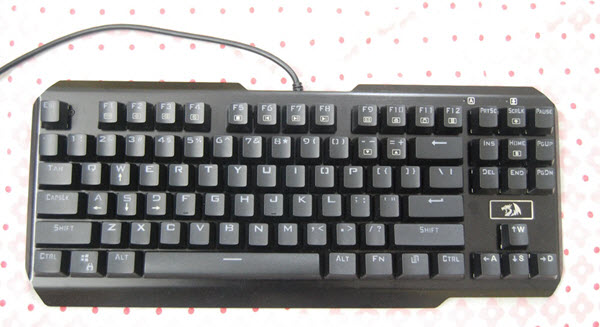 On the bottom of the keyboard you will find four fixed rubber pads and two foldable rubber feets. These rubber pads hold the keyboard very still on the surface even when you are typing or playing games.
Keys Type & Configuration
As said before also Redragon USAS K553 is a mechanical keyboard that uses mechanical switches. These are Outemu blue mechanical switches and are slightly louder than the popular and widely used Cherry MX Blue switches. When typing these Outemu blue switches produce a clak sound unlike the click sound that you can hear from Cherry MX Blue switches. Outemu switches are made in China and are known for its low cost as compared to the Cherry MX switches.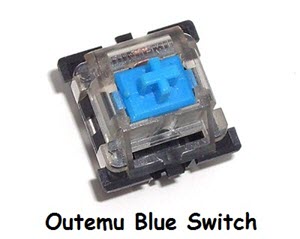 Redragon USAS K553 consists of 87 standard keys. It has double-shot injection molded keycaps that gives it excellent durability. All the keys have Red LED backlighting which can be turned ON and OFF. You can also increase or the decrease the intensity of the backlighting according to your needs. Additionally you can also turn ON/OFF the breathing effect for LED lighting and can also adjusts its speed. The keyboard comes with a Keycap remover which is used to remove the keys for cleaning or to replace some of keycaps with the other ones. Below you see how Red LED lighting in keys looks in dark.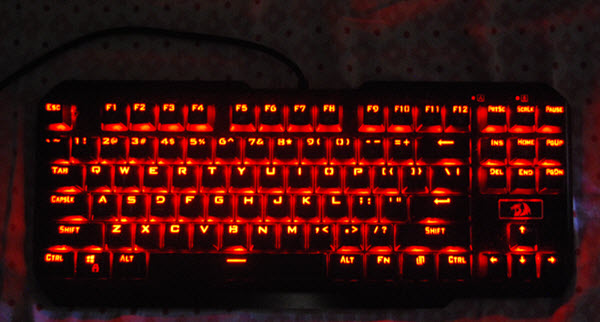 Features & Specifications
Redragon K553 comes with many high-end features that you generally find in the more expensive high-end gaming mechanical keyboards. It has N-Key Rollover (NKRO) which enables the keyboard to detect each keypress correctly no matter how many keys you have pressed at once. This is a must have feature for gaming keyboards and as it removes the common problem of Keyboard Ghosting during gaming. N-Key Rollover is also known as Anti-Ghosting. You can test the N-Key Rollover or Ghosting for any keyboard by going to the link given below.
The keyboard has got 12 Multimedia keys which you can use in combination with the Function key (FN). It also has the feature to lock the Windows key (WIN LOCK) which can interfere especially during the games if the gamer accidentally presses it. Redragon K553 claims to be Spill-proof but even then I honestly advise to keep the liquids far away from this mechanical keyboard.
Redragon K553 mechanical keyboard supports Windows XP, Windows Vista, Windows 7, Windows 8, Windows 10 or higher Windows operating systems. It does not support Mac OS and Linux operating systems out of the box.
Redragon USAS K553 Specifications
Size / Dimensions
36.4 x 15.3 x 3.7 cm
Keys Type
Mechanical keys, Outemu Blue switches
Number of Keys
87 standard keys
Indicators
Caps Lock, Scroll Lock
Features
N-Key Rollover or Full Key Conflict Free, Red LED Lighting, Breathlight effects, Aluminum Chasis, Double Injection Keycaps, Win key ON/OFF (Win Lock), Spill-proof, 12 Multimedia Keys, Gold Plated USB connector, Exchangeable Keys
Operating Systems supported
Windows XP / Vista / 7 / 8 / 10
Connectivity
The keyboard comes with a standard USB 2.0 connector. The USB connector is gold plated for better connectivity and to avoid any kind of corrosion. The USB cable is sufficiently long and has a Ferrite core on it to remove EMI or Noise.
Warranty
Redragon USAS K553 Mechanical Keyboard comes with 18 months warranty which is I think is sufficient at this price range.
Price & Conclusion
Redragon USAS K553 is definitely the best compact mechanical gaming keyboard that you can find under 5k rupees in India or at 40 dollars worldwide. It is also perfect for typing as the switches used are light to press and have a tactile feedback. So if you are looking for a compact budget mechanical keyboard for gaming or typing then nothing can beat Redragon Usas K553 Mechanical Gaming Keyboard.
The MRP of Redragon USAS K553 is 8000 rupees or $50 but you can get it at half the price i.e. Rs. 4000/- or at $40 from the discounted link given below.
Buy Redragon USAS K553 Mechanical Keyboard
See also: