How to Find a Good Mouse and Keyboard for your PC
Mouse and Keyboard are two most important and basic input devices that are used to interact with a computer whether it is a desktop PC or a laptop. Mouse and keyboard are cheap devices as compared to other devices but you should not take them for granted. If you want a good and smooth PC experience without any real fatigue especially if you work hours and hours on your computer then you should get a comfortable & good performing mouse and keyboard. This is because a cheap mouse and keyboard can strain your fingers and hand causing pain and fatigue. So here I will tell you on how to find a good mouse and keyboard for your PC.
Finding a Good Mouse for your Desktop PC
Here are the things that you should check out when buying a mouse for your PC. Here I am talking about the optical mouse only because mechanical mouse (ball ones) have become obsolete.

Comfortable Shape & Right Size
The mouse must be comfortable to hold and work with. It should not be too big or too small for your hands. The size should be perfect so that it can fit in comfortably in your hand.
Sufficient DPI (Dots per inch)
DPI or dots per inch is the measure of resolution of a mouse. Higher the DPI the greater will be the accuracy and precision of a mouse. Here go for a mouse with at least 800 dpi or 1000 dpi. For gaming you can go for much higher dpi for total control in your games. Go through the link below for finding a good mouse and keyboard for gaming.
How to find a good mouse for gaming
Buttons should be Easy to click
The buttons on your mouse should be easy to register a click. It means that you do not have apply too much force to register a click and also it should not be too delicate for clicking. There should a proper balance between both these things.
Scroll should be Smooth
The scroll button on the mouse should be smooth and its click button should be not too hard because I have seen in many mice where the scroll button is very hard and you have apply much amount of force to register a scroll click. If the button is too hard then it may cause pain on your finger and you would not be able to work for longer periods on your computer.
Brand
You must get a mouse from a good brand because they are good in performance wise and also they last longer. Cheap and local branded mice have very poor build quality and performance. Recommended brands for mouse: Logitech, Microsoft, Dell, HP, Lenovo.
Finding a Good Keyboard for your Desktop PC
Here are the things that you should check out when buying a keyboard for your PC.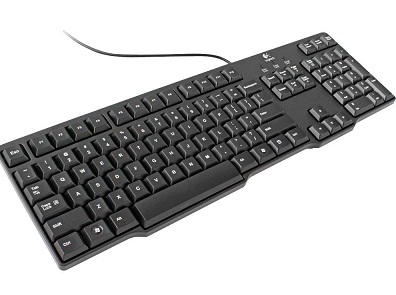 Standard Layout & Full Size
Always get a full sized keyboard having standard layout for comfort while working. Make sure that keys are well spaced and not too close to each other. Also the keys markings should be clear and easily visible in low light too.
Soft & Responsive Keys
The keys should be soft and they should not require too much force to register. This is because I have seen in many membrane based keyboards where the keys are too stiff and over the time they became more stiffer. This can cause too much pain in your fingers even working for few minutes. If you do lot of typing work then get a mechanical keyboard.
Multimedia & Shortcut Keys
Multimedia controls and keyboard shortcuts may come handy in some situations. It is a personal preference but if you have them then it is an added advantage.
Spill Proof
The keyboard should be spill proof so that it can withstand accidental drop of liquid over it.
Indication LEDs
The keyboard should have required LED indicators for caps lock, num lock and scroll lock.
Brand
Again the brand is very important and you should get a keyboard of good brand only. Recommended brands for keyboards: Logitech, Microsoft, TVS.
Tip: While buy online you can check these things by going to the official website of the mouse / keyboard and also by reading the customers reviews online on the ecommerce shopping sites, forums, blogs etc.
See also: