Moto G (2nd Generation) Vs Moto G (1st Gen) Comparison
Moto G was a pretty successful android phone and was loved and received well by many people. It is because of the features and quality it offered at an amazing price. It was a very good lower mid-range phone having very good build quality and specifications as compared to the other phones in this price range i.e Rs. 12k to 14k.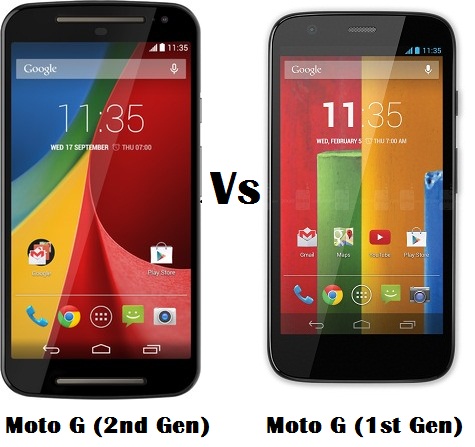 Now Motorola has gone one step further and revamped its Moto G phone to the new Moto G (2nd Second Generation). The new Moto G (2nd Gen.) is looking very promising with improved specs having the same price range. Let us look at some of the things that are new in Moto G (2nd Gen.) Android Phone.
What is New in Moto G (2ndGen.) as compared to older Moto G
Here are the most important things on which both these android mobile phones can be compared on.
Processor and GPU
The Processor and GPU (Graphics Processing Unit) remains the same in the newer Moto G also, which is Quad-core 1.2 GHz Cortex-A7 CPU and Adreno 305 GPU.
Size and Weight
Moto G (2nd Gen.) is slightly bigger in size as compared to the first one. The new Moto G is 11.6 mm taller (height) and 4.8mm wider (width), but at the same time it is 0.6mm thinner or slimmer than the previous version of Moto G. Moto G (2nd Gen.) weighs at 149 grams and is 6 grams heavier than the older Moto G model.
Dual SIM
Moto G (2nd Gen.) is dual SIM enabled and supports Micro-SIM (in dual standby mode) while the first generation Moto G was only a single SIM device.
Display
The Second Generation Moto G has a bigger Display of 5.0 inches (IPS capacitive LCD) having resolution of 720 x 1280 pixels, but with lower Pixel density of 294 ppi. The first generation Moto G has better pixel density of 326 ppi. Greater pixel density means clearer and sharper image. The display on both these Moto G mobile phones is protected by Corning Gorilla Glass 3.
Memory
Both of them have 1GB of System RAM and are available in 8/16 GB storage memory options, but in second generation Moto G you can expand your memory to 32 GB, as a microSD card slot is present in it.
Camera
Moto G (2nd Gen.) has 8 MP (Mega-pixel) primary camera with LED Flash and 2 MP Front camera while the first generation one has only 5 MP primary camera and 1.3 MP secondary or front facing camera.
Operation System
Moto G (2nd Gen.) has Android version 4.4.4 (KitKat) as operating system. The first generation one had Android v4.3 (Jelly Bean) as OS.
Battery
Battery in both the Moto G versions remains the same, which is the Non-removable Li-ion 2070 mAh. A removable battery would have been a good option if it was included, but nevertheless.
Price
Price remains almost the same and the Moto G (2nd Gen.) is available at Rs. 12999/- only.
Other Features
Other features like GPS, Bluetooth 4.0, Wi-Fi, microUSB port, FM Radio, 3G, GPRS, HSDPA remains the same.
Conclusion
In the end I would say that that new Moto G (2nd Gen.) has some slight improvements over the older model and the good thing is that the price of the new one has not increased a bit, so in my view Moto G (2nd Gen.) is a very good mid-range phone for the price and you should definitely get one if you are looking for a good android smartphone in mid price segment.
See also: