Tips on Downloading Drivers from Internet for your Computer
Internet is a vast place and you can virtually find anything on it, be it softwares, movies, books, videos, audio etc. You can order or download anything from the internet without going anywhere. But special care or precautions must be taken when you download anything from internet, especially softwares or drivers because you can get your computer into trouble if the downloaded driver is from an unreliable source, as it may be infected with malware or corrupted. So here in this post I will tell you on how to safely download correct drivers for your hardware from the internet and what necessary precautions you should take in doing so.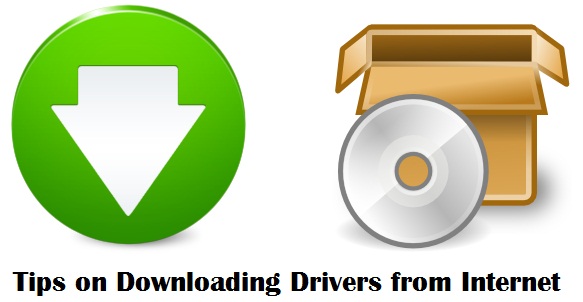 Precautions & Tips to Download Drivers from Internet
Here are some very important tips and suggestions that you must follow when you download drivers from the Internet for any of your computer hardware or component.
Download from Official / Authority sites
The first and foremost thing to remember is that you should always download the drivers from the official manufacturer's or company website, or any other good reputable authority site. Avoid the third party sites that you don't know and other websites that want you to install any software on your PC before downloading drivers from them. Also avoid websites that ask for money to download drivers, because they are all fake.
I have listed down some of the major official hardware manufacturer's websites and other highly reputed third party websites from where you can safely download drivers for your computer hardware component or device.
Official Websites to Download Drivers
Here are official websites of some major hardware components manufactures to download drivers for free.
Intel – https://downloadcenter.intel.com
AMD – http://support.amd.com/en-us/download
Nvidia – http://www.nvidia.com/content/drivers
Realtek – http://www.realtek.com.tw/downloads
Asus – http://support.asus.com/download
Gigabyte – http://www.gigabyte.in/support-downloads/download-center.aspx?ck=2
MSI – http://in.msi.com/support
HP – http://www8.hp.com/in/en/drivers.html
Epson – http://global.epson.com/driver.html
Canon – http://support-in.canon-asia.com
Creative – http://support.creative.com
Safe third Party Sites to Download Drivers
Here are some third party safe sites from where you can download drivers without any risks.
FileHippo – http://www.filehippo.com
FileHorse – http://www.filehorse.com
Softpedia – http://drivers.softpedia.com
CNET – http://download.cnet.com/windows/drivers
Download Latest or Stable Version
Always download the latest or the stable version of the driver. Also make sure that the driver should be WHQL certified, which means it should be tested by Windows Hardware Quality Labs. WHQL tested drivers are preferred by the Windows OS and are always recommended for Windows Operating System as they do not cause any undesirable effect on Windows OS or their system files.
Download for the Correct OS and Version
Verify the drivers before downloading, which means just see whether they are for 32-bit or 64-bit OS and for which Windows Operating System i.e. XP/Vista/Windows 7/Windows 8. For example, if you have
64-bit version of Windows 7 installed on your computer then you will not be able to install 32-bit version (Windows 7) of drivers on your computer. Also you will not be able to install Windows XP 62-bit version of drivers for that hardware on your computer as the OS is different. So you have to select the right version (32-bit or 64-bit) and OS type when downloading the Drivers.
Use Download Manager
Use download manager for downloading drivers because if you download it directly from your browser then there are chances that it might get corrupt if your internet connection is slow or is facing connectivity issues. Some good internet download managers are Flashget and Internet Download Manager.
Test it After Installing
Test the driver after downloading it. Install the driver and see that everything is working fine and not giving any problems. If it is giving problems with your OS or the hardware then you should download the older version of that driver