F&D E200 Soundbar Review – Best Budget Portable Speakers
Few days back I was looking for good USB powered portable speakers for my laptop as the inbuilt speakers of my laptop are not that loud enough. After searching for some time I noticed the F&D E200 Soundbar which grabs my full attention. This is because it was in my budget, looks portable, is USB powered, looks stylish and has got good positive reviews on the internet. Then I finally made up my mind and ordered the F&D E200 Soundbar online. After few days it reached me and I was really impressed with its looks, build quality and performance. So I thought of writing a review about this amazing portable soundbar and tell the other users about its performance and other good things about it.

F&D E200 Sound Bar Review & Specifications
Here is the detailed review of F&D E200 Mini sound bar with complete specifications.
F&D Company Overview
F&D or Fenda Audio is an Indian company that offers wide range of speakers in both wired and wireless segment. The corporate office of F&D is located in New Delhi. The company was established in the year 2006 and has gained good reputation over the time for delivering high quality audio solutions. Their products are not made in India but are imported from China. F&D also offers power banks but it is mainly known for its speakers only. The complete range of speakers from Fenda Audio include 2.0 speakers, 2.1 speakers, 4.1 speakers, 5.1 speakers, headphones, earphones, portable speakers, Bluetooth speakers, TV speakers and soundbars. They sell their speakers online on amazon, flipkart & snapdeal. The speakers of this company are of pretty good quality and are cheaper than the big brands like JBL, Philips, Sony etc.
Size, Looks & Build Quality
F&D E200 Soundbar is a bit long but it is portable enough to carry around with you. The speaker weighs less than a kilo and has great design & stylish looks. The construction quality of this portable soundbar is very good and it feels solid at all angles. The two stands at the bottom have rubber pads which prevents it from slipping and gives the soundbar a firm grip on the surface.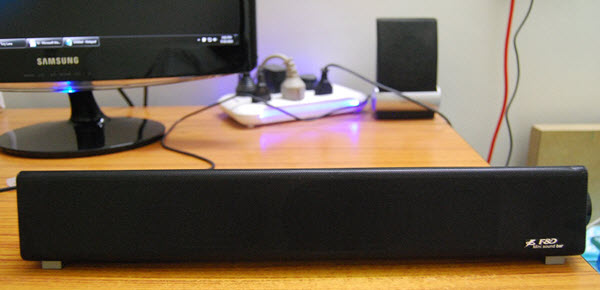 Sound Output & Performance
This is a 2.1 channel soundbar that has 2-inch drivers which produces a total RMS Output of 3W. The sound quality is excellent and the speakers are pretty loud too. The bass is decent & sufficient and not too deep which you found in the speakers having a separate subwoofer unit. This soundbar is great for listening music and watching movies as this speaker produces crystal clear vocals. The sound quality of this soundbar does not distort even on full volume which shows the high quality of its speakers. You can use this sound bar with laptop, desktop PC, mobile phone, TV, mp3 player, audio player or anything having a 3.5mm jack.
Features & Connectivity
This soundbar has a standard USB connector which you can plug-in your computer USB port, power adaptor or power bank. There is a ring of red LED light around the volume control knob which glows when you plug-in the USB connector in the power source. The soundbar has a standard 3.5mm jack input cable that you can insert in your computer, mobile phone, music player etc. for music playback.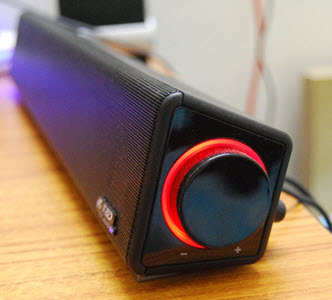 There is also a 3.5mm headphone jack where you can plug-in your headphone or earphone for listening music privately. There is no FM or Bluetooth connectivity in this soundbar. If you want Bluetooth connectivity then you can buy its higher model which is F&D E200 Plus.

F&D E200 Soundbar Specifications
Here are the complete specifications of F&D E200 Soundbar from Fenda Audio.
F&D E200 Sound bar Specifications
Dimensions
410×71×67mm
Output (RMS)
3W (total), 1.5W x 2 (2-inch drivers)
Frequency Response
100Hz to 20kHz
Features & Ports
3.5mm jack cable, headphone jack for earphones/headphones, volume control knob with red LED light as power indicator, standard USB connector for power
Power requirement
5V DC from Computer USB port or USB Adapter / Charger
Price
Check here
Final Words & Conclusion
Well if you are looking for great sounding budget portable speakers under 1k that are sufficiently loud for a single room or small party then you cannot get anything better than F&D E200 Soundbar. If you have questions regarding F&D E200 Soundbar then you can ask me by leaving a comment below. You can get this amazing soundbar online at under 1000 rupees from the link given below.
Buy F&D E200 Soundbar Speakers
Pros
Great build quality
Great sound quality
Sufficiently loud & rich bass
Portable & lightweight
Affordable
Cons
See also: